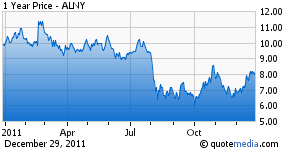 By no means is it easy to try to launch an entirely new class of pharmaceuticals, but that is essentially what Alnylam Pharmaceuticals (NASDAQ:ALNY) has set out to do. Despite some encouraging (albeit very early) signs of success, investors have very much taken note of Big Pharma's increasing skepticism towards what this company is trying to do. Consequently, the stock trades for little more than the cash on its books despite a promising pipeline that is only getting started in human studies.
The Long March
Investors who have high hopes for Alnylam's RNA interference (RNAi) technology may want to take a page from the history books. Although Amgen (NASDAQ:AMGN), Biogen Idec (NASDAQ:BIIB), Johnson & Johnson (NYSE:JNJ), and Roche (OTCQX:RHHBY) have all had success with recombinant protein and monoclonal antibody drugs, the reality is that the science underpinning these drugs really started early in the 20th century and it took more than a decade for promising (and Nobel Prize-winning) research in the 1970's to actually result in approvable drugs.
It's also worth mentioning that along the way there have been many would-be claimants to the crown of the "next revolution in biotechnology" and most of them went absolutely nowhere for lack of efficacy, deliverability, or safety. This is not an unreasonable backdrop, then, for Alnylam's seemingly low valuation – in the long history of biotech, the unfortunate truth is that betting on the "under" with any new revolutionary technology has generally been the surer bet.
But Maybe It's Different This Time
The inescapable truth of biotech is that the odds are always long, but there are new drugs and new technological approaches that do work. When they work, the rewards can be considerable to patient and aggressive investor.
To that end, Alnylam is addressing a market with multiple potential end-use applications worth billions of dollars a year. What's more, the company has a rich and very broad patent estate that may limit competitive entry into the RNAi space outside of partnerships and alliances with the company.
For now, the company is starting relatively small – the company's internal programs are focused on uncommon and under-served diseases like TTR-mediated amyloidosis, hypercholesterolemia, and hemophilia. Still, even if these diseases are uncommon, they can be lucrative – Genzyme (now part of Sanofi (NYSE:SNY)) became the third-largest biotech in the world on the back of rare diseases and Alexion (NASDAQ:ALXN) seems to be taking a similar path.
More encouraging is the fact that recent clinical trial results seem to be validating Alnylam's approach and establishing proof of concept in humans, particularly as it pertains to delivery. Early results from ALN-TTR (the amyloidosis therapy) were positive, as were very early stage results in a Huntington's therapy being developed in partnership with Medtronic (NYSE:MDT). With early-stage data coming from the company's hypercholesterolemia drug (ALN-PCS) early in 2012, investors may have still more data to chew on before long.
The Bumps In The Road
Clearly this is not a perfect story. For starters, while Roche formed a large and promising partnership with Alnylam, the company has since closed down its RNAi research work. Likewise, despite spending a large amount of money acquiring Sirna, Merck (NYSE:MRK) has reduced (though not halted) its efforts in the field. Last and by no means least, Novartis (NYSE:NVS) disappointed Alnylam investors when it elected not to expand its RNAi partnership (though here too the company has not stopped RNAi drug development).
Simply put, this is just not a very healthy environment for Big Pharma companies to take chances on emerging therapeutics. There seems to be much more interest, frankly, in acquiring late-stage drugs for oncology or auto-immune than taking chance on a new blockbuster and that's not necessarily illogical from the risk-conscious perspective of Big Pharma. Still, it mutes the enthusiasm for companies like Alnylam and lowers the expectations for future partnerships.
It's also worth noting that Alnylam is presently entangled in a legal dust-up with one of its supposed partners. Alnylam and tiny Tekmira (TKMR) partnered together to develop delivery technologies for RNAi (a key component of the therapy), but Tekmira is now accusing the company of all manner of wrongdoing and seeking broad injunctive and punitive relief. Although Alnylam has its own delivery technologies under development (one of the issues Tekmira cites in its litigation), this could be a significant bump in the road for the company, particularly in its efforts to get five of its own therapeutic candidates into late-stage human studies by 2015.
Last and not least, there's a much more simple risk here – the drugs (and perhaps the entire approach) may just not work. RNA interference is similar in some respects to antisense and antisense was once lauded as the next great biotech breakthrough. Unfortunately, it has proven devilishly hard to replicate bench-top success in human patients and only Isis Pharmaceuticals (ISIS) remains as a notable name in the space (and the two companies are involved in a joint venture called Regulus Therapeutics).
The Bottom Line
Investors interested in Alnylam will need to roll up their sleeves and do some fundamental research on the scientific underpinnings of what Alnylam proposes to do. Although it is beyond the scope of this article, I'm happy to say that there is ample information out there with just a little bit of Google searching.
As it pertains to the investment case for Alnylam, I'm certainly biased (as I am long these shares), but I find the risk-benefit today to be interesting. Alnylam is trading for only about 14% more than its cash, but has several billion-dollar shots on goal in the pipeline. Like any biotech, the odds are against this company, but when it comes to risk-reward trade-offs for potentially breakthrough therapies, paying a little more than cash on the books seems like a worthwhile risk.
Disclosure: I am long ALNY, OTCQX:RHHBY.