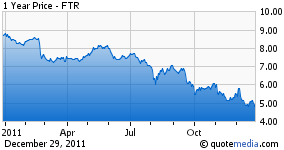 This morning, under a Bloomberg headline S&P 500 Analyst Target Price Changes for Dec. 29, Frontier Communications (NYSE:FTR) was listed as one of the stocks whose 12 month price target had been reduced. This is a daily update, and when it happens with a stock one owns, it is never a pleasant experience. In this case, though, there is a silver lining. Frontier's price target was reduced by only $0.02 from $6.69 to $6.67. Also significant is that the price target is about one third higher than Frontier's current price (below $5 at this writing).
Frontier currently has an annual dividend of $0.75 per share, yielding more than 15%. When the dividend yield is this high, the market is telling investors that the dividend is not sustainable, regardless of management comments. The market is a voting machine that votes with its wallet. And right now it is voting that the dividend is at risk.
The market is always forward looking, but it is not always correct at predicting the future. And neither are the analysts. So who should an investor trust? And, more importantly, what should one do with the conflicting information?
I own Frontier, and recently bought more. I really like the dividend, and believe management will do all it can to preserve the dividend. To do this, they will need to continue integrating the acquisition from Verizon (NYSE:VZ) and realize the additional synergy savings. They will need to continue building out broadband access and updating infrastructure. They will need a friendly stock market to minimize pension funding costs.
Much of this is already underway. The systems conversion and targeted synergy savings of $600 million per year is slated to be achieved in the first half of 2012 and management has hinted there will be more to come. The broadband infrastructure roll-out and investment will slow down in 2013. These catalysts - declining operating expenses, falling capital investment to more traditional levels, the potential to increase broadband sales - will make the next 18 months a period of transition. The company will also begin working under a new agency agreement with AT&T (NYSE:T) to sell wireless services in the first half of 2012.
2012 will be a key year for management and investors. I'm relatively comfortable with my position and think the dividend will be maintained through 2012, despite the market screaming (and voting) otherwise. However, I did hedge a bit on my most recent purchase by buying the stock and selling a covered call. At the time FTR was over $5, and I sold the $5 January 2013 call, so my call was sold "in the money." I wrote in a comment under a previous article:
...I made a small purchase using the in-the-money covered call strategy. I bought 1,100 shares at $5.31 and simultaneously sold the $5 January 2013 LEAP for $0.75 for a net cost of $5,032.31 (including all commissions and fees) or $4.575 per share.

Should the stock price remain above $5, at some point the shares will be called away for a return in excess of 9%. Any dividends would just add to that return.
The strategy still works (and, at the moment it is even better), although it may not be necessary to sell in the money calls. Currently the shares are trading at $4.95 and the $5 January 2013 call can be sold for $0.45. The net (excluding commissions) is $4.50 per share. If the shares are called, you make 11%. If you collect dividends, your yield is even higher.
Of course, there is also the risk of that dividend cut. But even if one assumes a cut, it is highly unlikely that it will be cut to zero. Frontier has nearly 1 billion shares outstanding, so the dividends use $750 million in cash per year. If they cut the dividend by one third, the cash flow savings are $250 million and the payout ratio drops dramatically. A $0.50 dividend still yields more than 10% on the current price. And if the dividend is actually cut, there is the possibility that the stock will rise, not fall. After all the market is a forward looking mechanism and the old adage is buy on the rumor and sell on the news. When "bad news" is baked into the price (i.e. a dividend cut), the opposite is frequently true - Sell on the rumor and buy on the news.
Summary
An investor has many ways to approach taking a position in Frontier. Go long for capital appreciation (and collect the dividends) and watch the stock rise to $6.67 if you believe the analysts. Buy the stock for the dividends and yield if you trust management. Hedge your bets by using the suggested covered call strategy. Or if you think the risk is too great, just stay away.
Disclosure: I am long FTR, T, VZ.
Additional disclosure: I may add to my positions in Frontier and/or initiate a covered call strategy at any time. I have no plans to trade VZ or T in the next 72 hours.