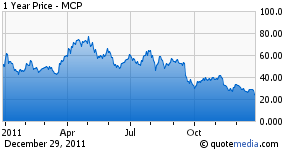 On August 15th, Mark Smith, the president and CEO of rare earth producer Molycorp (MCP), made one of the strangest insider purchases I have ever observed. Just two months earlier he dumped his last tranche of stock for a total 259,260 shares on the year at a gross value of $13.1M. Smith actually bought his shares for almost 20% higher than his last sale. Over four months later and a stock which has lost over 50% in value, I remain bewildered by Smith's purchase.
Two weeks ago, on December 15th, Smith doubled down on his purchase. This time he paid a much more reasonable $27.95 for 5,000 shares, a total value of $139,750. While MCP reported very strong and promising profits and revenues in November, I continue to wonder why he is buying these shares.
If Smith is trying to signal his bullishness in the company, he should be reinvesting a lot more than a paltry 4% of his 2011 take. If he expects to make money on these shares, again, I would think he would make more sizable purchases. Is he crazy like a fox, or crazy like a bat?
One potential positive on the distant horizon is an "occurrence" of heavy rare earths near MCP's Mountain Pass, CA, facilities. The Bureau of Land Management just authorized test drilling, and Smith claims that if mining the deposits proves economically viable, MCP can produce these materials very quickly (see "A Key Milestone in Molycorp's Heavy Rare Earth Strategy"). Perhaps Smith is making an initial bet on the large upside potential of these heavy rare earths. Only time will tell at this point.
Meanwhile, MCP's stock continues to deteriorate presumably because doubts continue to mount that rare earth demand will come up short when supply finally starts to flood the market starting next year.
MCP plunged 14% on December 28th to 15-month lows on the heels of more negative analyst commentary. JPMorgan cut its price target from $57 to $39. This comes three months after reducing a $105 target to $66. It is always hard for a stock to gain traction when analysts are still in a downgrade cycle, constantly reducing price targets.
On December 27th, Dahlman Rose, perhaps the most bullish of the few analysts covering rare earth companies, reassured investors that margins at MCP (and Lynas) will be fine even as rare earth prices continue to drop. Smith has essentially confirmed this assessment in the past, and I believe it, but clearly the market is in no mood to believe it.
I continue to think that MCP has tremendous upside potential over the long-term but that a portfolio of rare earth companies must include hedges: either very small positions and/or puts. (Note that MCP has still not erased its QE2-inspired gains, an event that would put it on the "commodity crash" buy list. The QE2 reference price is $16.75.)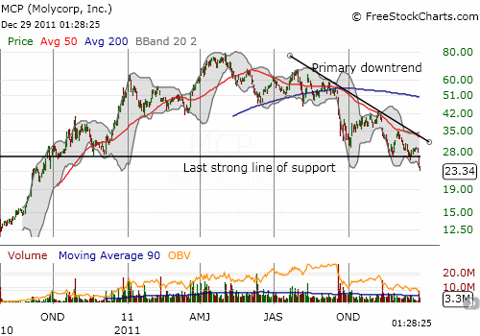 MCP continues to plunge and now trades BELOW that last line of critical support.

Source: FreeStockCharts.com.
Disclosure: I am long MCP.
Additional disclosure: I am also long MCP puts.