Portugal Telecom (NYSE:PT) shares have taken a 53.7% plunge from their May 2011 high of $12.69, and are back near their lows of late 2008, because of solvency concerns surrounding the Portuguese government combined with fears of a looming global recession. The company has mitigated some of these risks with the geographic diversification of its businesses and through targeted cost cutting.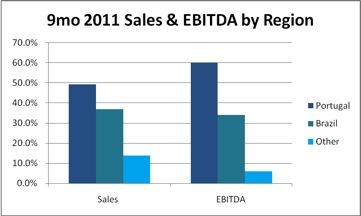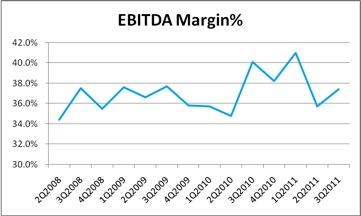 Weighted by the percent of revenues contributed from each region, the economies in which PT operates have grown by about 6.5% compared to 3.4% global growth since 2007. In Brazil, the fastest growing economy in this mix, during the first nine months of 2011, the average worker earned 40.2% more than he did in the same period of 2008.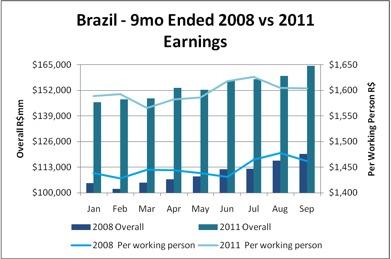 The company has seen some declines in its subscriptions during the recent downturn. However, the demand for telecommunication, Internet, and pay TV services from the company's consumer base is not solely dependent on the government's ability to service its debt. As long as consumers can still afford their Internet, television, and telephone bills, they will continue to pay them, and PT can continue to add value for shareholders.
Increases in sales and earnings would usually coincide with an increase in stock price, but PT is under the pressure of a general selloff of companies exposed to the Portuguese economy. As the company continues to perform and produce solid earnings amidst a soft economy, the stock should recover in due time.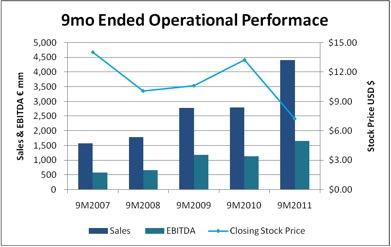 The company has an average analyst one year price target of $8.73, a 48.5% premium to $5.88, where it closed on Wednesday.
Beyond this steep price discount, PT announced a $0.94 interim dividend on December 15, 2011 with an ex-dividend date of December 30, 2011. With over $5.00 billion (€3.87 billion) of cash on hand, the company can afford to pay its investors to play as it continues to gain market share and increase its long term earnings potential. As the economy turns, shares of PT should rebound, giving investors a great opportunity to benefit from an oversold stock with a hefty dividend to pay them to play.
Disclosure: I am long PT.