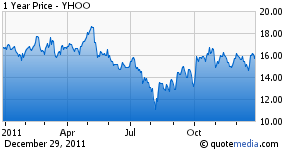 Yahoo Inc. (NASDAQ:YHOO) is an attractive company for many different suitors. It has a market cap of $20B, $1.4B in cash, and only $134K in debt as of its Q3 10Q. It also produces EBITDA over the $1B mark. While there have been rumors about potential suitors, no one has been able to pinpoint who it might be. One thing is for sure, the longer we wait, the less any potential deal might bring.
Yahoo has been struggling and the board finally decided to fire CEO Carol Bartz. Almost instantly shares rebounded on buyout speculation. Any buyout of Yahoo to have a remote chance of success would have to be over $20B, making the collection of private equity financing difficult. The largest buyout financing since the crash has been only $7.5B.
One article suggests that Google Inc (NASDAQ:GOOG) might finance the deal. But it goes on to say that any Google involvement would likely draw antitrust issues and I tend to agree. While all these rumors have been flying, Yahoo has yet to mention anything about a new CEO. They also have yet to publicly announce any sort of plan to guide them out of their struggles and back into the innovative company they once were.
Yahoo is in talks to sell what some analysts are calling its most valuable asset, a 40% stake in Alibaba Group (OTC:ALBIY). If they sell they will have a significant amount of cash, but that would have to be coupled with another strategic investment that serves Yahoo even better than this one. Otherwise, they just banked a pile of cash that will sit. Yahoo could issue a dividend or buy back more shares, but that will only temporarily impact the share price.
A market watch report notes that currently Yahoo's guaranteed ads are only at 50% when a year ago they were 96%. This reinforces the struggles. Without a new CEO and a new business strategy, Yahoo is losing value by the day. This could be a potential strategy for any firms that specialize in buying up troubled businesses and restoring them to success. But if Yahoo delays in trying to improve the company while hoping a buyout comes in, buyers could wait and let the value drop to make their purchase easier. Even worse, Yahoo could completely collapse or lose so much of the market to Google and other competition that they fall and can't get back up.
Regardless of Yahoo selling Alibaba or retaining control, it needs to find a new leader to begin to repair the company and launch a new campaign to combat Google. Yahoo has two arenas to do battle in: First is regular online advertising, the second, and arguably more important, is rapidly growing mobile advertising. They could sell Alibaba, pay out some cash to reward shareholders, and then make new investments to further a new strategy, or keep Alibaba and build with what they have.
I think it is a good play here just under $16 because there is a lot more positive potential than negative. The likelihood that Yahoo will just sit and fail or sell Alibaba is much lower than finding a new leader, selling off Alibaba as part of a new strategy, or being completely bought out. I think the end result of all this will be Yahoo combining with Alibaba, but at what fashion is uncertain. Yahoo could sell off the stake in Alibaba and then be bought, they could come to a merger agreement, or Alibaba could take them over. It would be in the best interest of these two companies for something to happen sooner rather than later.
For shareholders, the best short-term payoff would be selling off Alibaba and using that cash for a special dividend. For long investors Yahoo needs to not only keep Alibaba, but get a new, competent, well recognized CEO in place to announce a way forward to keep Yahoo a major competitor.
Disclosure: I have no positions in any stocks mentioned, and no plans to initiate any positions within the next 72 hours.