If you're one of the fortunate investors who bought Apple (NASDAQ:AAPL) earlier this year on a dip, you most likely currently have a profitable unrealized gain. Apple was one of the best stocks to buy this year for price appreciation, as it has risen over 24%, from $325.64, to approximately $405.00, as of 12/29/11.
Although Apple doesn't currently pay dividends, and therefore isn't on our normal beat of dividend stocks, last week we wrote about a lucrative, conservative strategy in which you can create your own AAPL dividend with a higher yield than many high dividend stocks. This week's article illustrates another way you can create income from Apple, and/or, if you already own AAPL shares, you can lock in a good percent of 2011's price gains. With all of the uncertainty ahead in 2012 - a U.S. presidential election, ongoing eurozone debt problems, etc., many forecasters are calling for another bumpy year in the market.
Selling covered calls is a proven strategy for hedging some of your downside risk on a stock. AAPL's options have good volume and liquidity, so there are many to choose from.
You can find more details on over 30 covered calls trades discussed in our other recent articles in our Covered Calls Table.
Some of the key decisions to make when selling covered call options are:
1. How far out in time to sell covered calls - Generally, the further out in time you sell, the higher the premium, due to the time value of the options. The trade-off, however, is the additional uncertainty of going further out into the future. Currently, there are AAPL options available in 2012-Jan, Feb, March, April and Oct.; Jan 2013, and Jan 2014.
The table below compares these various expirations using the same $410.00 strike price and using AAPL's 12/29/11 price as a cost basis.
The call option premiums increase as you go further out in time, giving you a lower break-even, but also a lower annualized yield: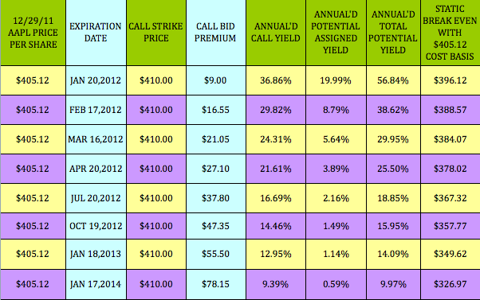 Click to enlarge
"Static Break-Even" refers to the difference between the stock's cost of $405.12, and the call bid premium for each month's strike price listed. If the stock remains static, (it doesn't rise above the strike price at or near expiration, then the stock usually won't get assigned/sold away from you. (In general, most assignments occur at or near the time of expiration.)
Hedging your 2011 price gains: The table below uses AAPL's 1/3/11 $325.64 price as a cost basis, and illustrates how much of AAPL's year-to-date 2011 profit you could hedge, selling $410.00 covered calls in various expiration months. Again, the further out in time you sell, the more premium you get, and the more of your profit you hedge, but your annualized yield decreases: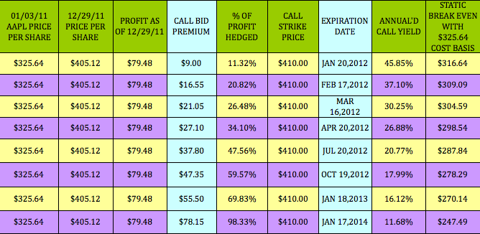 Click to enlarge
2. How close to the stock's current price should the option strike price be - This decision is usually based upon your take on the market, and the stock's future prospects for price gains. The more bullish you are on a stock, the further "out of the money," (above the stock's current price), you may want to sell calls at. The reason being that, when you sell a call option, you're obligating yourself to potentially have to sell the stock in the future, at your sold call option's strike price.
For example, if you think that AAPL may rise well beyond its current $405.00 price, (as do several analysts), you'd probably want to sell at a higher strike price than a more bearish investor who is more interested in locking in the current price gains, and creating income, than speculating on more price gains in the future.
The trade-off is that call options further above the stock's price, (out of the money), have a lower premium than those closer to the stock's price, (at the money), or below a stock's price, (in the money).
Here's a comparison of various strike prices, using $405.12 as AAPL's cost basis to illustrate this point: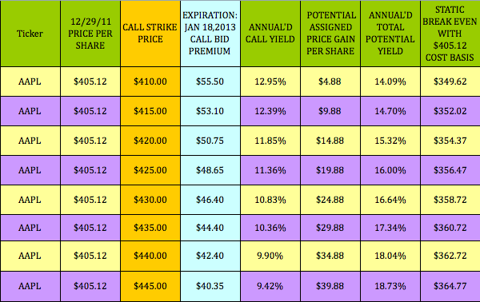 Click to enlarge
Your potential assigned price gain/share increases with each higher strike price. However, your downside break-even price also increases.
The following table compares how much profit you can hedge, using various strike prices, with AAPL's year-to-date 2011 price gain: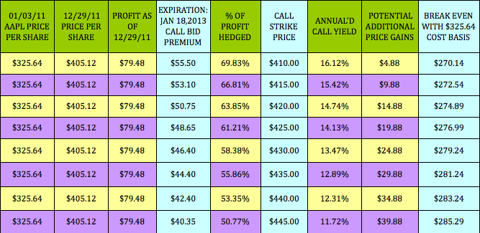 Click to enlarge
Again, your percent of profit hedged decreases, as you sell at a higher strike price, but your potential for additional price gains increases $5 with each higher strike price, in this example. So, a more bullish investor might choose a higher strike price for AAPL, leaving himself more room for potential additional price gains on top of the current $79.48 year-to-date profit listed. (The additional price gains are calculated as the difference between $405.12 and the strike price.) A less bullish investor might be more inclined to sell at a lower strike price, and hedge more of his year-to-date profit. He would also have a lower break-even.
Valuations: AAPL's strong growth record is quite impressive, especially when you consider that it has happened during a period of recession and slow economic growth.

Click to enlarge
Financials: Not much to complain about with these financial metrics either, although many AAPL shareholders would like to see the company join other tech firms, such as Cisco (NASDAQ:CSCO), and enter the ranks of dividend paying stocks. For dividend investors, selling covered calls and cash secured puts offer two lucrative ways to create income from AAPL.
(Note: You can find details on over 30 high yield cash secured puts trades in our Cash Secured Puts Table.)

Disclaimer: This article is written for informational purposes only and isn't intended as investment advice.
Disclosure: Author is long AAPL, via being short AAPL put options.