Poor Netflix (NASDAQ:NFLX). The company with which many investors seemingly had a summer fling has now started to endure the painful breakup period with so many of its subscribes and investors. Most have heard about the well-documented blunders of Qwikster and the price increase for Netflix services. These two situations led to more than 1 million subscribers leaving the company. However, this is just the tip of the iceberg when it comes to the challenges that Netflix will have to face in the coming years.
The Poor Get Poorer
While some companies are great to pick up at dramatically reduced prices, NFLX is not one of them. This stock has been smacked down from its 52 week high of $304.79 down to a closing price of $69.30 on December 29). Not a falling knife to grab, Netflix has a target price as low as $45 a share with the median only being $80.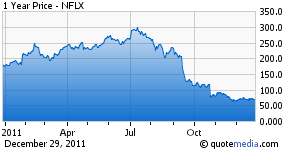 It was not just the PR mistakes that made the company take its tumble. Rather, there are a number of other concerns as well. Consider the fact that the company has nearly 22% of the float short at the moment. Investors are betting heavily that NFLX is going to fall further, and so far they are winning that bet.
Heavy Competition
Netflix had a good thing going, and competitors noticed. Competition from a brand like Redbox, a subsidiary of Coinstar (NASDAQ:CSTR); what remains of Blockbuster; and illegal movie downloads online are all concerns. Consumers want choice, and most of them are going to go with the options that are the least expensive. When Redbox is able to offer them a $1 per rental per night on a movie, that price can seem very appealing. Even more tempting is the possiblity of viewing illegal, pirated movies online. Although the practice is against the law, there is no question that it is eating away at potential revenue for NFLX. Consider that in comparison to price hikes at Netflix. and part of the problem becomes more clear.
Valuation Issues
Although NFLX has come down dramatically in price, it still has room to fall. This stock was producing an estimated $4.10 in annual earnings in 2011, but faces the possibility of earning next to nothing per share for 2012. The future beyond that is even more uncertain. At current prices, the PE ratio for this stock would be very high in 2012. This alone is one reason to short NFLX now. There is no clear path to turning things around at Netflix, and the company certainly does not deserve the $69.30 share price it enjoys right now. Although it is not the most original play, it is a smart idea to join the crowd on this one and get short NFLX.
Disclosure: I have no positions in any stocks mentioned, and no plans to initiate any positions within the next 72 hours.