Summary Recommendation
SodaStream's (NASDAQ:SODA) management is executing their strategy at all aspects of their business. Having sought aggressive expansion in the United States, the company has now established a large and impressive distribution network that limits future competition. American revenue is growing at over 100% year over year and the company has routinely crushed earnings estimates. Analyst recommendations have been positive and are continuing to improve. My valuation of the company yielded an implied stock price of $48, confirming the stock as a strong buy. Potential successful product developments and expansion in Asian markets, particularly Japan, represent opportunities for further revenue growth not incorporated in my valuation.
The Business
SodaStream develops, manufactures, and sells home carbonation systems that enable consumers to transform ordinary water into carbonated soft drinks and sparkling water. The company also manufactures and sells consumables consisting of C02 refills, reusable carbonation bottles and flavors to add to the carbonated water. Their products are currently sold in over 41 countries. The company generally enters a market through specialty retail stores and later expands in to mass retailers. They employ a "razor/razor blade" business model, in which they try to increase sales of soda makers in order to generate recurring sales of consumables at higher margins. Overall, 50% of revenue comes from the soda makers, 48.6% from consumables and 1.4% from other; however the company notes that in their more established markets, consumables make up the bulk of their revenue.
Growth
After a successful test with Costco (NASDAQ:COST), SodaStream machines will be available at 240 locations for the holidays. Best Buy (NYSE:BBY) has increased purchase locations from 700 stores to all 1000. After a successful test at Staples (NASDAQ:SPLS), SodaStream machines are now available at all 1100 locations. Furthermore, SodaStream has increased gas refilling stations in the US to 4800 locations from 2600 in 2010. This was a result of both Macy's (NYSE:M) and Staples offering refillables at all of their locations. The recent growth in locations represents retailers' long term faith in the company's prospects.
Q3 revenue increased 124% in the Americas vs. 10% in their more developed Western European markets. Future marketing expenses will be focused on continued growth in America. SodaStream cites America's relatively high soda consumption as the key reason for their focus on this region. The average European SodaStream user spends $34 a year on consumables and primarily makes carbonated water. The average American SodaStream user spends $65 a year on consumables and primarily makes soda. SodaStream has consistently been increasing their portion of revenue derived from the Americas:

In an effort to appeal to healthy lifestyles the company plans to sell more natural and organic flavors, vitamin enhanced options and natural C02. The CEO has also suggested plans to begin selling from specialty grocery stores in the Americas like Whole Foods. Long term, the company plans to make in-fridge, tap, and under the sink soda makers.
Some popularly cited problems concerning future growth include the product being a fad, the introduction of competitors like Primo Water's (NASDAQ:PRMW) Flavorstation, and the bulk of revenue being euro based. SodaStream has received generally positive reviews and excellent retailer support, signaling that the product is not a fad. Their main competitor in America, Primo Water, has posted two disappointing earnings reports in a row, experienced major setbacks in its Flavorstation rollout, and is in the midst of a new lawsuit alleging defrauding shareholders. Even if Primo's management rebounds, their product's success will benefit SodaStream by increasing awareness to home based soda makers. Finally, the concerns of revenue being euro based are justified. We could see the euro continue losing value in the upcoming year and this risk must be considered.
Porter's Analysis
Margins
Gross Margins have been decreasing as the company executes market penetration through a focus on soda maker sales.

Balance Sheet and Free Cash Flow Analysis
The company has a strong balance sheet with no signals of distress either short or long term. SodaStream recently paid off the remainder of their long term debt, and after a secondary stock offering raising €33.1 million (diluting shareholder's approximately 6.4%); they have positioned themselves to grow from internal cash through the foreseeable future. As the company's expenditures to increase productive capacity and distribution in the United States comes to an end, I expect the company to report a small positive free cash flow in 2012.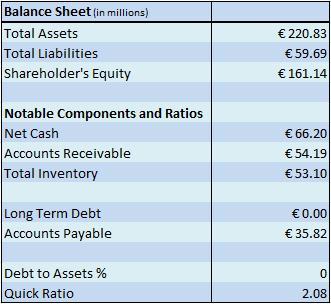 Earnings History and Consensus Recommendations



Valuation
Disclosure: I have no positions in any stocks mentioned, but may initiate a long position in SODA over the next 72 hours.
Disclaimer: Most of the data is sourced from capitaliq.com and SodaStream.investorroom.com. The earnings history, price target summary, and recommendation trends are sourced from finance.yahoo.com. The information and data is believed to be accurate, but no guarantees or representations are made.