Cal-Maine Foods Inc. (NASDAQ:CALM) posted second-quarter 2012 adjusted earnings of 97 cents per share, which surpassed the Zacks Consensus Estimate of 69 cents. The quarterly earnings also improved from 63 cents earned last year. The year-over-year growth in earnings was attributable to higher margins.
Inside the Headline Numbers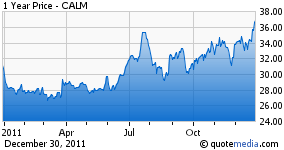 Total revenue, in the quarter under review, leaped 23.8% year over year to $290.4 million. The upswing resulted from strong seasonal retail demand for eggs as well as higher average selling prices.
The largest U.S. producer and distributor of fresh-shell eggs stated that demand for eggs at the retail level remained strong around the holidays. The fall season saw a 6.0% year-over-year rise in total dozen eggs sold. Specialty eggs, which have higher selling prices continued to see improved sales and accounted for 22.7% of total dozens sold compared with 23.0% in the year-ago period.
Gross profit increased 36.1% from the prior-year quarter to $61.5 million but gross margin expanded 192 basis points (bps) year over year to 21.2% despite the hike in feed cost. During the quarter, feed cost was up 8 cents to nearly 47 cents per dozen compared with the second quarter of fiscal 2012 backed by higher corn and soybean meal prices. Operating income also picked up 56.6% year over year to $35.7 million, while operating margin increased 258 bps year over year to 12.3%.
Financial Position
Cal-Maine ended the quarter with cash and short-term investment of $200.1 million, long-term debt of $70.2 million and shareholder equity of $436.8 million.
Our Take
Jackson, Mississippi-based Cal-Maine engages in production, grading, packaging, marketing and distribution of shell eggs primarily in about 29 states across the southwestern, southeastern, mid-western and mid-Atlantic regions of the U.S.
After registering slower growth in earnings and a decline in margin for some time, the company turned around in the quarter under review. Revenue growth momentum continued on strong retail demand. Moreover, strong leverage contained the higher cost structure, leading to improving margin. However, although management witnessed some softening in grain prices in recent times, feed costs are expected to be high and volatile for the rest of the fiscal year.
Hence, Cal-Maine Foods currently retains a Zacks #3 Rank, which translates into a short-term Hold rating. We maintain our long-term Neutral recommendation on the stock. Cal-Maine faces intense competition from BRF - Brasil Foods S.A. (NYSE:BRFS).

CALM: Free Stock Analysis Report
BRFS: Free Stock Analysis Report