Cameco (NYSE:CCJ)
Short Company History
Cameco is one of the world's largest uranium ore producer. They are Canadian. The company accounts for about 16% of world production from its mines in Canada, the U.S. and Kazakhstan.
Ever since the Fukushima incident, the company's share price has taken a beating. It's bad. The share price has come down from the $40s to close at $17.96 yesterday. No one is talking about nuclear power replacing oil and gas anymore. Germany has promised to shutter all its reactors, so has Japan. The spot price of uranium has fallen 28.4% since Jan 2011. It is a disaster of epic proportions.
The key question is: Can we make some money out of this disaster?
It is tempting to find see this stock as an opportunity, a value play. In fact, it bears similar hallmarks to another company I've written about – DreamWorks (NASDAQ:DWA). Both are trading near their 52 week lows. Both have been the subject of negative headlines.
However, Cameco differs from DWA in significant ways. Namely that the industry is suffering from a severe fall in demand. The nuclear power industry suffers from safety problems that seem to be intractable. CCJ sells a commodity product that is undifferentiated from its competitors. Furthermore, the catalyst that everyone was hoping for – the continued Chinese nuclear power construction program - is now being rethought (here and here). The Chinese have suspended any approvals of new nuclear power plants. Safety checks are being conducted on plants that are already in operation and a review of the ones in construction was completed in October. Furthermore, the Chinese have been overspending on infrastructure. It has been causing inflation issues in China. This combined with the safety issues is causing more cautious approach.
To understand the importance of the Chinese to nuclear power and uranium demand, let's take a quick look at the figures. According to UxC, China was to account for 50% of Estimated New Capacity by 2020 (86,376 Mwe). The next country was India at 9% (18,362Mwe). A suspension of 50% of new capacity is going to hit demand really badly.
New Production
Due to the high demand for Uranium over the past few years, the various miners/ countries have been busy adding capacity. The following table shows 37.4% estimated increase in global uranium production.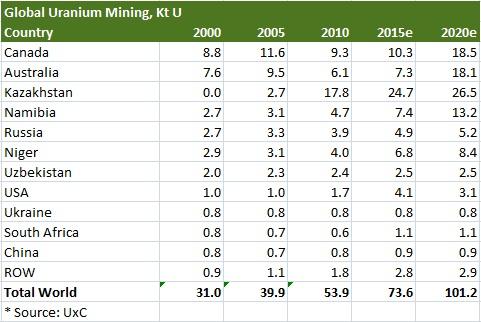 The projected increase in supply coupled with the decrease in demand will probably result in a severe fall in Uranium prices.
Conclusion
Cameco is probably not a good investment idea at the moment. I wouldn't short the stock because it might go nowhere for a long time. Not every stock that is trading near its 52 week lows is a good idea to buy. Also, industry issues are a lot harder to overcome than company specific ones. There's nothing really wrong with Cameco as a company. It's just that they operate in an industry with bad economics right now.
Disclosure: I have no positions in any stocks mentioned, and no plans to initiate any positions within the next 72 hours.