With the U.S. dollar continuing to strengthen (starting in September of this year), assets viewed as bets against the dollar are starting to trade with the rest of the "risk assets". In particular precious metals can now be bucketed in the same risk category as some industrial metals that trade with "risk on/risk off" cycle. This had also been the case during some periods in 2009 when gold for example traded with equities. The charts below compare NYMEX gold and silver with COMEX copper.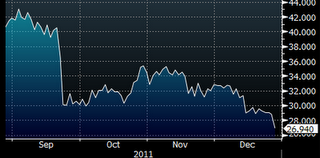 (

Click to enlarge)
NYMEX Silver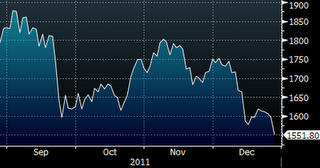 (

Click to enlarge)
NYMEX Gold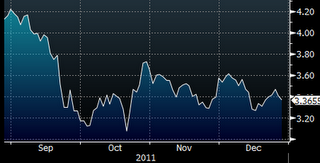 (

Click to enlarge)
COMEX Copper
Precious metals have underperformed copper during this period, but the overall trends are similar. Typically gold is viewed as a "safety asset" that should rally when the world is in crisis, while copper is a "risk asset" that trades with expectations for global growth. But lately the two commodities have been highly correlated as the regression chart below shows.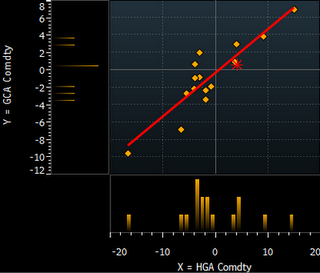 (

Click to enlarge)
Gold - Copper regression (Bloomberg)
Since the end of August the correlation coefficient of weekly returns has been around 0.9, which is highly unusual for precious metals. Some of this is related to the slowdown risks in Asia which may impact demand for both precious metals and industrial metals.
In the long run, even with this relationship, the "tail risk" scenario may prove positive for precious metals because it will increase the chances of the Fed using its last bullet - QE3. For now however these commodities will continue to trade together with some industrial metals in the usual pattern of "risk on/risk off".
Disclosure: I have no positions in any stocks mentioned, and no plans to initiate any positions within the next 72 hours.