For every truly undervalued stock, there are many that are simply not going to provide for shareholders. These stocks are not undervalued, they are low for a reason, and that reason is because the underlying business is failing. This makes scanning for the true bargains difficult. That is exactly why careful consideration and due diligence is required for proper stock analysis. One stock that has received an incredible amount of attention is Zagg Incorporated (NASDAQ:ZAGG). The maker of protective skins, audio accessories, and covers for smartphones and laptops has been a very volatile name in the market. ZAGG has had a 52-week range of between $6.23 and $17.10 a share. The stock has even experienced a 42% decline (based on the closing price of December 29) just in the last month. Given this, it would likely be considered wise to perhaps stay away. However, when ZAGG is more closely examined, there are signs that this stock could be a real winner.
Short Interest Concerns
"[Zagg Inc.] has gone from $5 million in annual revenue for fiscal 2007 to about $150 million projected for fiscal 2011 - but let's be honest, that kind of mammoth growth simply can't happen again" declares Jeff Reeves in his article for Marketwatch. Reeves also mentions his concern that short sellers are currently holding about 45% of the float. That is higher than the 40% that short sellers were holding of Sears Holdings (NASDAQ:SHLD) shares, which recently plummeted. While having that many short sellers is certainly a put off to some investors, I believe that the fear could be overdone.
Reeves fears that ZAGG is a momentum play that is going to come crashing down to earth. The problem with this though is that he may have missed the boat. Sure, when ZAGG was traded at $17 a share with a forward PE of 22.66 there was a declining momentum argument to be made. However, the stock now trades at $6.65 a share (as of the close on Dec. 29) with a forward PE of just 8.86. The short sellers have certainly had their day in the sun with this one, but I find it hard to accept that a $6.65 stock with projected earnings of $0.75 per share next year is a good stock to short.
Valuation
Speaking of valuation, ZAGG looks appealing in that department as well. As already referenced, analyst are expecting ZAGG to earn $0.75 per share for 2012. Now, projections are only worth their weight if they turn out to be true, but that is where more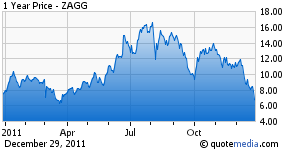 good news lies. ZAGG has met or exceeded its earnings expectations for the last five out of six quarters. The one exception was in Q2 of this year when ZAGG was in the middle of purchasing competitor iFrogz. That earnings miss was only by $0.02 per share and can likely be attributed to the purchase of iFrogz.
Insider Selling
Yet another concern that many doubters of this company are pointing to is insider selling. Four individuals dumped over 2 million shares on a single day (December 21, 2011). This is certainly eyebrow raising until one takes a look at who these people are. They were holders of shares of iFrogz who were frozen out from selling their shares for six months. The deal with iFrogz was finalized on June 21, 2011, so these holders could not sell until that December date. They were simply getting their money out on the first day of their opportunity to do so. No one could blame them for acting this way. After all, those shares had declined nearly 50% in a month, and even insiders panic. They may have simply felt it better to cash out and have liquid funds than to allow their fate be decided by the stock price of ZAGG. This type of insider selling should largely be ignored. What should have been carefully looked at was the true insider selling between the $11.75 and $15 levels as far back as September. That selling was the true warning of the coming price decline.
Momentum Ending?
Coming back to Reeves' point about momentum with ZAGG, the issue is largely overblown. Sure, the company is not going to continue to see growth like it did from $5 million to $150 million in revenue. No company could ever keep that pace up, but that doesn't mean that ZAGG is done. As a matter of fact, on that infamous day December 21, ZAGG increased its revenue guidance for 2011 from $170 million in revenue to $175 million in revenue. This is the third upward revision just this year. The increase was driven largely by the acquisition of iFrogz and stronger-than-expected holiday sales. This positive news did not help the stock price as it fell 3.22% on the day.
I say wake up prudent investors and take advantage of the gift that sellers of ZAGG are offering. This stock is absolutely a buy at $6.65 and is only worth consideration of selling at $10 or above. Investors better act quickly though, this price may not be available for long.
Disclosure: I have no positions in any stocks mentioned, and no plans to initiate any positions within the next 72 hours.