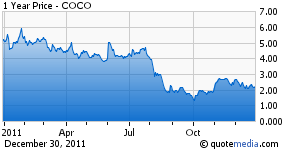 At the end of last year I picked Corinthian Colleges (NASDAQ:COCO) as the most important stock to own for 2011. I also wrote several follow up articles and did trade Corinthian options and stock throughout the year. As it turned out, Corinthian was the highest returning stock for me in my trading account.
Click here to read my Corinthian articles.
Risk management is the key in markets. Usually when friends and acquaintances highlight a stock they want me to look at the conversation begins with how much money can be made. I have learned through the school of hard knocks to quickly discount the potential gains, and focus on how much can be lost. What I have found by focusing on losses and not on potential gains is I make more money, sleep better at night, and I am able to spend time working on ideas to produce better results.
Using options to mitigate volatility and to gain an edge has many advantages. And 2011 has proven to be a stock option writing paradise. Lots of market volatility along with a tendency to revert to the mean spelled large profits for sellers of option premium.
This was especially true for Corinthian with the stock trending sideways for the first half of the year. While the 200 day moving average was almost in free fall, the 60 and 90 day moving averages flat lined by April. As a result, with implied volatility falling, the option time value premium fell. When the July $4 options I wrote flattened my position on expiration day, I didn't re-write any puts. Part of this was luck (sometimes you make your own luck) and part was due to holding to my guns and not moving my offer prices lower for the $4 puts I was looking to write.
In early August Corinthian's share price took two strong legs down, causing Corinthian to lose about half of its market capitalization. Dodging that bullet allowed me to get the best of it, but even had I taken the hit I would still have a nice double digit return for the year with Corinthian. After Corinthian moved below $2 I once again started to sell volatility with aggressive covered calls. I bought Corinthian for under $1.60 and waited for a pop higher in price before selling $2.00 covered call options. The options ended up exercised and my shares were called away and I made the largest percentage gain for a hold of the year. The gain with option premium was over $1 per share and that resulted in my last trade of the year with Corinthian.
I remain bullish with Corinthian (under the right conditions to enter into an investment) absent a new material change in the company. Below $2 a share I will look to sell the February $2.00 puts for $0.30-0.35. 2012 may end up to be the year for Corinthian shareholders, but absent a buyout I believe it will be a tough year in the entire education space with Corinthian fighting for each dollar.
What are your thoughts on Corinthian in 2011 and the upcoming year? Do you have a company you want me to review? Let me know in the comments below.
I use a proprietary blend of technical analysis, financial crowd behavior and fundamentals in my short-term trades, and while not totally the same in longer swing trades to investments, the concepts used are similar. You may want to use this article as a starting point of your own research with your financial planner.
Disclosure: I have no positions in any stocks mentioned, but may initiate a long position in COCO over the next 72 hours.