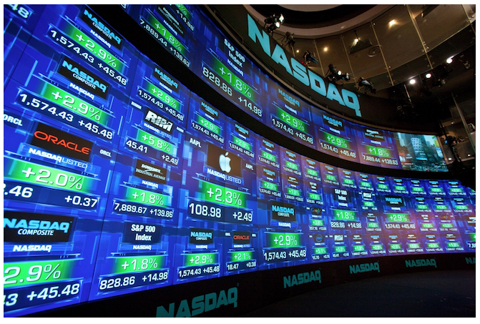 Click to enlargeOur group is always looking for new opportunites for buying and sell. Today we took at look at trying to find two stocks that we believe have a lot of potential for upside and downside in the coming week. The market has been on a tear into the end of 2012, but with Europe continually lingering in the shadow and volume returning next week...market rallies or declines are anyone's guess. Therefore, it is always great to have a couple ideas in both directions when the next trend strikes.
For more upside, we like

Monsanto (NYSE:MON) - Monsanto has been consolidating somewhat into earnings, which are next Thursday, with a slight uptrend. The stock has shown good strength holding the 200-day MA over the past two weeks. We believe the company has upside into earnings and will also have a nice move off earnings. According to history, January earnings are typically very good for Monsanto. Additionally, if the dollar continues to weaken, that will be good for Monsanto. Earnings are expected to jump from 0.02 last year to 0.15 this year for the latest quarter. That sort of jump wll be very positive, and we are expecting a beat for the company. Right now, we like going long the stock and selling the $65 puts for a max 9.2% gain.
(Click charts to enlarge)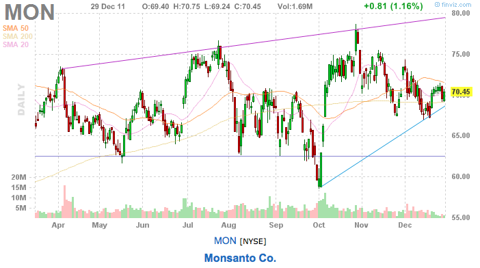 Click to enlarge
Starbucks (NASDAQ:SBUX) - The company has been unstoppable as of late, and we believe that SBUX will continue its uptrend into 2012. The company got an upgrade today from DA Davidson, and looks strong. It is testing the top of a price channel now, and the stock looks ready for yet another breakout. The strength of Starbucks is coming from strong sales and expectations of another great quarter. The company has been reporting good results for its K-Cups, and holiday sales have been very strong. We expect SBUX to be strong in January. We like to go long the stock on any dips and would love to sell some puts at the $43 level on any dip.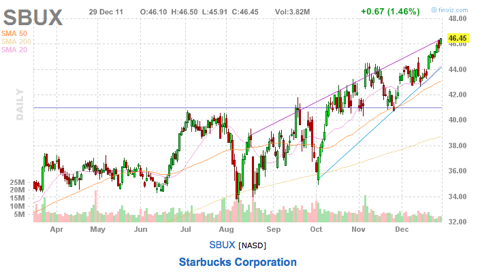 Click to enlarge
For more downside, we like

Molycorp (MCP) - We have not been a fan of any of the rare earth metals (AVL, REE), citing significant valuations and speculative plays always having trouble over the long run. MCP, even now, still has a 25 P/E and while the long-term trend may be upward for MCP in the future, we think of it much like solar. Solar has a lot of potential, but it has no market love because the industry is still young and has much greater risk than othe energy sources. Rare earth compares the same way with other minerals. MCP just broke a key downward price channel today, and we expect more downside to occur for MCP into the beginning of the year. The stock could not even get much going when the company's CEO doubled his shares lately, not a good sign.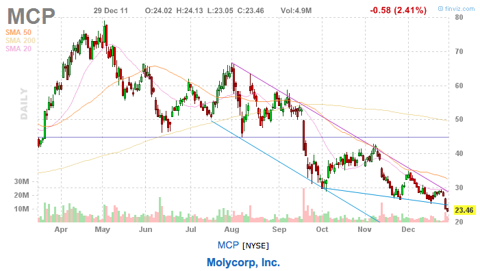 Click to enlarge
Polycom (NASDAQ:PLCM) - We are currently in a bear call spread at the 17.50/18.75 levels for Jan21 expiration, and we believe this is a tremendous trade. PLCM is a company that has a lot of pressure going into a January earnings report on Jan20. The company dropped 29% after the last earnings report was much worse than expected, and we believe that PLCM will have a lot of problems breaking out of its current downward trend until earnings come out better on Jan20. The stock has resistance from its 20-day and 50-day MA, and the 17.50/18.75 spread is still offering about 20%. The company has a lot of mounting pressure from Cisco (NASDAQ:CSCO) and other companies in the cell phone teleconference industry. A buyout candidate but at cheaper prices.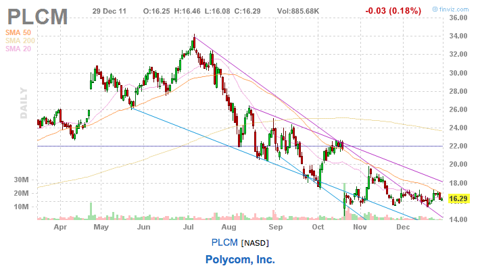 Click to enlarge
Disclosure: I am long SBUX, MON, short PLCM. I may enter a position in any stock mentioned in next 72 hours.