Equity Predictions For 2011
On the equity side a major prediction was for emerging markets, in particular the BRIC countries of Russia, India, Brazil and China, to perform well. Investors were encouraged to boost their allocations to those countries and to emerging markets generally. This was based on the better growth prospects and fiscal and trade surpluses of these countries. As a consequence there were large flows of money into emerging markets early in the year. No doubt the forecasts and the money flows were chasing past performance. In 2009 VWO emerging markets outperformed the U.S. and Europe.
But as with most of the predictions this proved to be terrible advice. Emerging markets performed dismally as can be seen on the chart below, which shows VWO, BRIC, India and China compared to the U.S. and Europe. Not surprisingly the money started flowing out of emerging markets, further exacerbating the losses. These outflows also no doubt showed the worst of investor behavior, buying high and selling low rather than maintaining a long-term allocation to an asset class like emerging markets.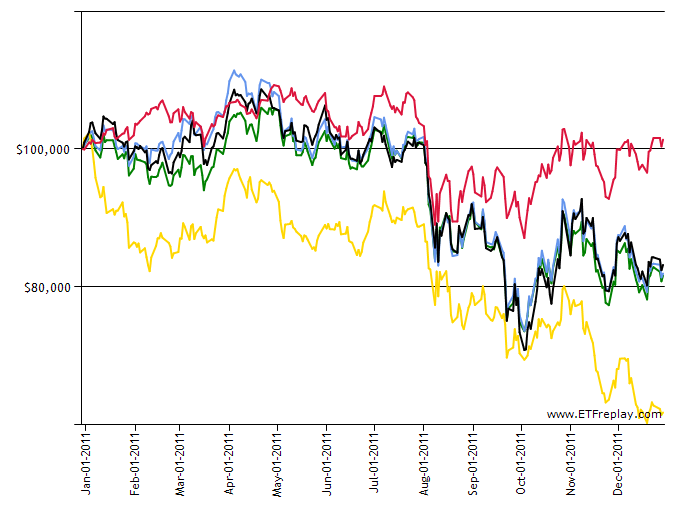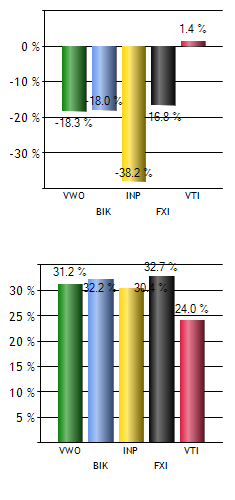 Another area that was the focus of buy recommendations for 2011 were commodity related stocks. No doubt here as well there was a bit of performance chasing. And here the prediction turned out badly. IYM, the materials producer ETF, is -16.2% for 2011 after gaining 31% in 2010.
As the year progressed the conventional wisdom concentrated on recommending concentration in U.S. stocks and particularly large stable companies paying attractive dividends. The argument is that with yields above those of treasuries these stocks are attractive alternatives to bonds. Of course a 4% or 5% decline in price wipes out the contribution of the dividend to total return (i.e. account value).
This dividend strategy is certainly the "idea" for 2012 with a proliferation of ETFs and mutual funds pursuing this strategy. No doubt the strong performance of dividend ETFs like DVY (+11.5 in 2011 plus 17.8 in 2010) strongly outperforming the broader U.S. indices influences both the flows and the recommendation.
As many have pointed out this is already a "crowded trade" with extremely large inflows. In years of rebounds in the U.S. market, small caps historically outperform large caps. A recent example is 2008 when VBR small value gained 30.9% vs for DVY 11.1%. Looking at 3 year total return VBR rose 67.1%, DVY 53.2%.
Will the conventional wisdom recommendation of large cap dividends prove correct? In light of the track record of those year-end recommendations skepticism is certainly in order. And we certainly know that performance chasing is already kicking in and may continue near term as investors pile into this strategy. If historical patterns persist a short period of underperformance will trigger outflows and price momentum to the downside.
A contrarian view for investors would likely look to emerging markets, Europe and U.S. small cap stocks as candidates for buying.
An investor operating with a long term diversified portfolio would be buying some of these asset classes as part of his rebalancing that causes him to buy losers and sell winners to maintain an allocation. Regardless of your forecast for 2012 that remains the best advice.
Disclosure: I have no positions in any stocks mentioned, and no plans to initiate any positions within the next 72 hours.
Additional disclosure: Mr Weinman's clients have positions in VTI, DVY, VWO and VBR.