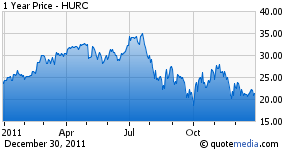 The global recovery has been largely unimpressive and uneven, with stubborn unemployment in the U.S., sovereign debt and bank capital worries in Europe, and inflation worries in many of the fast-growing emerging markets. That has led to an uneven recovery in tiny machine tool company Hurco (NASDAQ:HURC). Although Hurco has been punished along with most industrial concerns this year and there are definitely reasons to worry about the company's large European exposure, value-oriented investors interested in "companies that make stuff" should definitely consider this name as a 2012 recovery idea.
A Recovery Delayed, But Still A Recovery
With its uncommonly large exposure to Europe and short-cycle manufacturing, Hurco was slow to see the recovery in industrial demand that lifted names like Illinois Tool Works (NYSE:ITW), 3M (NYSE:MMM), Lincoln Electric (NASDAQ:LECO), Grainger (NYSE:GWW), or MSC Industrial (NYSE:MSM). Then, when signs of a business recovery did start to appear in 2011, the market had already soured on industrial names and particularly those with above-average exposure to Europe.
Still, recovery is recovery. Hurco delivered better than 85% organic revenue growth in the third quarter, with orders up about 42%.
The European Problem
Hurco gets over 60% of its revenue (and over 60% of recent orders) from Europe. Take a quick look at names like Siemens (SI), Atlas Copco (OTCPK:ATLCF), or Sandvik (OTCPK:SDVKF) and it's pretty clear that nobody is feeling excessively optimistic about the near-term outlook for European industrial activity. Newfound government spending discipline and widespread weakness in banks has definitely had a negative impact on economic activity and there are fears that the papering-over of dire problems in Greece, Italy, and perhaps Spain will unravel in 2012 and lead to a full-on recession.
There is no talking around Hurco's heavy reliance on Europe; it's a fact. What may lead some investors to feel a little better about it, though, is that Germany is Hurco's biggest market (and indeed the world's third-largest market for machine tools) and conditions in Germany and Eastern Europe have been relatively better. Moreover, a lot of these countries realize that they depend more than ever on high-value exports to markets like China and Hurco's high-margin VMX machines are still in demand there.
Trying To Carve And Keep A Niche
Hurco's computerized machine tools are very good for short-cycle production runs where quick design alterations are important. To that end, Hurco has had success in markets like aerospace and healthcare and in selling to organizations like Boeing (NYSE:BA), 3M, and NASA. With aerospace on the way back and healthcare (particularly orthopedic implants) bottoming, demand could be on the way up and it's worth noting that industries like energy services and wind power also demand machined components that fit in with the capabilities of Hurco machines.
Hurco certainly has work to do in building its business in markets like China. The problem, though, is that rivals like Hardinge (NASDAQ:HDNG) and Haas Automation are stronger in the more mass production-oriented equipment that dominates this market. While Chinese officials have talked about the need to embrace computer-controlled machine tools, this will take time to happen and Hurco has to contend with much larger rivals like Haas and Okuma (OTC:OKUMF).
The Bottom Line
There are relatively few publicly-traded machinery names like Hurco; most have never gone public or, like Gleason, were taken private years ago. With fewer than 7 million shares outstanding and an enterprise value below $90 million, Hurco may likewise not remain public all that much longer. It's not inconceivable that a company like Haas or Cincinnati Machines could look to tuck in Hurco and exploit its position in higher-end tools to complement its existing products.
If the global economy reels back into recession in 2012, and/or European stalwarts like Germany weaken, all bets are off for Hurco. That said, the company has a clean balance sheet and plenty of cash and can weather another dip in the cycle. If the company can continue its recovery, though, these shares are substantially undervalued. Although the tiny float and low liquidity will limit analyst and institutional investor interest in this name, the shares should still offer worthwhile long-term rewards to patient holders.