The analytics are always ambiguous.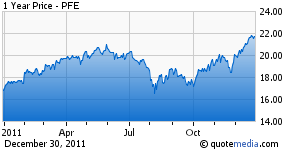 Pfizer (NYSE:PFE) spent $114 billion in 2000 for a hostile takeover of Warner-Lambert, trumping American Home Products in a bidding war to acquire the $130 billion in sales Lipitor delivered during its 14 years on the market, which came to its fabled end on November 30, 2011. But acquisitions are not strategy, and there can be a heavy price to pay in mistaking components of strategy, with strategy itself. On the other side of the fence dividing the Lipitor story are broader lessons in systemic failure.
Between 2000-2010, the value of shares in Pfizer steadily worked their way into the lower right corner of the charts, ending the decade down by almost 60 percent relative to the S&P 500. This comes out to around $115 billion in market capitalization lost since the day former Pfizer Chief Executive, William Steere, broke out his "Cheshire grin" at a press conference announcing his Warner-Lambert win.
During its brief life as a brand, Lipitor was led by strategy at a technical level -- the drug was supported by around 400 clinical studies, costing roughly $1 billion and involving more than 80,000 patients. It was consuming most of the $11 billion Pfizer was spending annually on promotion (this does not include the fees and expenses for the army of vendors to create the promotion, place it in the media, and study the data). Most expensively was its professional promotion, including sampling and a sales force that peaked at more than 35,000 salespeople worldwide, and which cost the company almost $170,000 per drug rep to maintain, or $6 billion a year. These estimates do not include what Pfizer was allocating for information technology to support marketing and sales operations.
There is a linear narrative that dominates the Legend of Lipitor and the revenue it brought into Pfizer. But reality is too complex to cleave so cleanly; in the world today, 2+2 may sometimes equal oranges. You could also argue that an entire industry ecosystem was so geared to sustaining one of the biggest cash-flow machines in the world, the system itself could not see the structural change happening in its operating environment, nor reorient its thinking accordingly. In other words, the paramount importance of Lipitor sales, to Pfizer and for the many industrial subsystems feeding from its promotional budget, helped create the conditions not only for the strategic collapse of Pfizer, but the pharmaceutical industry as a whole. The system destroyed itself.
This "Lipitor effect" – where common sense and the real-world are systemically forced-out of consideration by deeply-rooted analytical models; where "optimized" solutions involve narrowly-framed decisions taken by specialists; where isolated data feeds may be pointing positive, but cannot describe an overall failure in strategy; where management underestimates or misreads the plate tectonics – parallels a root cause of the financial crisis unfolding worldwide, and the failure of the economics profession in understanding its magnitude.
A basic problem confronting structural change is to reveal new aspects of reality. This includes surfacing deep assumptions and challenging the conventional view. Pharmaceutical companies are generally trying to solve problems of efficiency and replication around better drug development and promotion. This is the wrong set of problems. Pfizer and the pharmaceutical industry, like many other industries and governments throughout the world, are failing because they have not adapted to the breakdown of Industrial Age ideas.
Systemic Failure
The pressure to create growth can be intense. Lipitor sales trends were degrading before generic simvastatin [Zocor from Merck (NYSE:MRK)] hit the market in 2006; by then, Pfizer was already in the middle of an incoherent scramble to get anything – fresh promotion, new studies to make health claims, different advertising campaigns -- in the marketplace quickly…and, hopefully, in time to spare yourself the trauma of a Saturday-morning call by the CEO "ripping your face off," as Pfizer's last chief executive, Jeff Kindler, was reported to have done.
By 2010, Lipitor was the most-advertised pharma brand in the world, cycling through advertising agencies and spending around $275 million annually on consumer promotion to halt the sharp downward slope of its trend line. In the end, the Lipitor team was hurling globs of DTC against the wall, hoping something would stick long enough for cognitive impact. Its legion of sales representatives did not help stop the crumbling.
Somewhere along the line, all the creative and intellectual energy to influence Lipitor business, and presumably build shareholder value, either stopped working completely, or at best were marginally effective. Nothing Pfizer did reversed the slide in Lipitor sales, or its stock price. Part of this is due to a marketplace that is now socially resistant to the effects of advertising in general; another part is due to a media industry using obsolete metrics and no longer able to measure results reliably. Despite these new features in its operating environment, Pfizer clung to what it knew, and was left dragging around the corpse of "promotion" as its best solution to changing business dynamics for the drug, as well as itself. It still believes this is a good idea.
Carpet-bomb the marketplace became the order of the day. The extreme and singular push with promotion caused collateral damage for Robert Jarvik, an inventor of the artificial heart. He was featured as a spokesperson in a disastrous DTC campaign for Lipitor that Pfizer was forced to pull in 2008, after MSNBC published a column questioning the credentials of Jarvik. By now, Pfizer was spending about $11 billion a year on promotion, much of it on Lipitor. (The pharmaceutical industry as a whole spends between $30-60 billion a year promoting drug brands in the United States. The low end of this estimate is three times the total public health budget for all 50 states combined. It is also worth mentioning that, despite this level of spend on promotion, growth in the pharmaceutical industry in the United States is at historic lows.)
It also took about a decade for Pfizer to see its corporate reputation evaporate. By 2006, Pfizer was ranked 38th on Interbrand's list of the 100 "Best Global Brands," with a brand value of almost $9.5 billion. But this position was a step down from previous years, and reflected another dimension to Pfizer that began degrading around the time it acquired Warner-Lambert in 2000, and continued after acquiring Wyeth nearly six years later, in a deal for $68 billion. Pfizer is now trying to unravel that deal.
Among a host of other civil and criminal settlements it has made for deceptive marketing, including the largest criminal fine of any kind ever (for illegally marketing its painkiller Bextra), Pfizer is currently facing litigation by a group of pharmacies – a customer segment -- for price-fixing and delaying the launch of generic Lipitor. Its once credible science is now referred to in medical journals and editorials as "useless studies". In 2007, the Pfizer brand disappeared completely from Interbrand's list. It has not returned.
Pharmaceutical executives work with business objectives that can be in conflict with objectives the healthcare system as a whole is trying to reach. With Pfizer, the goal was – and still is -- to "protect the Lipitor brand" as a core and critical piece of its business. Part of this means trying to stop customers from using a competing product, even if that competing product is a generic equivalent, which the people who pay for healthcare prefer because it lowers the cost of care. Even now, Pfizer aims to keep about one-third of Lipitor sales by employing "unprecedented" promotion, including raising fear among consumers that a generic atorvastatin may be coming from a dubious source. Bayer used the identical tactic in 1917, when its patent on aspirin expired.
More succinctly, Pfizer is operating with a framework for thinking that has not changed in 100 years. Whatever is finally said about Lipitor, "savvy strategy," as the Associated Press wrote yesterday ("Against odds, Lipitor became world's top seller") should not be part of the history.
Disclosure: I have no positions in any stocks mentioned, and no plans to initiate any positions within the next 72 hours.