VIX - Market Sentiment
Once again Friday saw very light volume in the pre-market S&P futures with another 6 handle move. These numbers continued to melt up initially but then softened into the market open after European markets' early year-end close. Other reasons for the recent surge in price could be due to year-end window dressing by hedge funds.
Key headlines included China announcing factories continued to slow in December. Supporting this news, Asian markets closed out their year with the first negative year since 2008. In addition ratings agency Fitch downgraded Egypt's long-term debt rating from BB+ to BB.
At the open the CBOE Volatility Index (VIX) was actually up, which is extremely odd going into a 3-day extended weekend. This signals people possibly hedging gains believing when activity picks up next week the market could sell off. This was reflected as the SPX puts continued to be bid up. Because time decay should have slapped SPX put options I am now more cautious going into next week and the first week of 2012.
As we say goodbye to 2011 overall I remain bearish on the market as a whole. As I have discussed in many of my daily recap articles SPY and SPX puts have been very actively bought in large blocks. I have uploaded an updated chart below showing the SPY remains in the downward wedge as shown in the chart below and notes of where we broke above it was on anemic volume at best.
(Click chart to expand)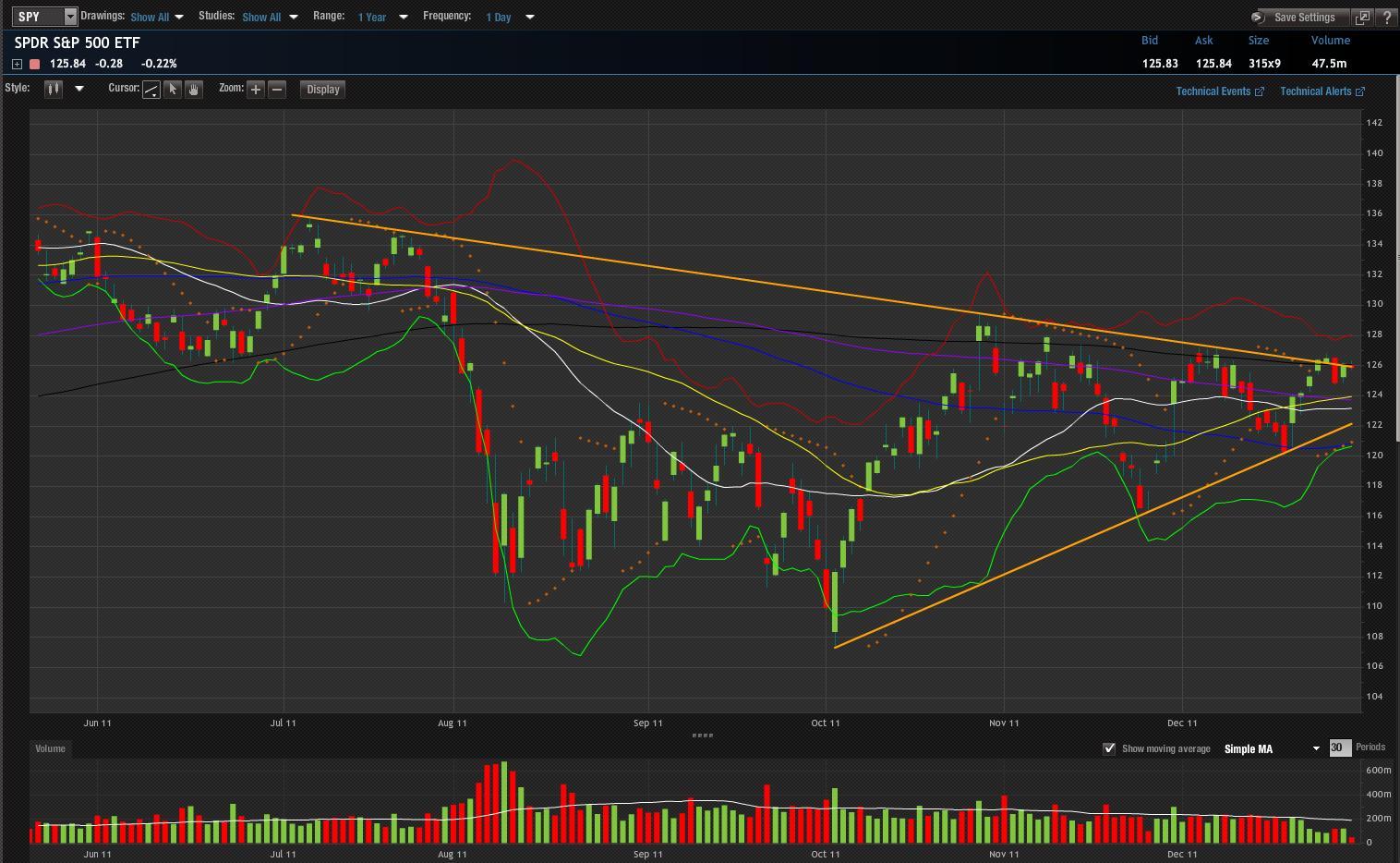 Chart provided by Trademonster.com
For the bulls out there this downward wedge is converging fast and typically falling wedge breakouts are more than 60% bullish depending on your source and scope. Regardless I believe we are spring loaded to either the up or downside and could easily see 1300 or 1180 in very short order.
Options Paper:
Intel (INTC) saw a large 10K July put spread go off. The July 23 - 17 put spread was bought for a net debit of 1.26. This bet is a simple bearish bet INTC, which recently warned for the upcoming quarter, will take a hit prior to July expiration. This follows some pretty heavy call selling showing some investors willing to give up gains to protect against potential losses. Regardless this is one stock to watch.
Assured Guaranty (AGO) saw some very heavy call selling today in the January 14 and January 17.5 call lines. This is below open interest and appears someone is closing down a bullish bet. Watch for upcoming trades to see if this trader moves to another strike and month or if the trader is just reducing risk and moving on.
Tyco (TYC) today saw a bullish risk reversal when the January calls were sold and then rolled to a 40 / 48 July risk reversal. The trader sold 3K of the 46 January calls and then immediately sold 3K of the 40 puts and bought 3K of the 48 calls. This appears to be a bullish bet TYC will continue to hold above 40 but additionally will break above 48. I'm not very bullish on this space but an interesting trade nonetheless.
Ancestry Inc (ACOM) has bounced in recent weeks but now it appears at least one bear believes the stock is headed lower. Today a large 2.5K 25 - 17.5 May put spread was purchased for 3.65. This trade could max out anywhere below 17.5 at May expiration taking the 912K bet and expanding it to 1.875M. I have been successful in the past selling call spreads to buy put spreads in this name. Today was no different when I bought 25x of the 25 - 17.5 May put spread for 3.30. ACOM puts outnumbered calls 118:1.
Popular ETF's and equity names with bullish / bearish paper in terms of call / put ratios:
Calls outnumbering Puts:
Leap Wireless (LEAP) 25:1 (Buyout target speculation) (Trader bought 3.3K for .69 and sold 1.62 12:50)
Financial ETF (XLF) 8:1 (Large 46K block bought on ISE, which is opening transaction)
Sirius Satellite (SIRI) 186:1
Cheesecake Factory (CAKE) 28:1
Metro PCS (PCS) 147:1
Cisco Systems (CSCO) 30:1
Puts outnumbering Calls:
Energy ETF (XLE) 9:1
S&P Retail ETF (XRT) 17:1
Starwood Hotels (HOT) 57:1
Deutsche Bank (DB) 11:1
Volatility Explosion:
Tivo Inc (TIVO) the marker of the popular DVR recording unit has recently seen a whipsaw action in terms of stock price. Over the last five days it appears the options market is starting to price in these moves as implied volatility has gained more than 29% in the period. Previous the IV of TIVO was averaging around the 60% range and is now trading near 90%. No major option paper has been behind this IV move but keep an eye on exploiting potential moves or selling volatility here as the 52-week high for IV30 is 131.64.
Volatility Implosion:
Bottomline Technologies Inc. (EPAY) has seen IV30 cut by more than 30% in the last five trading days. This is a very interesting point as a straddle could look real nice here. EPAY earnings announcement is expected 1/26/12 but is not confirmed. In the event the of an overall market sell-off the IV could rise quickly but the February options will still hold premium much better.
Speculative Play Friday:
This week's spec play Friday stock I'm looking at is MEMC Electronic Materials (WFR). This stock has been taken to the woodshed in 2011, trading down from just north of the 15.00 range to now trading below 4.00. Earlier this month WFR hit a 52-week low of 3.65. Recently the bulls have been stepping in buying large blocks of calls and Thursday just before the close was no different. One trader purchased a large block of 5.8K Jan 4 calls just four minutes before the close. This was confirmed by open interest climbing as well looking like a bullish position. This name in my opinion is ripe for a run into 2012 and I believe small caps will potentially have a ton of M&A activity as flush companies will purchase smaller companies while attempting to maintain growth targets.
As always happy trading and stay hedged.
Remember equity insurance always looks expensive until you need it!
Disclosure: I am long AGNC, NLY, SDS, XCO.
I am short: VXX, SIAL, RAX, LNKD, FINL, EWG, DHI, AMZN, INTC, GOOG, ACOM
Disclaimer: The opinions in this document are for informational and educational purposes only and should not be construed as a recommendation to buy or sell the stocks mentioned or to solicit transactions or clients. Past performance of the companies discussed may not continue and the companies may not achieve the earnings growth as predicted. The information in this document is believed to be accurate, but under no circumstances should a person act upon the information contained within. I do not recommend that anyone act upon any investment information without first consulting an investment professional as to the suitability of such investments for his or her specific situation.