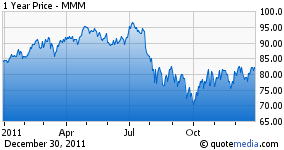 Recently, I noticed one of my favorite set of investing circumstances arising: A value in a large cap, high quality company supported by a chart suggesting a break out. This combination is fairly rare, but if you've read my profile, you will see this is something I greatly value. I like large high quality companies as, over the long haul, they outperform most small companies, especially in down cycles.
I also like perceived bargains, as I dislike paying high valuations just due to my personality and experiences, and as in my opinion one of the two worst investments is "the growth stock that stops growing" (see Netflix (NASDAQ:NFLX), Crocs (NASDAQ:CROX), Sodastream (NASDAQ:SODA) or any countless failed growth companies for evidence).
Finally, I do like chart formations. Although far from an exact science, they are an interesting insight into an investor's bull or bear mindset, and often provide a timing signal that can maximize returns. And well, they are just plain fun.
Now what stock am I talking about that shares all of these characteristics? Nothing other than Dow Jones 30 conglomerate 3M (NYSE:MMM).
3m is an incredibly diverse manufacturer of countless globally used products. Not only do they have stellar consumer products, such as scotch tape, post it notes, air filters, sandpapers, dust masks and countless others with which you are personally familiar, they synergistically use these technologies in various tapes, adhesives, filters, abrasives, films, coatings and the like to produce lots of items that are used in the manufacture of products. It makes 3M's products almost indispensable to manufacturing as a whole and broadly diversified among a range of goods that 3M doesn't even manufacture. Add in that 3M is known worldwide as a great innovator and for its high returns on invested capital and you can see why Morningstar classifies the company as a "wide moat" stock, meaning they have a large competitive advantage over others that make similar products.
Is 3M then currently at value?
Let's start by taking a look at the performance over some time periods versus the S&P 500 and rival conglomerate General Electric (NYSE:GE).
Click to enlarge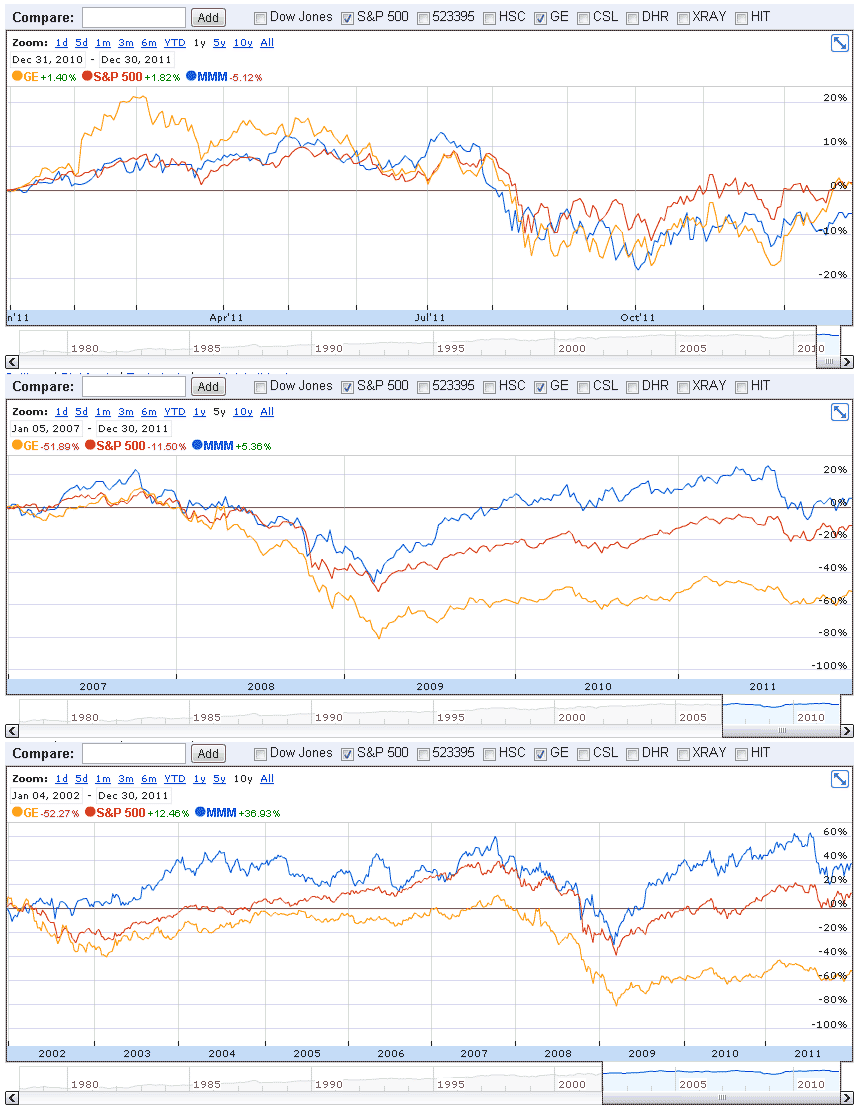 You will notice that while on the one-year graph, 3M has underperformed both GE and the S&P 500 over the five-year and especially over the 10-year term, 3M is the clear winner. This would seem to indicate value.
The company recently estimated earnings per share for 2012 at $6.25 to $6.50 (including pension obligations of about .10/share). This would put the company at 12.8 to 12.3 X 2012 earnings, and I generally consider anything below 13X earnings to be of interest. While there are other companies that have cheaper valuations, Morningstar, the king of value investing, has 3M bordering right on its five-star range due to low levels of uncertainty in its business and earnings. You'll also notice that 3M dividends have approximately doubled since 2001, while the payout ratio has been cut almost in half.
Their trailing earnings, currently right above 13X, is slightly below its long term average, with 9X being the valuation at the depth of the recession and 20X at just before the recession. They also have very safe and comfortable levels of debt. Therefore, I would say there is a noticeable discount, although not overwhelming. However, 3M's strong and stable business make this discount far more attractive. It's that low risk factor that is creating a lot of the value for me, as it is always nice to have an investment that requires little thought and few headaches.
Let's wrap up then with the part most of you are waiting for; the chart formation and potential breakout. A couple of months ago, I noticed what looked like the start of an "ascending triangle" formation, my favorite bullish chart formation, and this pattern has intensified since then and is looking like it is set to break resistance.
An ascending triangle is a pattern where a stock has a flat level of resistance and keeps bouncing off a steady number at the top, while the lows keep rising. Additionally, the volume is falling. This acts almost like a gigantic limit sell order that pushes the stock down every time it reaches its resistance, but the rising lows show the limit order is starting to run out of steam, indicating that the bulls are about to have their moment to run. When the stock breaks resistance, it should quickly increase and the theory goes that the increase should be roughly similar to the overall gap between the initial support and line of resistance.
Here's a much needed chart to explain the jargon.
Click to enlarge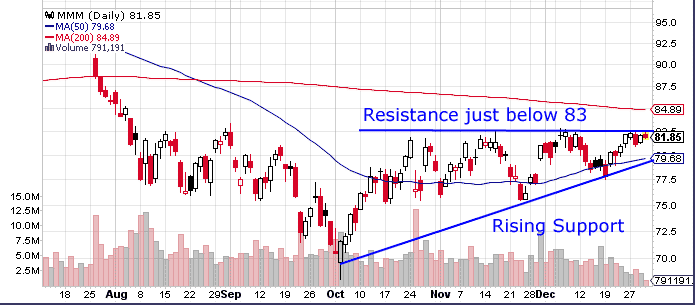 When it breaks the 83-ish level, you should see high volume if the formation is correct, and the model shows a difference of about $12 in the stock price, which could lead to a breakout to about $95. That's a tidy gain. If it doesn't break through, it could likely drop back to the 80s range.
How to play this then? The simple way would be to pick up some 3M shares on either a breakout or another show of support at below 80. The tricky way would be to wait for the break out and buy some three or six month options out of the money options, probably at the $87.50 or $90 price range. Options, of course, are not for the inexperienced investor and while the gains can be substantial, the options can easily lose every cent of their value. In contrast, buying and holding 3M shares at this level will almost unquestionably result in a monetary gain at some point in the future.
It's rare to see a high quality, wide moat company at a discount with a potential chart break out to give a buying signal. Therefore, I recommend you consider adding the incredibly diversified manufacturer 3M to your portfolio.
Disclosure: I have no positions in any stocks mentioned, but may initiate a long position in MMM over the next 72 hours.