Europe's never-ending debt crisis drove nervous investors into U.S. debt in 2011 as traditionally staid Treasury exchange traded funds were the performance leaders.
PIMCO 25+ Year Zero Coupon U.S. Treasury (ZROZ), Vanguard Extended Duration Treasury (EDV) and iPath U.S. Treasury 10-year Bull (DTLY) topped the list among unleveraged exchange traded products. The two leaders invest in STRIPS, zero coupon bonds issued by the U.S. Treasury.
Year to date through Dec. 29, the funds gained 58.7%, 55.3% and 44.6%, respectively, according to investment researcher Morningstar.
A pair of leveraged Treasury funds, PowerShares DB 3X Long 25+ Treasury Bond ETN (LBND) and Direxion Daily 20 Year Plus Treasury Bull 3x Shares (TMF), are up more than 100% for the year, although the products are designed as trading vehicles rather than buy- and-hold investments.
On the other side of the ledger, ETFs that invest in alternative energy and emerging markets were hurt by global growth concerns and, of course, Europe. In stocks, ETFs tracking solar energy were decimated with several companies in the sector going belly up.
The worst unleveraged ETFs in 2011 were Market Vectors Solar Energy ETF (KWT), Guggenheim Solar (TAN) and C-Tracks Citi Volatility ETN (CVOL), which tracks VIX futures. They were all down more than 60%. Ouch.
Needless to say, ETFs that short U.S. Treasuries were thumped by the monster rally in bonds.
Looking at December, volatility-linked ETFs saw the biggest moves as the VIX steadily eased lower after a brief foray above 30 with investors seemingly growing more complacent over the debt crisis.
For example, iPath S&P 500 VIX Short-Term Futures ETN (VXX) and VelocityShares Daily 2x VIX Short Term ETN (TVIX) are off 23.8% and 44.3% over the past month, respectively.
In the final month of the year, ETFs following real estate, banks and small-cap stocks turned in the best performance.
Conversely, the slide in precious metals in December has weighed on funds that invest in miner shares and silver. Other laggards this month include natural gas, Russia and palladium ETFs.
Market Vectors Gold Miners (GDX) is off about 9% over the past month.
PIMCO 25+ Year Zero Coupon U.S. Treasury
Click to enlarge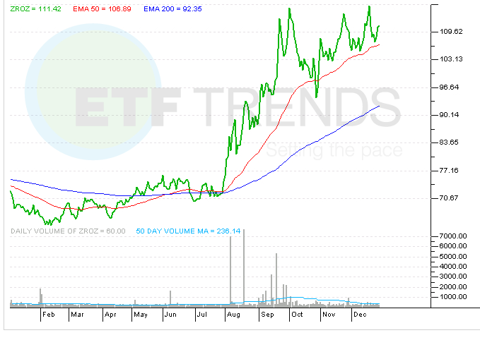 Disclosure: John Spence owns ZSL.