Here are two stocks with recent insider transactions that look healthy for a nice bullish run in 2012. They are also optionable for those traders that are also interested in option strategies along side buying the stock directly.
Energy Transfer Equity (ETE), through its direct and indirect investments in the limited partner and general partner interests in Energy Transfer Partners, L.P., engages in midstream, intrastate, and interstate transportation of natural gas, as well as in storage of natural gas in the United States. The company's Intrastate Transportation and Storage segment engages in the ownership and operation of natural gas transportation pipelines and natural gas storage facilities. As of December 31, 2009, it owned and operated approximately 7,800 miles of natural gas transportation pipelines and 3 natural gas storage facilities. This segment sells natural gas to electric utilities, independent power plants, local distribution companies, industrial end-users, and other marketing companies on the Houston pipeline system.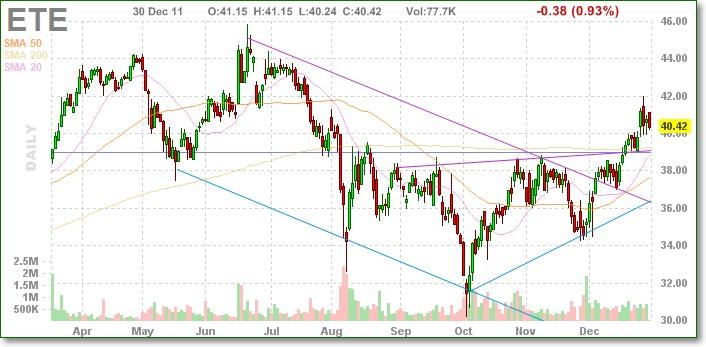 Presently trading at $40.38, analysts have pegged ETE at a median target price of $47.00 so it has a lot of growth in 2012. December saw a huge transition of stock accumulated in a "general partnership" private transaction. It is just about this time that ETE broke through a very well defined resistance level and continues in a bullish direction.
ETE appears ripe for an investor to buy the stock after initial research. There is room for an 18% gain before upper resistance is again challenged. An option investment here looks very inviting for those investors that like using option strategies. A debit spread here allows low risk but the possibility of high returns. Look at buying a July 45 2012 call option and selling a 50 in the same month.
International Speedway Corp (ISCA), together with its subsidiaries, promotes motor sports themed entertainment activities in the United States. The company's motor sports themed event operations consist of racing events at its motor sports entertainment facilities. Its motor sports entertainment facilities promoted approximately 100 stock car, open wheel, sports car, truck, motorcycle, and other racing events.
International Speedway also involves in souvenir merchandising operations; food and beverage concession operations; provision of catering services in suites and chalets; creation of motor sports-related programming content, including national satellite radio service; usage of its track facilities for testing for teams, driving schools, riding experiences, car shows, auto fairs, concerts and settings for television commercials, print advertisements, and motion pictures; and rents show cars for promotional events.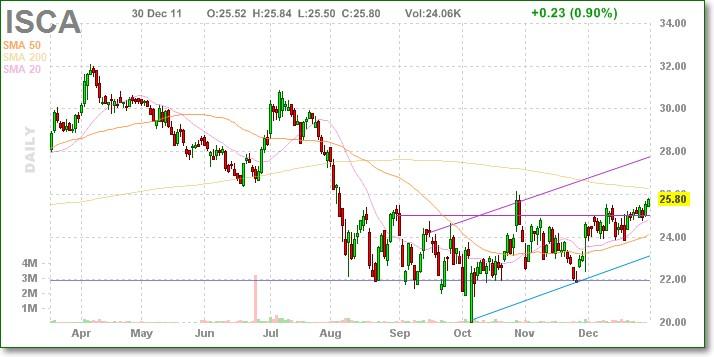 Presently trading at $25.77, analysts have a high target of $31.00 for ISCA, so 2012 could be a very profitable year for this sports-oriented company! On October 11, Officers and Beneficial owners of the corporation bought shares at $21.15 and at that point, the stock found a solid foundation and has developed a nice bullish up trend since then.
For investors, it looks like investing either long term in the stock or buying call options straight up would be a wise investment. The March 2012 30 call options (presently priced at $0.40) would make a good investment as the stock continues to rise. The price is good, and offers a great resale strategy at a point in the future.

Disclosure: I have no positions in any stocks mentioned, and no plans to initiate any positions within the next 72 hours.