As we close out another year of investing, I continue to find opportunity for next year. I spend most of my time reviewing and studying stocks in the technology space so it's natural I would end my trading year with a technology related article.
As I have done several times at the end of the year, I look back with wonderment at what productivity tools and convenience we now have in our everyday lives. Some are for better and for worse, but I would not want to go back. I really could have used my smart phone GPS about 25 years ago when I was delivering pizza. Not losing the phone number of a few people I would have liked to have called would have been great. Of course never "getting away" at times has given me pause to my fondness for my phone.
Along with the progress we see search engines continue to improve our ability to stay productive and unproductive at the same time. (How many times have you started a search only to end up reading page after page of useless, albeit interesting nonsense?) I love Google (NASDAQ:GOOG) search and the company, and have written many bullish articles about the stock this year. I will go further into Google stock, but first let's look at some of the other search engines.
Yahoo (NASDAQ:YHOO) continues to enter search term after search term looking for the right result. Yahoo closes out the year nearly flat for the year. Yahoo reminds me of how the Packers used to play while growing up in the 1980s. The Pack used to get so close every year and blow it on something stupid in the second half. Yahoo Finance is really great and I visit nearly every day, but I avoid search totally. Yahoo search is so bad that I use Google search for Yahoo pages.
Here is an example that is not as applicable as it once was, but still drives the point home. I once used the Java app Yahoo stock screener often. If you do a search for "yahoo stock screener" with Yahoo, you get a page of results for the non-Java screener. Make the same search on Google and you get the same result as Yahoo provides as the number one, but you get the Java screener as the number two search result. Days ago I could have provided more examples, but I simply forgot over time others as I now only use Google search.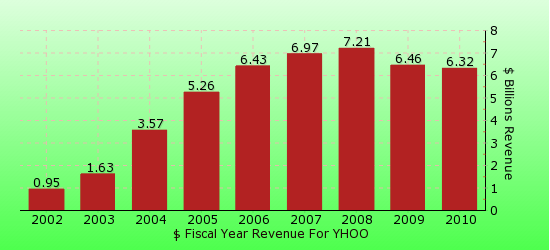 From my review over the years, Yahoo continues to make the same mistake over and over. Yahoo appears to do way too many things manually and even after several years of watching Google bring in bags of money, Yahoo still does not allow websites to place ads from Yahoo network through a website. Absent some serious changes in management, don't expect anything other than a lot more of the same in 2012. Maybe Alibaba will send shares higher with an offer. The market isn't pricing in a huge takeover offer so it's hard to get excited over the prospects. I have no idea why Microsoft (NASDAQ:MSFT) believes it's a good idea to team up with Yahoo. Two wrong searches don't make a right search experience.
Differences are rounded. (Some one-time items are often excluded in reported EPS.)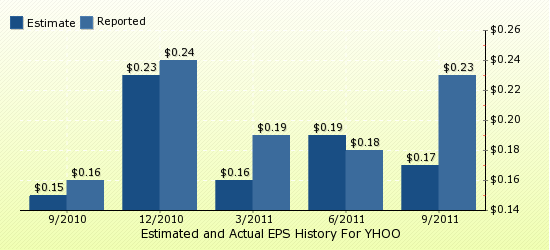 Reported earnings per share compared to the mean estimate. Differences are rounded.
Microsoft has been on my bullish list and I have written several bullish articles this year about the Seattle company. Bing started out with a much bigger impression than it is leaving 2011 with. With Bing it appears you are going to receive a much closer search result to Google than Yahoo at times and other times I have difficulty knowing if it was a Yahoo search or Bing search. At least Bing can say they are making fast progress toward improving. They will have to say they are not as good, but better if they hope to capture any gains of search market share. They have a long way to achieve leadership, but they also have the resources to do so if they try.
Search is such a small part of Microsoft that at least for now it's more of a side show than the main attraction. Microsoft is down for the year, but at least shareholders are paid a dividend while they sit on the shares. Microsoft is also solidly bringing in cash hand over fist. Microsoft continues to play second fiddle (fourth actually) in the smart phone OS space. Gaining traction for Microsoft has been like driving a pickup truck through a Wisconsin winter on bald tires. Microsoft recently may have passed 50K apps published for Windows Phone 7, according to reports, but it depends on how you count them. After removing the apps that have been taken down and or only available in certain markets, there is less than 45K. At least the growth curve is moving higher, but at the same time Apple (NASDAQ:AAPL) and Google have over 500K. Microsoft currently trades with a PE multiple in the single digits (9.47) and shareholders can get a yield of 3.1%.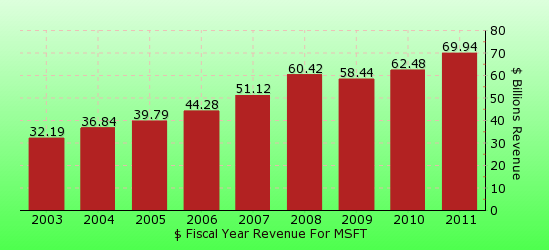 I am currently watching the March 2012 $25 and $24 strike price puts and the March 2012 $26 and $27 strike calls. Writing covered calls can allow an investor to break above the 3.1% yield and at the same time lower the risk of buying Microsoft without a hedge.
Baidu (BIDU) provides search engine services much like Google, and many call it the "Google of China." Much like Yahoo, Baidu closes out the year after a wild ride, up about 17%. I have not been a fan of Chinese stocks all year and several of my articles have a very bearish outlook with good reason. There is little in the sense of a stick to keep Chinese management honest and a lot of carrot for them to cook the books. It's just not a good situation for an investor to be in. While Baidu has a footprint outside of The People's Republic of China; China is the vast majority of the market. Baidu has enjoyed a "free ride" with Google all but out of China. I believe the landscape changes in 2012 with Google making a return and headwinds added to Beidu's performance.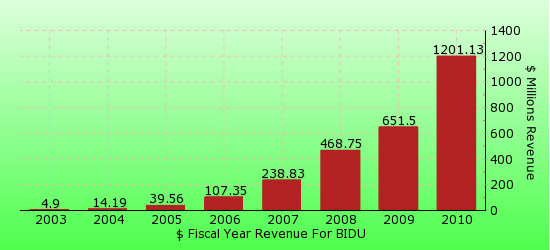 If you're an investor with Google you may have started the New Year's party early this year. During the last trading day of the year Google is making new 52-week highs. Top and bottom line growth (TTM) continues to be well into double digits at 33% and 26%, respectively. The Android OS for smart phones is a success by many measurements (not direct revenue, Android is free). I believe Google makes an announcement of its return to China in 2012. The European crisis could continue to deteriorate, lowering the odds of Google's return, but I believe the odds still favor it.
China, while officially favoring the home grown variety of Baidu, will bend with some of the requirements imposed on Google out of self interest. As the importance of information free flow becomes better understood in the competitive landscape, China will shift priorities. At the same time Google understanding the shareholder value lost resulting from the absence of participation readjusts their position on working within the "Chinese way." To be sure there will be protests, boycotts lasting all of 30 seconds, and claims Google has gone to the dark side, but Google management answers to shareholders first. In the long run, Google in China speeds the process of human rights, and is just good business.
Click here to read my Google articles.
The current trailing twelve months P/E ratio is 21.9. The forward P/E ratio is 20.3.
The company has rising revenue year-over-year of $29.32 billion for 2010 vs. $23.65 billion for 2009. The profit line has increasing earnings year-over-year of $8.51 billion for 2010 vs. $6.52 billion for 2009. The company's earnings before interest and taxes are also rising with an EBIT year-over-year of $10.38 billion for 2010 vs. $8.31 billion for 2009. The float short is a very healthy 1.6%.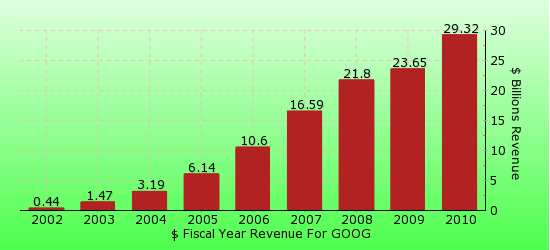 Look for Google to continue its run higher in 2012 and maintaining or extending its leadership position in the 2012 search engine wars. Due to Google's high per share price, many investors wrongly dismiss Google as an investment. Fellow author Rocco Pendola has a great article about limited portfolios and high stock prices. You can read it by clicking here.
Other than odd lots, stock options are a preferred way for many to gain exposure to Google due to the relatively large per share price. Implied volatility is low enough that buying premium is attractive. I am looking at an out of money bull call spread with strikes of March $660 and $680 as well as selling cash covered puts with March strikes of $645 and $640.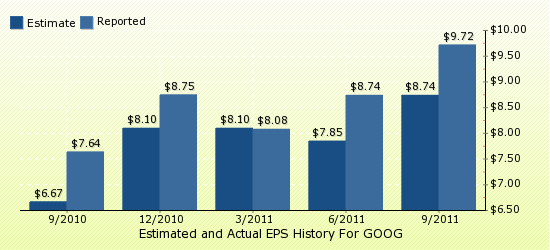 Disclosure: I have no positions in any stocks mentioned, but may initiate a long position in GOOG over the next 72 hours.
Additional disclosure: may initiate a long in MSFT over the next 72 hours.