Economic Cycle Research Institute (ECRI) publicly announced on September 30, 2011 another recession call that they had distributed to their paying clients on September 21, 2011. The S&P 500 closed at 1166 on September 21st and 1131 on September 30th. Today on December 30th the S&P 500 closed at 1257. Not exactly indicative of a looming recession.
Since September a number of US and Global economic indices have come out that with few exceptions have been moderately positive for the US economy and overwhelming negative for the global economy. Among these are:
US Indices:
3rd Qtr GDP: 1.8 vs. 1.3 in 2nd Qtr
Mfg PMI: Oct - 50.8, Nov - 52.7
Industrial Production: Oct - +0.7, Nov - (0.2)
Conference Board LEI: Oct - +0.9, Nov - +0.5
Souces: ISM, US Gov, Conference Board
Euro Zone Indices:
3rd Qtr GDP: 1.4 vs. 1.6 in 2nd Qtr
Mfg PMI: Oct - 47.1, Nov - 46.4, Dec - 46.9
Sources: Eurostat, Markit Economics
China Indices:
3rd Qtr GDP: 9.1 vs. 9.5 in 2nd Qtr
Mfg PMI: Oct - Oct - 50.4, Nov - 49.0, Dec - 48.7
Sources: China Federation of Logistics and Purchasing, and Dec PMI from HSBC by Markit Economics. Official China PMI is not out yet.
JP Morgan Global PMI: Oct - 49.9, Nov - 49.6
Source: Markit Economics
What's troubling to me is that ECRI correctly called the 2001-2002 and 2008-2009 recessions perfectly. See the effect of those recessions on the S&P 500 below:
Click for Larger Images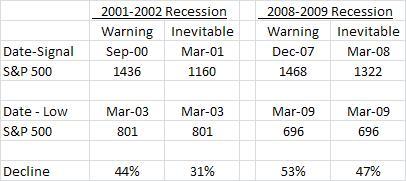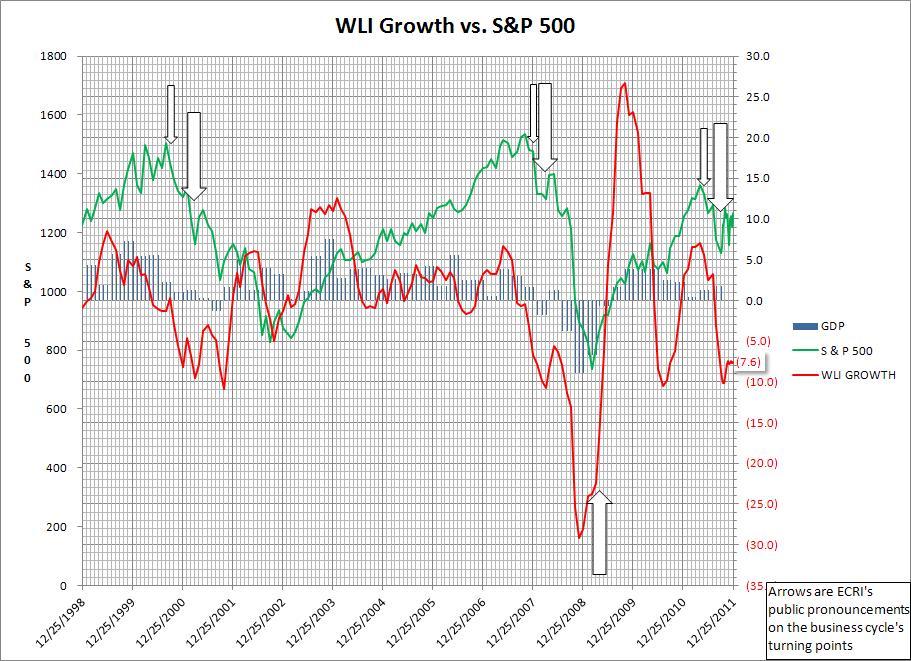 But with recent US economic indices improving I wonder if this will be ECRI's first false call for a recession?
Personally I am in a wait and see mode, although the recent 4Q semiconductor revenue warnings by Intel (NASDAQ:INTC), Texas Instruments (NYSE:TXN), Altera (NASDAQ:ALTR), Xilinx (NASDAQ:XLNX), Lattice Semiconductor (NASDAQ:LSCC), and Cavium Inc. (NASDAQ:CAVM) along with Oracle's (NASDAQ:ORCL) warning makes me think it's just taking a little longer this time.
Note: ECRI has really put their reputation on the line and have reaffirmed their US recession call on December 8 on Bloomberg News and on their website businesscycle.com.
If you believe the US economy is going to be dragged down by the world economy in the first quarter, then shorting the S&P 500 (NYSEARCA:SPY) or Nasdaq 100 (NASDAQ:QQQ) ETFs or buying an inverse S&P 500 ETF such as single (NYSEARCA:SH), double (NYSEARCA:SDS) or the double inverse nasdaq 100 ETF (NYSEARCA:QID) might be appropriate.
Disclosure: I have no positions in any stocks mentioned, but may initiate a long position in SH, SDS over the next 72 hours. Additional disclosure: Currently in 100% cash position.