Quick! Name a company that manufactures the labels that go on the food, beverages, or consumer goods that you buy at the store every week. The odds are very good that, unless you work in the field, you cannot name one. Product labels are ubiquitous and a $30 billion global industry, but a hugely fragmented market. Multi-Color (Nadsaq: LABL) is looking to change that through a combination of innovative internal product development and acquisitions.
Labels Are Everywhere...
Maybe it's too obvious to point out that almost everything on a store shelf has a label on it. Not only are labels legally required on many products, but labels represent a final marketing touch that companies can use to make their products pop out from the competition and draw the attention of shoppers. While this is a large business, $30 billion worldwide and $9 billion in North America, it is incredibly fragmented – Multi-Color is the #2 player in North America, but holds less than 3% share and is one of only seven companies with more than $200 million in revenue.
...And Getting More Interesting
Labeling isn't just about slapping a paper-backed adhesive to a product and sending it out. Increasingly, technology is finding its way into the market. Holograms have been an option in labeling for some time (and can help thwart product counterfeiters) and increasingly labels can be designed to respond to environmental factors like temperature (thermochromic) or light.
Brewers like Molson Coors (NYSE: TAP) and SABMiller (Nasdaq: SBMRY.PK) have been some of the most aggressive in using these new labels – using labels to indicate when the container is at a certain temperature, insulate the beverage from heat from a drinker's hand, and/or offer special peel-away promotions. As time goes on, more food and beverage companies may use these advanced labels to promote product freshness and quality. On top of that, potential new label standards from the FDA may force many food and beverage companies to switch to more advanced labeling options.
A Solid Roster Of Relationships
It is arguably true that "a label is a label" when it comes to the low-end of the market, but consumer goods companies tend to form lasting relationships with top providers. To that end, Multi-Color can boast of long-term relationships with major customers like Procter & Gamble (NYSE: PG), SABMiller, Coca-Cola (NYSE: KO), Diageo (NYSE: DEO) and even non-food companies like Honeywell (NYSE: HON) and Boston Scientific (NYSE: BSX).
As the company's technical capabilities increase and further separate it from the more mundane offerings of its rivals, it seems reasonable to think that the company will recruit more and more big-name clients. Multi-Color is already the #1 player in wines and spirits and has been using select deals to expand its share in particular markets, especially overseas markets.
Buying Growth
Temperature-sensitive inks may add a little "gee-whiz" to the story, but the reality is that this is a low-growth business tied to product volumes. In the interests of accelerating that growth and reaping some benefits from synergy, Multi-Color has been an active acquirer. The company has completed two especially noteworthy deals in the last few years – Collotype and York – the latter of which boosted run-rate sales by about 60%.
These deals have dinged the balance sheet and earnings quality. Debt is a little more than 40% of capital now and the fact that a sizable chunk of it is variable-rate debt is a cause for concern. It's also worth noting that though the company used to post good returns on capital, that is no longer the case as asset turnover has plunged. Over time this should improve, but it is another risk factor to note.
The Bottom Line
Can Multi-Color post impressive sales growth without deals? In a word, no. The company should be able to grow a little faster than overall market volume growth due to competitive share gains, but this is not a top-line growth story. What Multi-Color should be able to do, though, is post improved margins and demonstrate some real operating leverage with scale.
If those margin improvements materialize and the company improves its capital efficiency, better free cash flow should come. Should Multi-Color show no such improvement, the stock is trading more or less at fair value. But if the company regains its past efficiency in free cash flow generation, shareholders could yet see substantially better returns.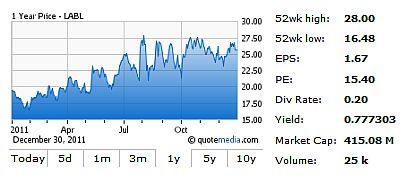 Disclosure: I am long LABL, OTCPK:SBMRY.