The year 2011 was, on average, a tough year for stocks. The U.S. market performed relatively well compared to most emerging and developed markets, in spite of the S&P index closing basically flat for the year.
Just as a quick comparison, the DAX (Germany) closed 2011 with a 15% loss, and the FTSE 100 on the London stock exchange ended the year down 6.6%. Both the DOW (+5.5%) and the Nasdaq (-1.8%) performances appear solid compared to such numbers, which were not the worst among European stock markets.
Data center-related stocks delivered a solid performance, on average, in 2011. Almost half of the companies under our coverage that were still listed at year end gained 25% or more. Before analyzing December 2011 and full year results for each individual stock, it may also be worth remembering that three data center-related stocks were acquired during 2011, delivering gains of about 50% to shareholders who eventually bought these companies at the end of last year:
(Click to enlarge)

A quick look at their performance in December 2011: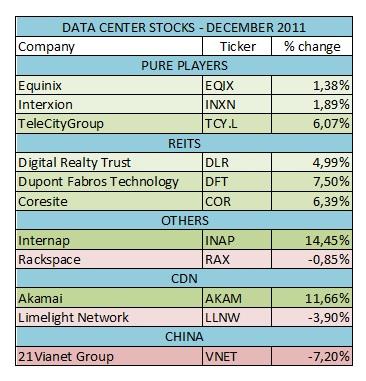 Internap (NASDAQ:INAP) was the best performer in the month, closely followed by Akamai (NASDAQ:AKAM), that positively benefited from its acquisition of Cotendo, announced on December 22.
REITs delivered the most solid performance as a sector, with gains in the month ranging from Digital Realty's (NYSE:DLR) 5% to Dupont Fabros Technology's (NYSE:DFT) 7.5%.
All network neutral colocation providers were also in the green, with TeleCityGroup, the European data center provider, scoring the best performance; a 6% gain in December alone.
A quick look at full year results shows a relatively healthy picture, with a few peculiarities:
(Click to enlarge)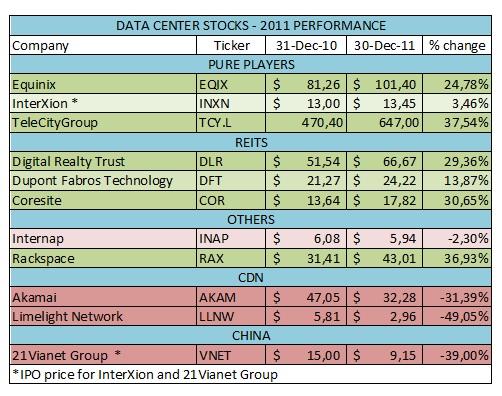 With the exception of the CDN sector, 21Vianet (NASDAQ:VNET), the Chinese data center supplier that IPOed at a very healthy valuation during the year, and Internap, only marginally negative (-2.3%), all data center related stocks were in the green in 2011. As anticipated, most of them delivered solid double-digit results.
Both Akamai and Limelight Network (NASDAQ:LLNW) suffered big losses during the year, mainly due to concerns about the sector's decreasing growth rates and margins going forward. Akamai's recent acquisition move may have represented a turning point, at least for that specific company. As the Wall Street Journal noted, not very often a $268 million buyout is welcomed by the stock market with a $1 billion positive gain in market cap for the acquirer.
Rackspace (NYSE:RAX) delivered solid quarterly results during the year, and is benefiting from its strong cloud computing offering that remains one of the major investing themes on Wall Street. Its 37% performance is among the strongest in the sector.
All REITs delivered a solid performance, ranging from 14% (Dupont Fabros) to roughly 30% for both CoreSite (NYSE:COR) and Digital Realty. As a reminder, this performance doesn't include dividends paid throughout the year.
The winner for 2011 among data center-related stocks, however, is TeleCityGroup (OTC:TLCTF), ending the year with a 37.5%. The U.K.-based data center provider acquired a competitor, the Dublin-based Data Electronics Group Limited, in the second half of 2011, and announced at the end of the year its intention to start a progressive dividend policy in 2012.
This decision is a strong testament to the high operating margins and relatively low maintenance CapEx requirements of network neutral colocation players. It comes at a time that the company is still experiencing strong demand and heavily investing in new facilities. We wouldn't be surprised to see TeleCityGroup's competitors following a similar route in 2012 or beyond, as the company reaches a high discretionary cash flow level and may start considering which may be the best options to increase shareholder value.
Disclosure: I am long EQIX.