Gold investors will remember the shellacking of gold shares starting in the fall of 2008. Gold bugs threw in the towel and everyone proclaimed the end of the gold bull market. Instead of collapsing, gold shares went on to have one of the most dramatic rallies in recent memory.
While the current correction in gold shares hasn't been as drastic, the level of undervaluation is similar. In 2008 when gold shares collapsed, at least gold was falling precipitously too. However, in 2011, gold and gold shares have disconnected: gold is up 10% on the year while the HUI is down 16%. This is creating levels of undervaluation in gold shares we last saw in March 2009.
Due to the bifurcation in the gold market, the GOLD: HUI ratio, which measures the relative value of gold to gold shares, is at multi-year highs. This is a buy signal for gold shares.
click to enlarge images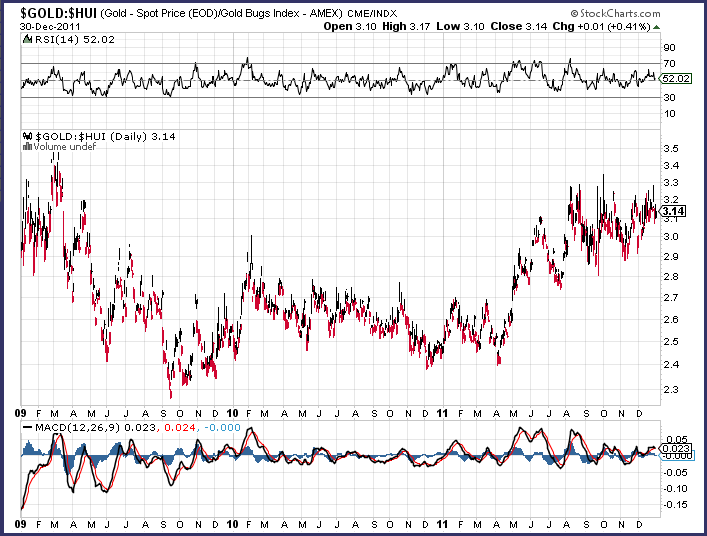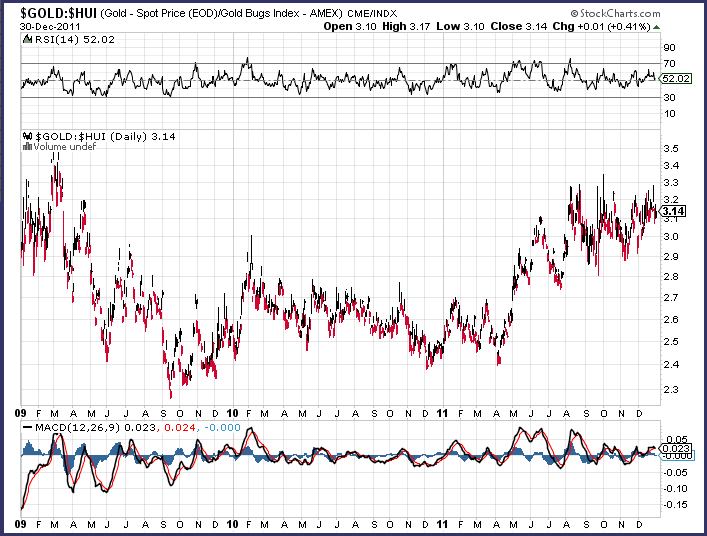 The last time the ratio was this high, the HUI embarked on an intermediate term rally that ended only after the HUI doubled in 8 months. This is the type of potential rally that is developing in gold shares.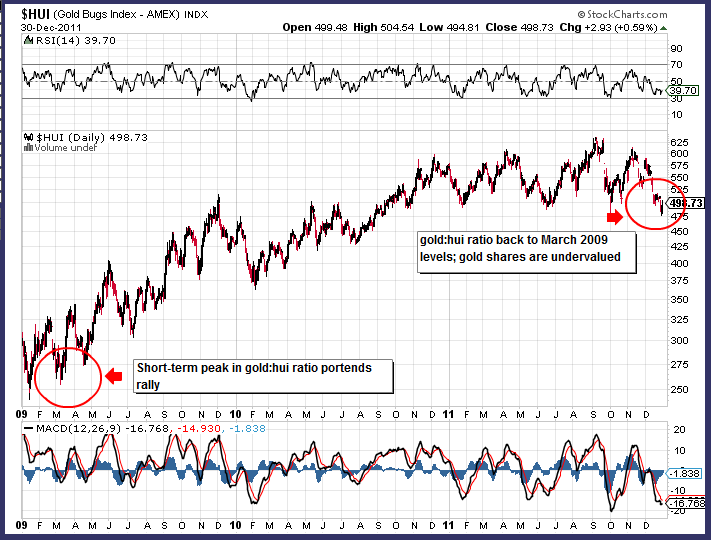 Not many gold bulls are comparing this period to the one in 2008-2009, but the undervaluation in gold shares is similar. Meanwhile, the global economy has deteriorated and our debt load has risen by about 50%. Civil unrest has spread throughout the world and the Euro experiment is unraveling. The extent to which big-time global investors are now buying gold directly from gold producers is unprecedented.
The fundamentals continue to improve for gold, yet people are getting bearish. This should get gold bulls excited because the most explosive rallies occur when everyone is bearish. Gold shares may correct and consolidate from here, but it appears a strong rally in gold shares is developing for 2012.
Disclosure: I have no positions in any stocks mentioned, and no plans to initiate any positions within the next 72 hours.