Actionable Items:
CEF Weekly Review: On average, the 13 closed-end fund (CEF) types registered a share price decrease of 0.5% for the week ending 12/30/11. The high-low spread (percentage price change difference between the highest and lowest fund types) registered this week was a 2.4% versus a wider +3.2% the previous week. On an aggregate unweighted basis, the weekly average price change for the 500 plus CEFs in the GrowthIncome database was down 0.2%.
The PowerShares CEF Income Composite (NYSEARCA:PCEF), an ETF that invests in taxable income CEFs, declined 0.5% for the week. PCEF is down 7.4% YTD based on share price and up approximately 1.0% when its current annualized yield of 8.4% is considered as part of a total return calculation. S&P 500 declined 0.6% this week and ended the year flat.
(Click here for YTD CEF Performance. See "Research" Menu; "CEF Weekly Information" tab.)
The Eqcome CEF Fear Index elbowed up modestly. The average CEF unweighted price decreased 0.2% while the average related NAV advanced 0.1%. The VIX broke its downward trajectory. It rose 12.8% for the week to land at 23.40 after sinking 14.3% the previous week
Uptick, Downtick: Weekly money flow was down 0.6% for the Dow Jones U.S. Total Stock Market Sectors for the week ending December 30th as eight of the 10 sectors experienced money outflows. The Up/Down Ratio (share volume on price upticks versus downticks) was 1.02 indicating volume on the uptick was greater than the downtick volume.
The typical pattern of sector money inflow and outflow was evident this week with stronger equity markets favoring sectors associated with economic growth and weaker equity markets favoring defensive sectors.
Oil & Gas, last week's beneficiaries of an advancing equities market, was this week's loser. It experienced money outflow of 1.6% with an up/down volume ratio of 0.99. Utilities, a defensive sector, experienced a modicum of inflow with a gain 0.3% and an up/down volume ratio of 1.07.
The tacking of these sectors can be played through the SPDR sector ETFs for those with the time and the interest.
CEF Weekly Fund Type Performance: The typical pattern of rising fixed-income CEFs and receding equity-oriented CEFs in a retreating equity markets' environment played out this week at the extremes. Both national and single-state muni bond funds were leaders this week advancing 0.7% and 0.6%, respectively, while WrldEqFnds continued to dwell in the cellar with a decline of 1.7%.
click to enlarge image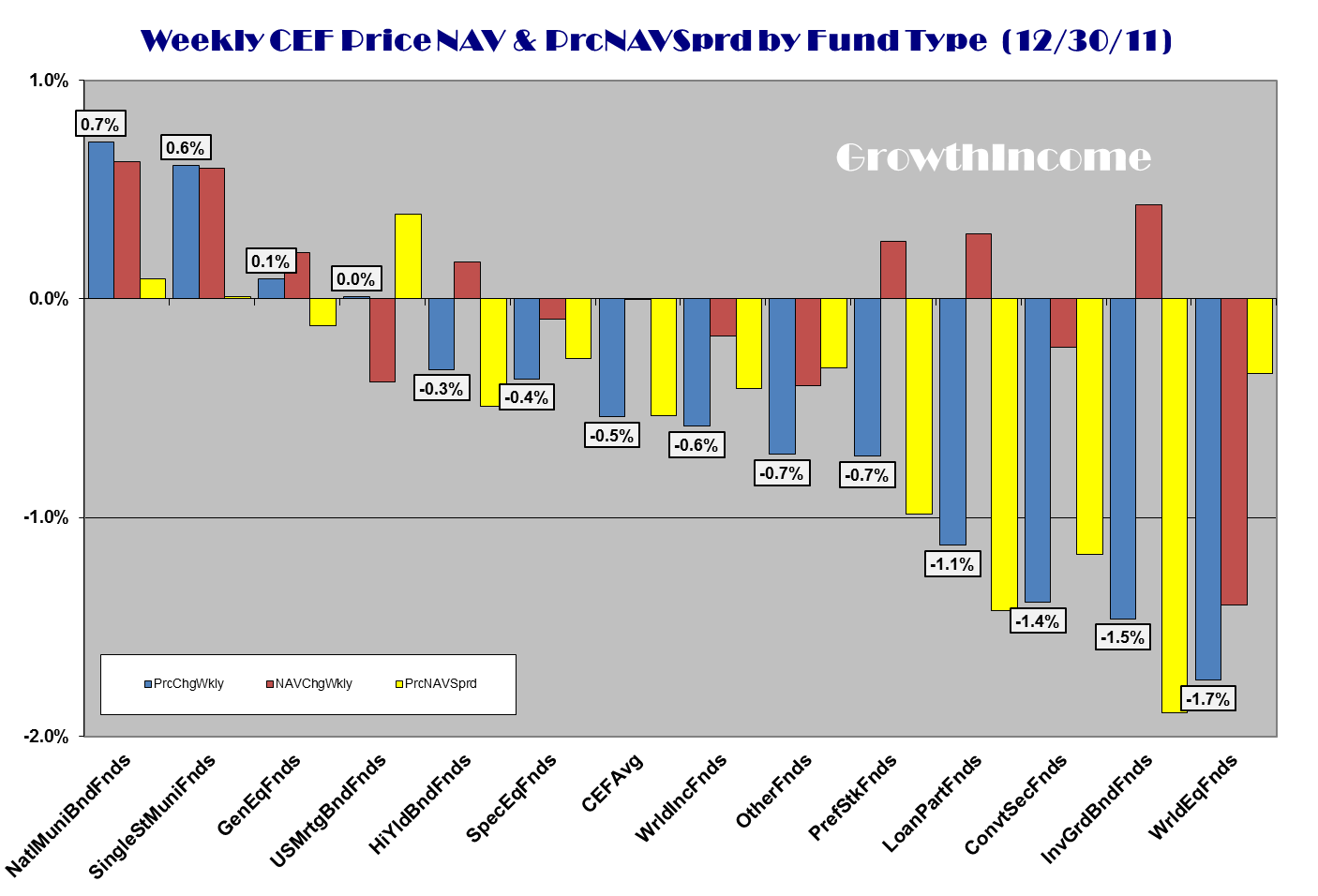 One surprise was InvGrdBndFnds which were also off 1.5%. This was in contrast to its ETF counterpart that was up 0.3%. In investigating the InvGrdBndFnds, the decline was broad based and was not a function of one CEF tanking. Year-end house cleaning and portfolio window dressing may have influenced some of this shifting.
Weekly CEF Winners and Losers: One of the CEFs with the greatest positive PrcNAVSprd for the week was Eagle Capital Growth Fund (GRF). GRF's price increased 11.3% while its NAV advanced 2.9% generating a positive PrcNAVSprd* of 8.4%.
As the name implies, GRF invests in the equity securities of public companies which embody the prospects of long-term capital growth. GRF's unleveraged total assets are very small at $21.2 million. Its biggest positions are in business service companies and include Automatic Data Processing (7.3% of the portfolio) and Paychex (5.5%).
In mid-December, GRF went ex-dividend with a distribution of $1.05 per share which caused its share price to run up 6.2% from the date of declaration to its ex-dividend date on fairly heavy volume. GRF also received a 5-star rating from Morningstar around the same time period.
In the waning weeks of this year, there was another spike in volume on December 27 and 28 of around 60,000 shares each day which represents 10 times its normal average 3 month daily volume. There was no indication of recent insider or institutional buying. The last time there was insider buying was with the CEO in May of this year when he acquired 5,000 shares.
A CEF with the greatest negative PrcNAVSprd for the week was Invesco Van Kampen Bond Fund (VBF). VBF's share price decreased 3.9% while its NAV increased 1.3% generating a negative PrcNAVSprd of 5.2%.
VBF invests in high-quality corporate bonds. Approximately 85% of its $225 million unleveraged portfolio is invested in investment grade bonds with the preponderance of it in corporate debt.
For 2011, its stock price performance was 20.3% while its NAV advanced 7.5% during the same period. During the year, VBF's went from a 6.6% discount at the end of last year to its current 4.2% premium. VBF currently yields an annualized monthly distribution of 4.6%.
As mentioned above, InvGrdBndFnds lagged this week and it could be a sign that investors are declaring "victory" in this fund type and are reconsidering the prospects for interest rates and economic growth for the New Year. However, the ProShares "Short" 20+ Year Treasury (NYSEARCA:TBF) was down 2.9% for the week indicating that at least some investors are not convinced of an increase in interest rates.
Economic & Earnings Outlook: (Click here for next week's economic calendar; click here for earnings' announcements and estimates.)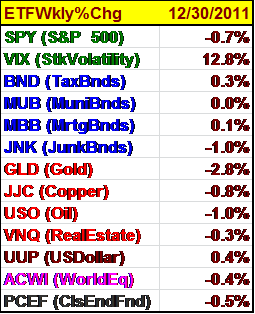 ETFs: For a more detailed EFT performance by sectors, click here; see, "Research" Menu; "ETF Weekly Information" tab.)
(Click here for a hyperlink to the Joe Eqcome's CEF Weekly Insider Report—see, "Research" Menu; "CEF Weekly Information" tab.)
CEF Distribution Announcements This Week: (Click here for Joe Eqcome's Weekly CEF Distribution Announcements—see, "Research" Menu; "CEF Weekly Information" tab.)
CEF Focus Stock(s) for the Week: Stone Harbor Emerging Markets Income Fund (NYSE:EDF) is our focus stock of the week. There were several officers of EDF that had accumulated positions at the end of the month. The biggest stake was taken by James E. Craige, executive vice president, adding over 14,000 shares during the last week of the month. This brings his cumulative holding in EDF to 28,985 shares.
EDF seeks to maximize total return through investing in a portfolio of emerging markets fixed income securities. It has over $400 million in total net assets of which $83.7 million is leveraged. Its annualized distribution yield is 10.3% and it's trading at a 2.5% discount from NAV. The CEF is fairly new having been launched at the end of 2010.
Approximately 50% of its portfolio is invested in sovereign debt with the greatest portion invested in Latin America (Argentina, Brazil and Mexico). Of its entire portfolio the portfolio's exposure to Europe is 15.3%. Approximately 50% of the debt is denominated in U.S. dollar (USD), so an increase in the value of the USD, which many anticipate could have a muted impact upon repatriated income.
The stock slid since November and is at its 52 week low. The stock is now approach a year since its launch and should have the obligatory IPO discount "rung out".
A Contrarian Idea: The course of the New Year remains uncertain with sovereign debt being a top concern. A stock like this could languish until a clearer vision regarding the global economy emerges.
Last Week's Focus Stock(s): The focus stock last week was Gabelli Global Utility & Income Fund (GLU). GUT declined 5.1% and generated the largest negative PrcNAVSprd last week of 8.0%. This was in contrast to the SPDR's utility ETF (NYSEARCA:XLU) which advanced 3.7%.
The downward price moves in GLU seemed to be attributable to last week's mid-week spike in trading volume. This could indicate a meaningful shareholder exiting a position in GLU as part of a year-end portfolio clean-up and window dressing.
GLU has $63 million in unleveraged assets. It pays an annualized distribution yield of 5.8% under a managed distribution program. It is currently trading at a 1.6% premium. GLU has already pre-announced its next three monthly distributions into 2012 (January, February and March) at distribution amount of $0.10 per share.
The stock has been up a little more than 1.1% this week on fairly normal volume.
---
[*] All things being equal, price and NAV should move in tandem. A price movement greater than the NAV generates a positive PrcNAVSprd and may be interpreted as negative on a near-term basis and indicate that the stock is overvalued relative to its NAV which in theory is the stock's intrinsic value. The opposite would be true for a negative PrcNAVSprd.
Disclosure: I am long PCEF. I own a diversified portfolio of CEFs and ETFs and am long stocks in the CEFBig10™ and CEFMuni10™.) The first is a balanced equity-income portfolio (CEFBig10™) and the second a tax-exempt income portfolio (CEFMuni10™).