The Dogs of the Dow theory presumes that investing in the 10 Dow Industrial components that enter a calendar year with the highest yields is a prudent investing strategy. The theorists note that these components should all be relatively strong companies, and that their high yields indicate that they should produce above-average income and also possibly appreciate to a higher price that reflects its above-average yield. This is a review of the performance of the 2011 Dow Dogs.
The following are the 10 DJIA components that started 2011 as dogs, in alphabetical order: AT&T (T), Chevron (CVX), Dupont (DD), Intel (INTC), Johnson & Johnson (JNJ), Kraft (KFT), McDonald's (MCD), Merck (MRK), Pfizer (PFE) and Verizon (VZ). I have provided their 1-month, 3, month, 6-month and 2011 performance rates, as well as their current dividend yields. I have also included the same for the DJIA and the S&P 500 ETFs.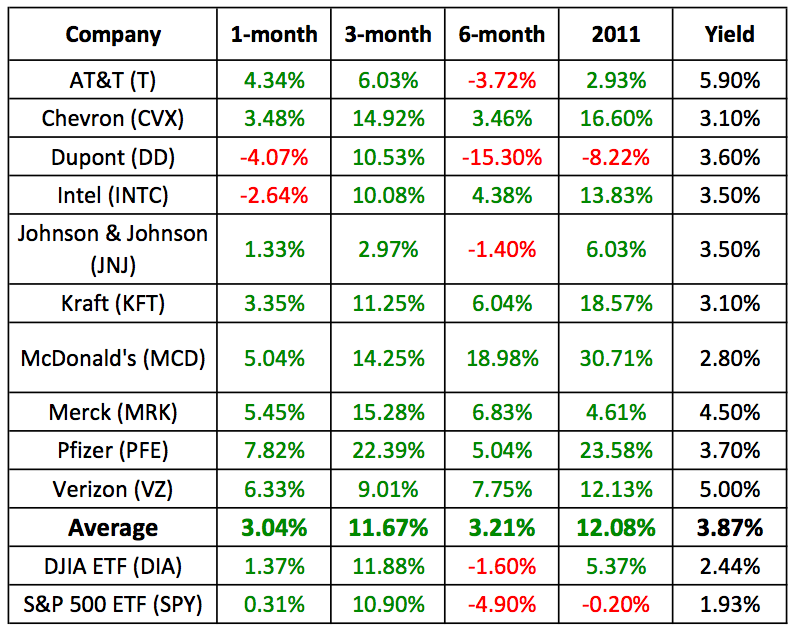 In 2011, the Dow dogs crushed the broader market as defined by the DJIA and S&P 500. The dogs combined to appreciate 12.08 percent, above a 5.37% appreciation by the Dow 30 and a -0.20% loss for the S&P 500. Moreover, the dogs now provide an average yield of 3.87 percent, well above either index.
Many investors have been craving higher-yielding investments lately. The interest rate most banks now offer for cash and CDs is nearly nothing, and getting lower all the time. Additionally, short- and intermediate-term U.S. Treasuries aren't much better.
The dogs often combine to make a reasonably diverse, yet conservative portfolio, with a domestic, international and emerging market profile. Any year's dogs will not be a perfectly diverse or complete portfolio. For example, the 2011 list is absent any financials, which is a large reason why the group outperformed the index benchmarks.
Another great thing about the Dogs of Dow theory is that the companies are usually familiar to American consumers, and they will find it easy to obtain news and information on them. Further, the companies are highly liquid, and investors probably do not have to fear being unable to sell their shares at a fair market price, whatever that may be.

Disclaimer: This article should not be construed as personalized investment advice as it does not take into account your specific situation or objectives.