In this article, we will discuss the following stocks: Advanced Micro Devices, Inc. (NYSE:AMD), Bank of America Corporation (NYSE:BAC), Frontier Communications Corporation (NYSE:FTR), Southwest Airlines Co. (NYSE:LUV), Micron Technology Inc. (NASDAQ:MU), Sprint Nextel Corp. (NYSE:S) and Xerox Corp. (NYSE:XRX).
These seven stocks are trading below $10, down an average of 54% from their 52-week highs; nevertheless have positive catalysts for future growth. Moreover, most of these stocks are trading well below consensus analysts' estimates; several have recent upgrades and positive analyst comments.
These stocks are speculative contrarian plays that have major upside potential once the geopolitical and macroeconomic issues of the eurozone, U.S. and the world fade from the forefront of investors' minds and a renewed focus on fundamentals and company specific catalyst emerges. It is always darkest before dawn; these stocks have major upside potential. Please review the following major market catalysts, company specific catalysts and a chart detailing current fundamentals regarding these names.
Major Macro Market Catalysts
Based on several bullish technical indicators, the market's unending resilience in the face of continual negative headlines, I believe the market is setting up for a 2012 rally. The following are some potential catalysts.
The U.S. housing market, unemployment situation and economic indicators are all showing signs of life. All these signs of improvement bode well for the macro picture.
The winds of political change are blowing hard these days. If the Republicans take the 2012 presidential election, the market will soar.
The eurozone seems to be taking the proper actions to calm its tumultuous financial markets. Recently bond yields of the eurozone fringe sovereigns that were rocketing higher have sunk vastly lower with the back-door liquidity injections engineered by the ECB in the form of the LTRO.
Tax loss selling for year end 2011 has added to the extreme weakness in these stocks, driving these 2011 losers to their lowest levels.
Recent better than expected U.S. consumer confidence statistics.
Interest rates are low and the Fed has confirmed its dovish stance is here to stay.
Current Market Backdrop
A burst of late day selling left the markets at session lows on this last day of trading for 2012. The S&P 500 is basically flat for the year. Although flat may not be the return shareholders expected, the relative strength of the U.S. market was apparent with most of the world's major equity markets agonized with double-digit losses for 2011. 2011 was a year of exceedingly correlated and exceptionally unpredictable market performance. Nonetheless, fundamental dynamics in the long run provided some support keeping the markets afloat.
I see the eurozone crisis maintaining its number one spot as the biggest risk for 2012, although the risk is fully baked in to the market at this time. Other key factors to watch are China's economy, the 2012 U.S. presidential election, and well as geopolitical issues arising from the Middle East and emerging markets.
Company-Specific Catalysts and Fundamental Statistics
AMD recently launched the AMD Radeon(NYSE:TM) HD 7970 graphics card for desktop PCs, introducing the world's fastest single-GPU graphics card and the only GPU based on 28nm production technology. With the arrival of the AMD Radeon HD 7970, AMD has unleashed its revolutionary new Graphics Core Next Architecture that enables new levels of gaming and compute capabilities -- realizing an improvement of over 150% in performance/sq mm over the prior generation. Engineered with support for PCI Express 3.0 and AMD CrossFire(TM) technology, the AMD Radeon HD 7970 graphics card arrives prepared for the next level of gaming.
Matt Skynner, corporate vice president and general manager, GPU Division, AMD said:
True to the maxim, 'never settle,' AMD is once again aggressively advancing the state of the graphics industry -- this time with the arrival of the world's fastest single-GPU graphics card, the AMD Radeon HD 7970. This graphics card represents a revolution in the graphics industry. To put it bluntly, the AMD Radeon(TM) HD 7970 changes everything!
Fundamental Statistics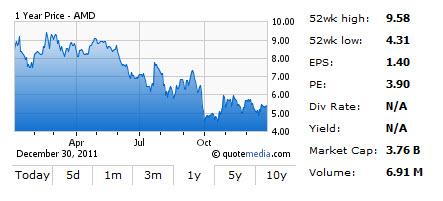 Bank of America recently announced it is hiring more than 160 Merrill Edge Financial Solutions Advisors (FSAs) across Southern California and Arizona by the end of first quarter 2012. This includes hires in Los Angeles, San Diego, Orange County and Phoenix, and will bring the total number of FSAs in banking centers to more than 250 in that region. In addition, 110 FSAs are also located in the Merrill Edge Advisory Center in Chandler, Arizona.
Although the U.S. banks have been severely hammered mostly due to eurozone headline risk regarding sovereign debt defaults, U.S. banks actually have minimal exposure to this risk. BAC's estimated eurozone exposure is $100 million while BAC has a $40 billion market cap, $30 billion in cash and is trading at half of tangible book value.
Fundamental Statistics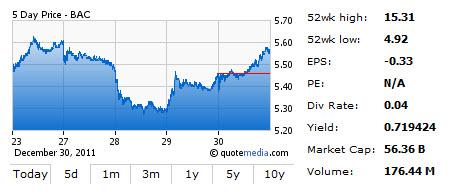 Frontier Communications Corporation, the largest provider of communications services focused on rural America, recently announced an agreement that will offer Frontier customers a broad assortment of AT&T smartphones and access to its mobile broadband network.
Glenn Lurie, president of emerging devices, resale and partnerships for AT&T (NYSE:T) said:
Wireless is a fundamental communications requirement, and we're thrilled Frontier has chosen AT&T as its provider of mobility solutions. Frontier customers will have access to a wide variety of AT&T smartphones, tablets and applications, along with our mobile broadband network.
Fundamental Statistics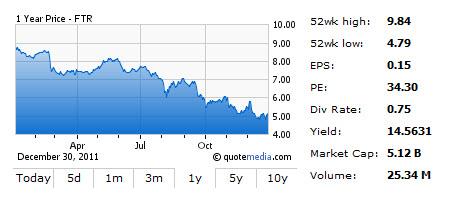 Southwest Airlines recently announced a tentative Seniority Integration Agreement has been reached between the Company, the Transport Workers Union (TWU) 556, the union representing Southwest Airlines Flight Attendants, and the Association of Flight Attendants (AFA) Council 57, the union representing the Flight Attendants of AirTran Airways. This tentative agreement would integrate the two groups' seniority lists. TWU 556's Executive Board and AFA's Master Executive Council both approved the agreement, which will allow the membership of each Union to review the proposed agreement and ultimately put it to a ratification vote. Southwest Airlines finalized closing of the acquisition of AirTran Holdings, Inc., on May 2, 2011.
Mike Van de Ven, Southwest Airlines Executive Vice President and Chief Operating Officer said:
The Union and Company negotiating Teams never lost focus on the ultimate goal of creating an integrated seniority list and transition plan for our Flight Attendants -- one that avoided arbitration. Much like the Pilots before them, everyone involved in the Flight Attendant discussions took ownership of their role in the integration of AirTran into Southwest Airlines, and I want to commend our teams for delivering this crucial first step in that process.
Fundamental Statistics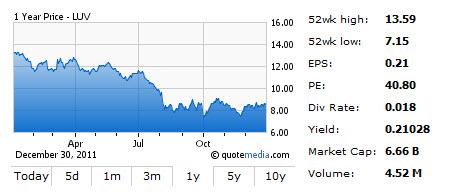 Intel Corporation and Micron Technology, Inc., recently announced a new benchmark in NAND flash technology - the world's first 20 nanometer (NM), 128 gigabit (GB), multilevel-cell (MLC) device. The companies also announced mass production of their 64Gb 20nm NAND, which further extends the companies' leadership in NAND process technology.
Developed through Intel and Micron's joint-development venture, IM Flash Technologies (IMFT), the new 20nm monolithic 128Gb device is the first in the industry to enable a terabit (Tb) of data storage in a fingertip-size package by using just eight die. It also provides twice the storage capacity and performance of the companies' existing 20nm 64Gb NAND device. The 128Gb device meets the high-speed ONFI 3.0 specification to achieve speeds of 333 megatransfers per second (MT/s), providing customers with a more cost-effective solid-state storage solution for today's slim, sleek product designs, including tablets, smartphones and high-capacity solid-state drives (SSDs.)
Glen Hawk, vice president of Micron's NAND Solutions Group said:
As portable devices get smaller and sleeker, and server demands increase, our customers look to Micron for innovative new storage technologies and system solutions that meet these challenges. Our collaboration with Intel continues to deliver leading NAND technologies and expertise that are critical to building those systems.
Fundamental Statistics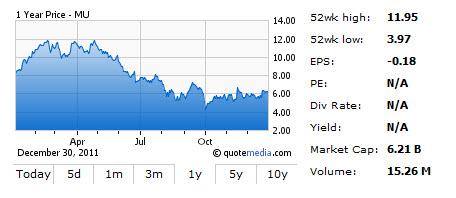 Sprint doubled its 2011 capital investment over 2010 to make tens of thousands of capacity upgrades, resulting in a better wireless experience for its customers. Smartphone penetration is expected to double over the next four years.* With Network Vision, Sprint is making it easier for data to travel, so its smartphone customers - who use on average 10 times more data than feature phone customers* - can use their devices the way they were intended.
Bob Azzi, SVP - Network, Sprint said:
With the network investments we made in 2011 and as the only national wireless carrier to offer truly unlimited data plans while on the Sprint network, we continue to offer better value than Verizon, T-Mobile and AT&T. But our commitment to an exceptional wireless experience doesn't stop there. Sprint's on an aggressive path to roll out Network Vision, and in collaboration with our partners, have already achieved many significant milestones that offer improved customer experience on the Sprint 3G network, and we expect to maintain and even accelerate this momentum in 2012.
Fundamental Statistics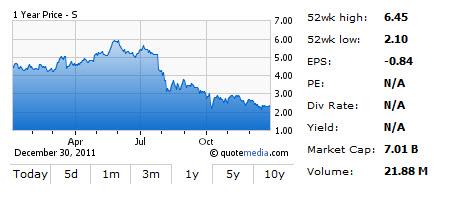 Xerox Corporation is positioned as a leader in IDC's 2011 MarketScape report for Worldwide Managed Print Services (MPS).
The report, which analyzes MPS vendors and delivers an overview of competitive fitness, highlights Xerox's ability to serve companies of all sizes through its continuum of MPS services delivered by both direct and indirect distribution channels. According to IDC, companies considering MPS should look at the breadth of a vendor's current offerings and the strategic outlook for future services.
Holly Muscolino, research director at IDC said:
Xerox's high scores indicate that companies seeking MPS want a partner with market experience and depth of approach to ensure long-term results. Consistent global delivery capabilities are a key differentiator for Xerox, and they continue to build out their infrastructure for global support, including support for indirect channel partners.
Fundamental Statistics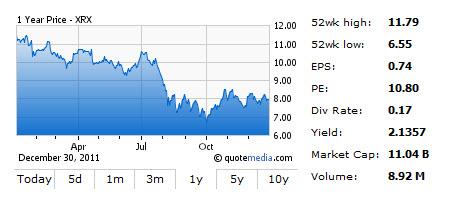 Conclusion
Whenever you find yourself on the side of the majority, it's time to pause and reflect. - Mark Twain
What a great quote from Twain. Let's reflect. A contrarian is one who attempts to profit by investing against the grain, to go against the crowd, because the crowd is usually wrong and always late. A contrarian believes that certain crowd behavior among investors can lead to exploitable opportunities. Pervasive cynicism about a stock or sector can drive the price so low that it exaggerates the investment's perils and belittles its future prospects. Identifying and seizing on these opportunities is a well-known investing tactic utilized by legendary investing experts such as Warren Buffett and Whitney Tilson. I believe these stocks may present such an opportunity.
Nonetheless, this is only the first step in finding winners for your portfolio. Please use this information as a starting point for your own due diligence and research methods before determining whether or not to buy or sell a security.
Disclosure: I have no positions in any stocks mentioned, but may initiate a long position in MU, BAC, FTR, AMD, LUV, S, XRX over the next 72 hours.