A few years ago, the primary way of gaining exposure to leveraged loans was through Collateralized Loan Obligations (CLO). The 2007-2008 crises changed the way investors buy portfolios of leveraged loans. 2011 closed the year with approximately $11 billion in CLO issuance. 2011 volume is far below the peak issuance of $120 billion in 2006. Investments in leveraged loans transitioned away from CLOs and toward more traditional investment funds.
Even though CLOs are no longer the vehicle of choice, a solid rationale for investing in leveraged loans remains. Moody's forecast the speculative grade default rate to remain low. As the economy continues to slowly recover and companies continue to decrease leverage, it is likely that the default stays at approximately 2% for some time. Given the ratings of BA and B on leveraged loans, a low expected default rate is critical. Additionally, many of these leveraged loans have strict covenant not present in high yield bonds. In the event of bankruptcy, the result is comparatively higher recovery rates for these instruments.
These leveraged loans continue to be an attractive investment. The floating interest rate of these loans offers some interest rate and inflation protection that Federal, State, and Municipal Bonds lack. Given the lower ratings of leveraged loans, investors are somewhat compensated for increased risk.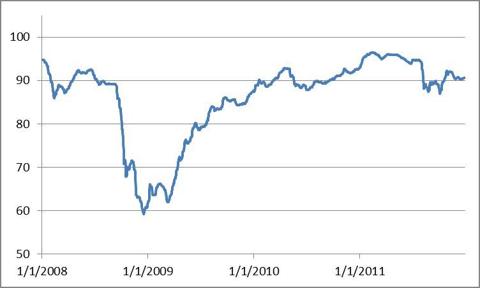 Above is a plot of S&P / LSTA Leveraged Loan Index. This graph shows the index bottoming out in December of 2008. As prices appreciated since December 2008, many leveraged loan funds showed nice returns. However, much of the price appreciation has been realized. Prices rose from approximately 60% to near Par. Now, most of the current returns will have to come from interest on leveraged loans with a diminished amount of the returns coming from appreciation.
So which investment vehicles are available to the average investor?
There are several closed end funds (CEFs) which invest in loans. Each of these funds is a reasonable size ranging from between $300 million to almost $550 million. When choosing one of these investment vehicles it is important to observe where the market price trades in relation to the funds' NAV.
The information listed in the tables below is as of last quarter of 2011, attempting to make the figures as comparable as possible.
| | | | | | | |
| --- | --- | --- | --- | --- | --- | --- |
| Ticker | Full Name | Price | NAV | Yield | 3yr Return | 5yr Return |
| | Pioneer Floating Rate Trust | 12.47 | 12.21 | 8.2% | 34.3% | 2.5% |
| | Nuveen Floating Rate Income Fund | 10.85 | 11.27 | 7.6% | 36.2% | 3.6% |
| | Eaton Vance Senior Floating-Rate Trust | 14.40 | 14.69 | 7.1% | 28.7% | 3.5% |
| | Eaton Vance Floating Rate Income Trust | 14.23 | 15.03 | 7.0% | 28.7% | 3.6% |
| | Nuveen Floating Rate Income Opportunity Fund | 11.16 | 11.20 | 7.8% | 39.5% | 4.3% |
According to Morningstar, during the last five year period EFT, EFR, PHD, JFR underperformed the S&P LSTA Leveraged Loan Index. However, over the last three year period, all of these closed end funds dominated the S&P Leveraged Loan Index. JRO is the only CEF which dominated the index over the last three years and five years.
The first ETF to mimic the behavior of the S&P / LSTA U.S. Leveraged Loan 100 Index was launched on March 3, 2011. Thus, 3 and 5 year returns are not available. The fund is listed below and more information can be found here.
| | | | |
| --- | --- | --- | --- |
| Ticker | Full Name | Price | NAV |
| | PowerShares Senior Loan Portfolio | 23.81 | 23.68 |
Some investors might prefer more active management. Rather than investing in an ETF or a CEF, investors also have a choice between mutual funds. Unfortunately, the three year track record of the Fidelity fund does not compete with the five CEFs above. However, the Credit Suisse Floating Rate fund handily outperforms Fidelity's Fund over the similar time periods. Adding to the decision process is a new fund launched by PIMCO. As of May 2011, PIMCO created a new fund. Unfortunately, without a track record it is difficult to compare the Fidelity and Credit Suisse funds with PIMCO.
| | | | |
| --- | --- | --- | --- |
| Ticker | Full Name | 3yr Return | 5yr Return |
| FFRHX | Fidelity Floating Rate High Income Fund | 12.3% | 3.9% |
| CSHIX | Credit Suisse Floating Rate High Inc Ins | 24.9% | 6.4% |
| PSRDX | PIMCO Senior Floating Rate CL D | New Fund | New Fund |