2011 turned out to be a difficult year for mortgage REITs, which presently offer some of the highest yields within the equity world. Most mREITs sustained share depreciation and a reduced book value per share, though often due to secondary offerings. Agency mREITs were by far the preferable choice when compared to non-agency mREITs, with most agency mREITs providing a yield above their share appreciation, resulting in a positive total return. Conversely, the equity of most non-agency mREITs depreciated to a far greater extent than the provided yield.
The following is a performance comparison of seven of the highest-yielding mREITs that have reasonably large trading volumes (averaging over 1 million shares per day). The list includes Annaly Capital Management (NLY), American Capital Agency (AGNC), Chimera Investment Corporation (CIM), Hatteras Financial (HTS), Invesco Mortgage Capital (IVR), MFA Financial (MFA) and Two Harbors Investment (TWO). I have provided their current yields as well as their 1-month, 3-month, 6-month and full 2011 equity performance rates.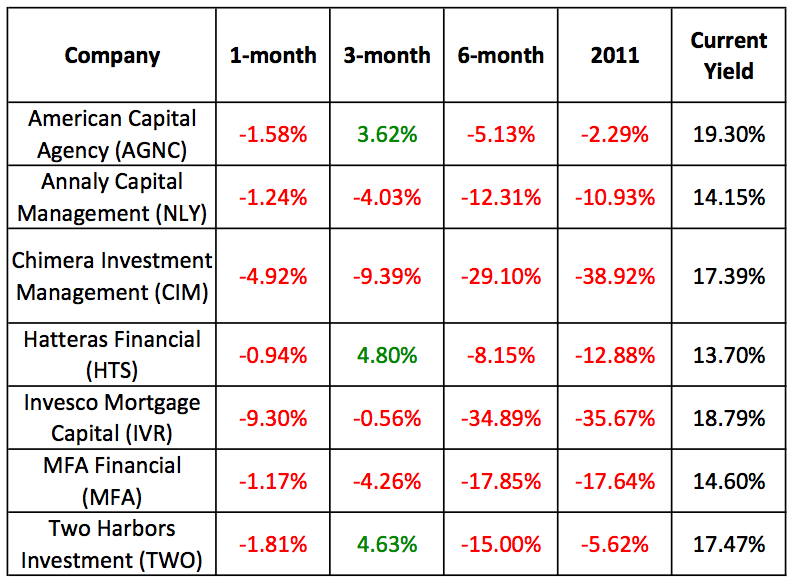 Click to enlarge
As can be seen by the considerably worse 2011 performance rates for the non-agency or hybrid mREITs such as CIM, IVR and MFA, agency mREITs were the place to be in 2011 if one did venture into this high yield section of the environment. Nonetheless, these non-agency mREITs are now at a deep discount to their last reported book values, compared to agency mREITs that are now mostly trading at a premium to book.
Mortgage-backed securities caused a major financial crisis three years ago. The low-rate environment that followed the bursting of the Internet bubble, combined with lax mortgage practices by a historically strict group, fueled the ballistic rise of MBSs. Beyond fear over continued MBS issues and an increase in U.S. foreclosures, these mREITs have recently been hit by a series of new risks, including potential REIT regulatory changes, leverage restrictions and the intimidating risks associated with U.S. interest rates some day rising.
Mortgage REITs continue to be one of the highest yielding options available to income-oriented investors. Nonetheless, due to their significant risks, exposure to mREITs should be limited to a reasonable percentage of a portfolio, based upon an investor's risk profile, time-horizon and other investments. Additionally, mREIT dividends are taxed as regular income, and not at the lower corporate dividend rate, making them substantially better performing investments when held within tax deferred or exempt accounts.

Disclosure: I am long NLY, CIM.
Disclaimer: This article is intended to be informative and should not be construed as personalized advice as it does not take into account your specific situation or objectives.