Beautiful charts, all of them. But you know the drill, performance in the past doesn't provide any guarantee for performance in the future.
The muni market was one of the surprise performers in 2011. It has shrugged off a rather high profile municipal bankruptcy in November when Jefferson County instigated the biggest muni bankruptcy in US history. High profile muni analyst Meredith Whitney predicted a wave of these bankruptcies, but so far, Jefferson seems a rather isolated incident, even if it is a big one.
Here are ten muni bond funds with charts. We've provided two criteria for selection, dividend yield and relative strength indicator (RSI) to provide a first selection.
Click charts to enlarge
Market Vectors Long Municipal Index ETF (MLN)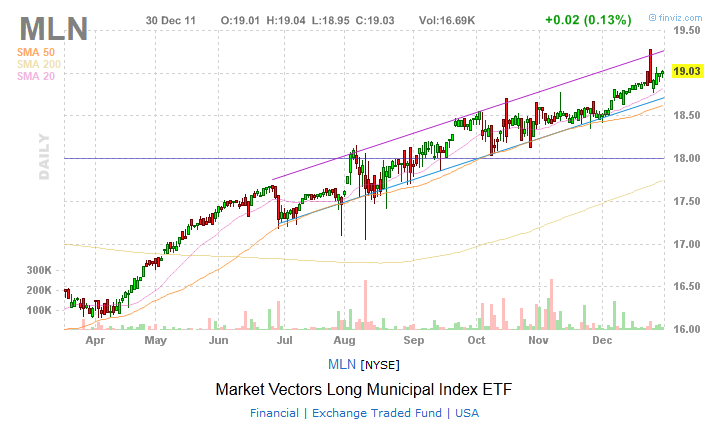 Dividend 4.45%
RSI: 74.98
Alliance California Municipal Income Fund Inc. (NYSE:AKP)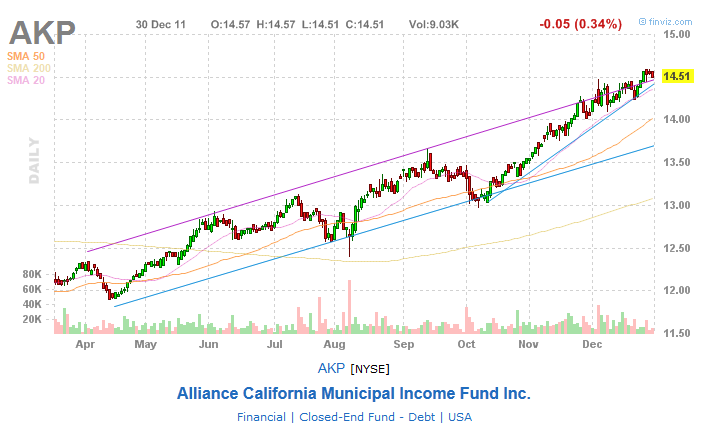 Dividend: 6.30%
RSI: 65.24
Inveso Van Kampen California Value Minicipal Income Trust (VCV)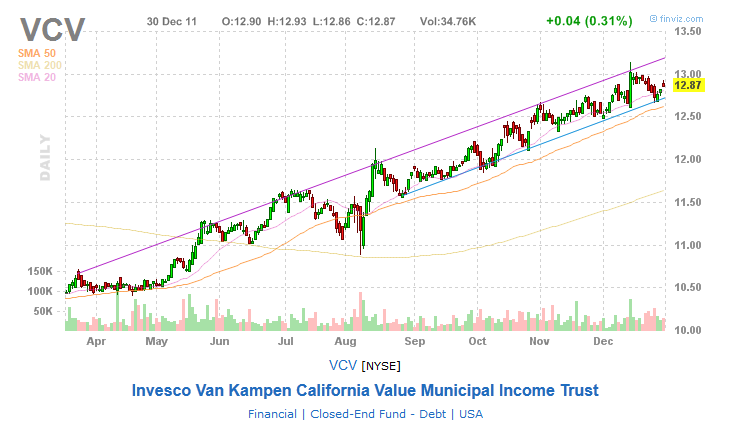 Dividend: 7.09
RSI: 55.34
Invesco California Quality Municipal Securities (NYSE:IQC)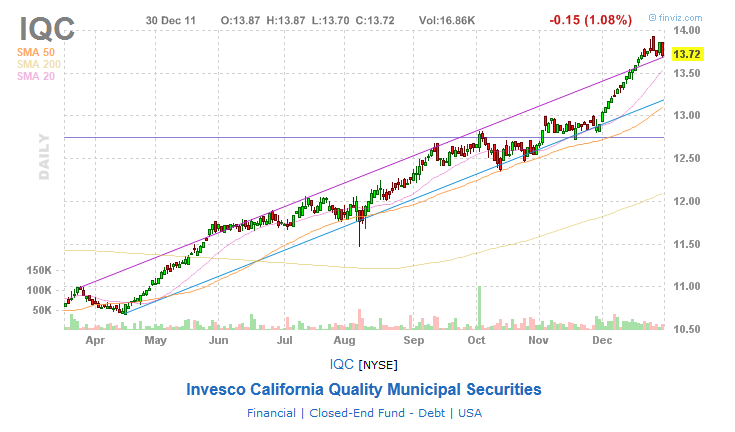 Dividend: 6.12%
RSI: 68.7
BlackRock MuniHoldings Fund II, Inc. (NYSE:MUH)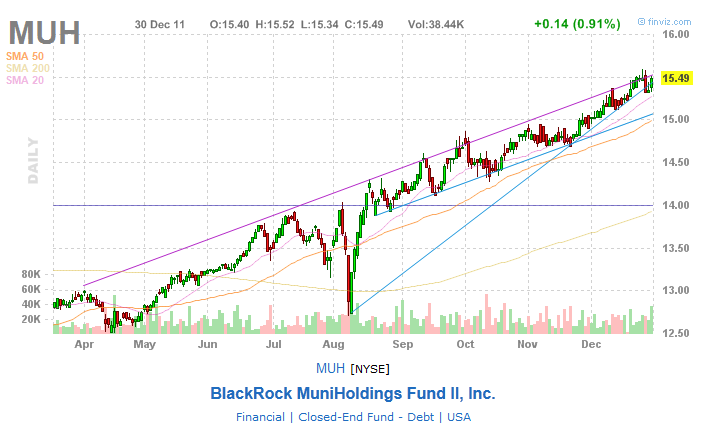 Dividend: 6.31%
RSI: 67
BlackRock California Municipal 2018 Term Trust (BJZ)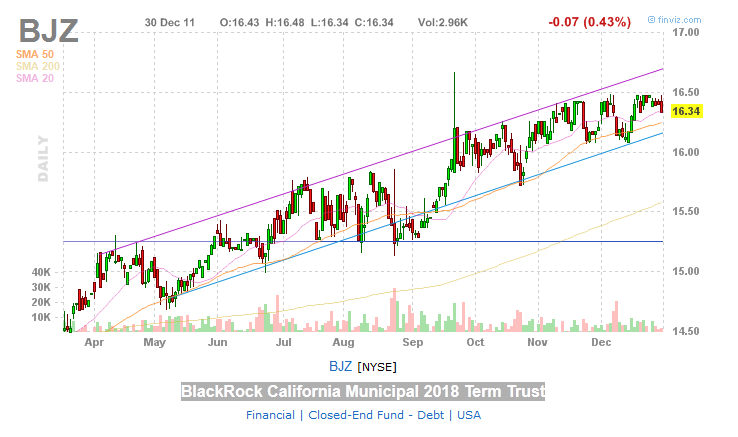 Dividend: 5.29%
RSI: 50.25
Eaton Vance New York Municipal Bond Fund (ENX)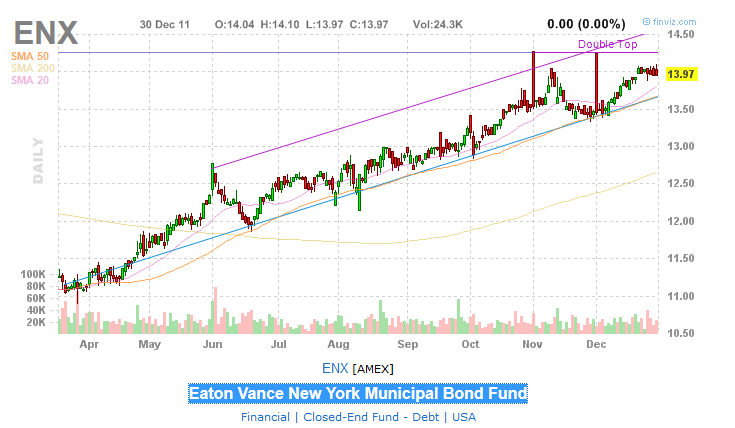 Dividend: 5.86%
RSI: 64.55
Pioneer Municipal High Income Trust (MHI)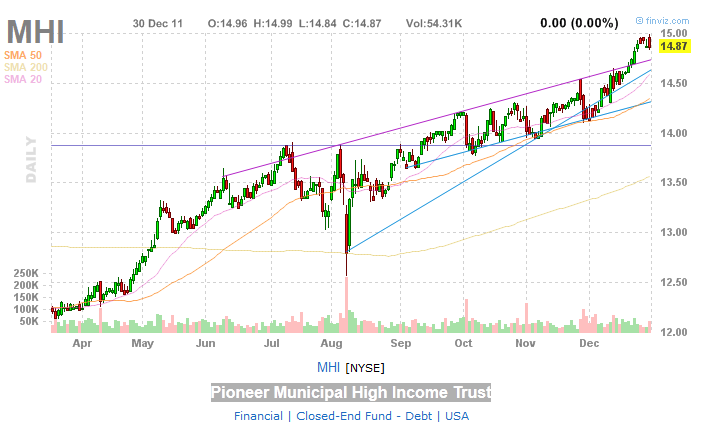 Dividend: 7.67%
RSI: 69.53
BlackRock New York Municipal Income Trust (BNY)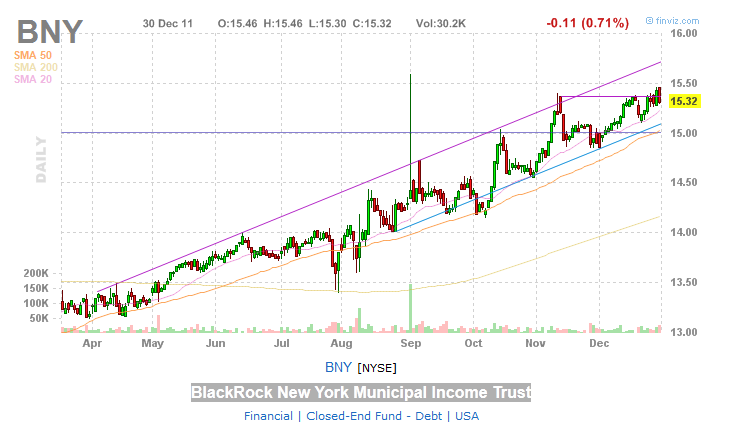 Dividend: 6.46
RSI: 58.91
BlackRock MuniHoldings New Jersey Insured Fund, Inc. (MUJ)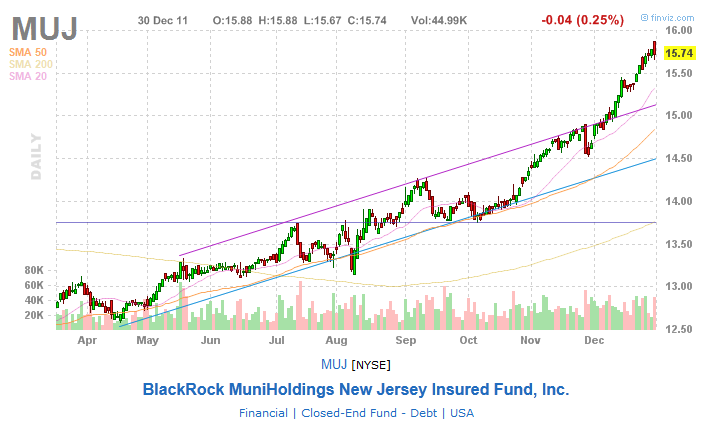 Dividend: 5.64
RSI: 77.35
On these rather crude criteria, the most interesting funds are VCV, which has a dividend yield of 7.09% and an RSI of 55.34, both the highest dividend (apart from MHI) and the lowest RSI (apart from BJZ) in the list.
It really remains to be seen whether the sector will keep performing like it has. On the one hand, better economic figures will ease some of the strain on municipalities, but it will also likely lead to a rise in bond yields and hence a fall in bond values.
The long Goldilocks scenario (after a brutal sell-off that followed the Meredith Whitney warning earlier in the year) will probably continue for some time, but we feel it's getting distinctly tired.
Disclosure: I have no positions in any stocks mentioned, and no plans to initiate any positions within the next 72 hours.