There are signs that the US housing market is improving albeit slowly, see here and here for recent analysis, showing that even in the worst case, we are close to the bottom in housing and may see 15% growth in new housing starts next year, though pricing remains uncertain.
Performance Relative to S&P
In some sense, we are due a recovery, housebuilders (as tracked by the ETF XHB) are down 40% vs. the S&P 500 on a 5 year basis, despite a strong rally from housebuilders in the past 3 months, 18% ahead of the S&P, mirroring some of the more positive US economic datapoints.
Recent Valuations
Housebuilders: Price to Book and Price to Sales with Bubble Size showing Market Cap
(note: Hovnanian not shown due to negative book value)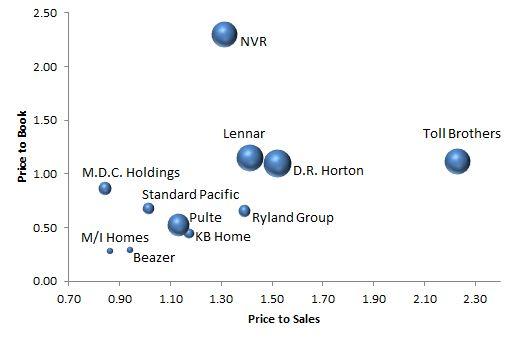 The above analysis suggests that on a price to book and price to sales basis some of the smaller players offer the greatest value such as M/I Homes (NYSE:MHO), Beazer (NYSE:BZH), Standard Pacific (SPF) and M.D.C. Holdings (NYSE:MDC).
52 Week Price Ranges and Current Levels
Most stocks are mid-way between their 52 weeks highs and lows, with D.R. Horton (NYSE:DHI) and Toll Brothers (NYSE:TOL) showing stronger momentum and with Hovnanian (NYSE:HOV) and M.D.C. looking relatively weaker.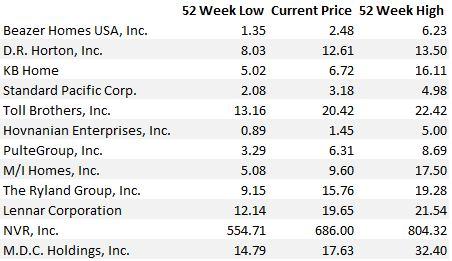 Financial and Operating Leverage
In the event of a recovery, companies with relatively higher operating and financial leverage may be best placed to benefit. In terms of financial leverage, Beazer, Standard Pacific and Ryland (NYSE:RYL) all have over 150% debt/equity ratios, which in the event of a recovery could work in their favor (or the reverse if the situation gets worse).
In terms of operating leverage, Standard Pacific stands out as a company that has relatively strong gross margins, and slightly negative operating and net income margins, a top line improvement of 15%. Conversely, from a margin perspective, Beazer's gross margins appear so slim that more than 15% volume growth would be needed to improve the economics of the business significantly. Ryland has a more favorable margin structure, but again would likely need more than 15% volume growth to realize positive net income past on past performance.
Conclusion
The biggest challenge is forming an accurate view on the housing market, but assuming a moderate recovery with 15% volume growth in 2012, Standard Pacific appears best placed to benefit from that level of growth given its current price relative to book and sales and its operational and financial leverage. 2012 housing growth may not be strong enough for deeper value plays such as Beazer. And if 2012 growth is weaker than expected, relatively larger cap names such as D.R.Horton and Toll Brothers that have rallied relatively more strongly may offer more downside protection if growth is slower than expected given their healthier financials currently. However, if you don't believe in housing improvement, the better course is to avoid housebuilders entirely.
Key Risks
Home pricing - there is a consensus building around housing volume improvements, but pricing is still sluggish at best. Continuing house price weakness could more than offset a volume rebound.
Disclosure: I have no positions in any stocks mentioned, but may initiate a long position in SPF over the next 72 hours.