LDK Solar (NYSE:LDK) seems to have a penchant for starting the year with big announcements. Last year, the company significantly increased sales guidance. This year, LDK comes out the gate announcing a bid to acquire German photovoltaic company Sunways AG (OTC:SWYAF), a small producer of solar cells, modules, and inverters. Bloomberg provides some details of the deal and analyst commentary regarding the likely motivations and results for the deal in "LDK Solar Enters German Market, Adds Technology With Sunways Bid." I was very intrigued by the deal because LDK is so much larger than Sunways, and Sunways is now a money-losing company in sharp decline in a very depressed market. LDK recorded $472M in sales in last year's third quarter and $499M in sales the previous quarter. Sunways suffered a 50% drop in sales in the first three quarters of 2011 compared to the same quarters in 2010; sales in the third quarter were all of €23.3M, about $31.5M at the time. LDK suffered a gross and net loss last quarter and still leans on favorable financing from the Chinese government. Sunways suffered operating losses for the first three quarters of 2011 (fourth quarter results are not yet available). The market access and technology that Sunways offers LDK must be extremely valuable because the company is clearly becoming distressed based on its last earnings report for the third quarter 2011.
Sunways was caught by surprise by poor demand in early 2011 and subsequently disappointed by the lack of a recovery that was expected by "many observers." The company's "liquid funds" declined significantly from €13.8M at the end of 2010 to just €2.1M at the end of the third quarter 2011. EBIT (earnings before interest and taxes) dropped year-over-year from €13.7M to -€21.6M over the first three quarters. Sunways is currently taken measures to protect its liquidity and has reduced the hours of work for some of its production employees. It has also increased spending on marketing and distribution activities.
Right before prices began plummeting for solar modules, Sunways signed an agreement with LDK to make solar modules. Now, Sunways sends the majority of its cell production to LDK for manufacture into modules. It takes 8-10 weeks from the time Sunways produces cells (or purchases wafers), ships them to LDK, and gets back finished solar modules. Sunways got caught offering modules for sale in a pricing environment that did not cover the total costs of producing the modules, even with the low costs LDK offers out of its Chinese facilities. Margins dropped sharply and inventories increased (as well as write-downs).
Sales did not decline as badly outside of Germany. Sunways made 42.5% of its revenue in the rest of Europe with Italy and France serving as the most important part of those ex-German sales. Sunways actually expanded sales in France. Italian revenues are supported by a subsidy bonus of 10% for photovoltaic systems where at least 60% of the components are manufactured within the European Union. I suspect this bonus may be one of the few reasons LDK has for keeping any cell production in Sunways.
Sunways provided very poor guidance for the fourth quarter with low margins, negative EBIT, and depressed sales continuing. An acquisition by LDK will likely give Sunways some relief from the pressures on its balance sheet, but I am always circumspect when a company takes over one of its customers. I am hoping this year's big news turns out a lot better than last year's.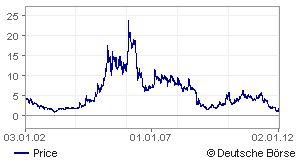 Sunways has seen much better days
Source: Deutsche Börse Group
Be careful out there!
Disclosure: I am long LDK.