In my last post updating the current list of buy candidates for the "commodity crash" portfolio, I neglected to include fertilizer stocks. Phosphate and potash producers - like Mosaic (MOS), Potash (POT), and Intrepid Potash (IPI) - are currently trading at or below their QE2 reference prices. As a reminder, the "QE2 reference price" is a term I use to refer to the price of a stock, especially commodity-related, at market close August 31, 2010. That evening, Ben Bernanke telegraphed the imminent implementation of a second round of quantitative easing (QE2). Stock markets worldwide surged in response and launched a strong and sustained rally (on at least one occasion, during Congressional testimony, Bernanke observed his handiwork with great pride).
On December 28th, MOS reminded me of its laggard status when the company announced production cuts. Here is the Mosaic announcement in the words of Jim Prokopanko, President and CEO of Mosaic:
Isolated phosphate market spot prices have become disconnected with the underlying agricultural fundamentals. As dealers and distributors focus on the macroeconomic uncertainty and delay purchases for the North American Spring Season, near term supply of phosphate barges on the Mississippi River has exceeded near-term demand. The current spot prices in this market do not reflect our outlook for the business, nor do we think they are sustainable. In response, we have decided to cut planned production by 250,000 tonnes over the next three months…

…We continue to expect an above average application season in North America and record-setting global demand for both phosphate and potash in 2012…We are confident strong farmer economics and agricultural fundamentals will ultimately prevail over the near-term cautious sentiment.
This announcement was only a mild surprise in light of what I read earlier in the month about expanding supplies of agricultural products that are placing downward pressure on agricultural prices. It is also possible more conservative farmers are planning for what they regard as an inevitable correction to the recent good fortunes of farmers. In "U.S. Farmers More Optimistic After Record Harvest Profit, DTN Survey Shows", Bloomberg quoted such a farmer on Jan 2, 2012:
Lower expectations for the future are ingrained in farmer thinking, said Pam Johnson, who raises 2,700 acres of corn and soybeans about 30 miles (48 kilometers) east of Mason City, Iowa.

'A lot of us have history,' Johnson, who has farmed for 39 years, said in a telephone interview. 'When we hear that the farm economy is good, we know deep down in our souls that that is transitory. Our business is cyclical. When it is good, we plan for when the next foot falls.'
On the other hand, a New York Times article on December 31st described how farmers in Iowa are rushing to put more marginal farmland into production because of the continued high prices for their crops. Farmers are even plowing over struggling golf courses and reclaiming land developed for non-agricultural uses. It seems to me these new acreages, particularly the more marginal land, will require ever more fertilizer to maintain profitable production levels.
In the wake of the MOS announcement, Barron's reiterated its standing call to buy fertilizer stocks citing some of the standard bullish rationale such as growing global populations. In "Analysis: Mosaic may have won skirmish in fertilizer wars," Reuters also noted that:
…Even as the price of widely used diammonium phosphate, or DAP, adjusts to this season's market dynamics, the long-term trend is undeniably bullish. Growing demand for high-quality food in emerging economies is expected to keep demand for all three major crop nutrients - nitrogen, phosphate and potash - rising over the coming decades.
The two imminent supply pressures over the next three years will come from a large phosphate project in Saudia Arabia called Ma'aden and a Moroccan project by government-run OCP to expand capacity in phosphate rock and finished fertilizer production.
In other words, it seems that a supply-induced price slump in fertilizer stocks represents a buying opportunity in-line with the fundamental premise of the commodity-crash playbook to start purchases once QE2-inspired gains get erased. Note well that unlike most other commodity-related stocks, fertilizer stocks did NOT respond much to the announcement of QE2. For example, MOS traded flat for the next four trading days.
I started a position in MOS after several visits to the QE2 reference price. I somehow managed to miss the stock even as it plunged to 15-month lows in early October. I am planning to add more if the current slide deepens further. MOS is the only fertilizer stock I have targeted so far, but if POT and/or IPI sell-off to steep discounts, I might add one of them to the portfolio. POT is trading 16% below its QE2 reference price of $49.08; IPI and Agrium (AGU) are trading essentially flat with their QE2 reference prices of $22.45 and $69.57, respectively. POT is especially interesting given previous efforts by BHP Billiton (BHP) to buy the company. (BHP is also trading below its QE2 reference price and is on my buy list).
click to enlarge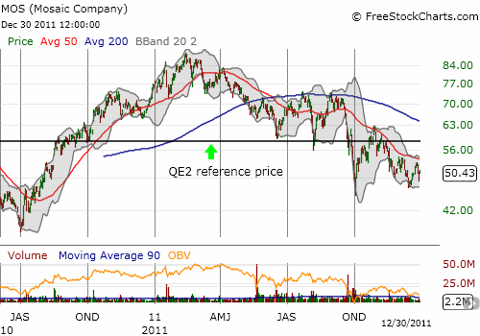 After the QE2 reference price twice provided support for MOS, the stock is now struggling to stay above 17-month lows
On December 28th, the Fast Money crew at CNBC interviewed the ever vocal, commodity guru Jim Rogers about his investing outlook. Rogers was as dour as ever, even expecting lower prices for commodities while advocating agriculture as the main commodity of investment.
Rogers cited an unnamed Yale study that showed much higher returns investing directly in commodities over commodity-related stocks. Exchange Traded Notes finally allow retail investors to more easily trade on commodity prices, but I remain a bit leery of them as long-term investments. The only agricultural ETN on my list to have erased its QE2-inspired gains is the iPath DJ-UBS Grains Total Index (JJG). In the two weeks since then, JJG has already bounced 10% (see below). The recent rallies in agricultural commodities was so large that even the current steep correction leaves prices at lofty levels. For example, according to Bloomberg, corn, wheat and soybeans are each at least 21 percent over their respective five-year averages.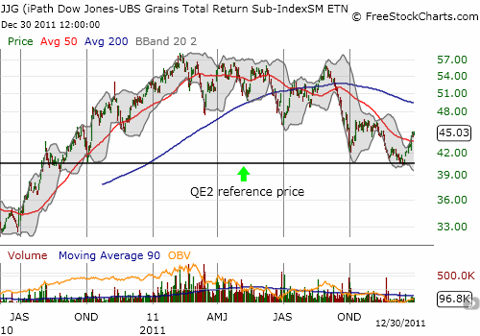 JJG bounces perfectly after retesting its QE2 reference price
Source for both charts: FreeStockCharts.com
Jeremy Grantham's fundamental premise for an imminent crash in agricultural stocks hinged on a substantial improvement in weather conditions that leads to over-supply in crops. While 2011 did end with a substantial correction in many agricultural prices, weather patterns remained brutal in many parts of the world. For example, AccuWeather.com reported that 2011 had an unusually high number of severe weather events costing at least $1 billion in the U.S. Adjusted for inflation, 2011 was the third most expensive year on record for weather damage in the U.S. From what I can tell, these numbers do NOT take into account changes in building and habitation which have brought more people and property into the path of severe weather. As another example, severe dryness and hot weather in Argentina, Brazil, and Texas are helping wheat futures soar again. Milling wheat futures have now rallied for a record 12 days in a row.
I continue to think that trying to bet on short-term changes in weather patterns is far too difficult a task for building an investment strategy in the secular strength of the agricultural economy. I prefer to stay focused on the longer-term trends of growing populations, wealthier and stronger middle classes in emerging economies, and sustained changes in climate. Any dips along the way are opportunities to buy into these trends at a discount.
Be careful out there!