Annaly Capital Management, Inc. (NYSE:NLY) is a New York-based mortgage real estate investment trust (REIT) that owns and manages mortgage-backed securities (MBS). The company arbitrages low interest rates, uses these borrowed funds to acquire income-generating MBS, and generates its revenue from the spread between the MBS interest rate and its borrowing costs. From this strategy, Annaly Capital's 2010 net income was $1.2 billion on $2.6 billion in revenues. The market cap stands at $16.3 billion.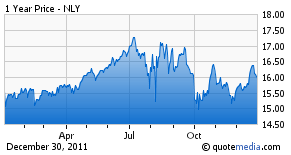 Among its industry peer group, Annaly Capital is by far the leader in all the major financial metrics. Its largest competitor, Capstead Mortgage Corp. (NYSE:CMO) is a distant second with 2010 net income of $107 million on $143.5 million of revenues with a $1.1 billion market cap. Other smaller industry players are Impac Mortgage Holdings Inc. (NYSEMKT:IMH) and Redwood Trust (NYSE:RWT), which, for the time being, remain more nimble.
Annaly's dominant position within the MBS industry created the opportunity for impressive investment returns over the past two years. An investment of $10,000 in Annaly on December 22, 2009 would now be worth $12,000. This 20% return in Annaly stock is remarkable considering that the same $10,000 investment in the S&P 500 would have yielded only $11,120. However, Annaly's industry standing and investment performance notwithstanding, it would be hard for the prudent investor to ignore the dark clouds looming for this stock going forward.
First, the Federal Reserve's ongoing desire to keep interest rates low and stimulate the economy (especially the housing market) is good for the consumer but not so good for holders and purchasers of MBS. Homeowners today are able to refinance their existing mortgages into new loans and take advantage of historically low interest rates. Investment banks then pool these mortgages into MBS and issue them to investors. The rate on a 30-year fixed rate mortgage hit a low today of 3.91%, a 2.19% decline from just 5 years ago, when the rate was 6.1%.
Today's 30-year fixed rate hit a historical low not seen since the 1950s. Mortgage interest rates have been on a steady decline that many economists do not believe will reverse anytime soon. This trend is going to continue to squeeze the profit margins of Annaly and other mortgage REITs, with ever decreasing interest income coming from newly issued MBS.
Next, Annaly's current leverage ratio is a 7.66 times. Just for a comparison, a company with no liabilities has a leverage ratio of 1.0 times. Leverage, in and of itself, is not necessarily negative. Leverage is often used to magnify and enhance investment returns as a part of a company's total capital structure. However, anyone who has received a margin call from his or her stockbroker can attest, leverage can also be a double–edged sword. In the case of Annaly, its leverage ratio has been increasing steadily since 2009 while its return on equity has been decreasing significantly. This indicates that Annaly management is not effectively using leverage to increase return on equity but, to the contrary, is being cut by its own leverage sword.
Nowhere is this reckless use of debt more evident that Annaly's own dividend policy. Although it may be tempting to seek out Annaly with its mouth-watering dividend yield of 13.5% when the S&P 500 dividend yield is only 1.9%--investor beware. Annaly's dividend payout ratio is 124%, which means for every $1 that Annaly earns in net income it pays out $1.24 in dividends to investors. Either the additional $0.24 has to come from Annaly's own coffers or has to be financed in a "rob Peter to pay Paul" type of scenario where the company takes out additional debt to pay stock dividends.
Jeffrey Gundlach, the CEO of DoubleLine Capital, LP, recently sold all of his REIT holdings that invest in MBS. He is advising investors to shun the sector citing homeowners are opting to refinance into new, lower interest rate mortgages. He believes dividend cuts affecting the industry are just the beginning of a long-term trend citing Annaly's announced dividend $0.57 for Q4 2011. Annaly's dividend was $0.60 in Q3 2011 and $0.65 in Q2 2011.
The biggest challenge to Annaly in the future may not be financial at all but regulatory in nature. The Securities and Exchange Commission is considering characterizing Annaly, as well as other MBS-investing entities, as investment companies rather than REITs. Currently, REITs enjoy a more favorable tax treatment compared to investment companies. They currently are exempt from having to register as an investment company under the Investment Company Act of 1940 in Section 3(c)(5)(NYSE:C).
Essentially a REIT pays no corporate income tax, distributes 90% of its income to investors, and has a less of a governance and compliance burden than an investment company. This would all change if Annaly would have to change its corporate structure, lose its REIT status, and register with the SEC as an investment company.
Considering the fundamentals of Annaly it may be a prudent short-term trading bet (perhaps with a strategy of buying before the ex-dividend date and quickly selling after dividends are paid) but not as a long-term investment.
My recommendation is to sell Annaly Capital. I do not foresee future long-term share price growth in this stock because of the aforementioned regulatory uncertainty, its financial fundamentals, as well as a negative outlook for the MBS sector as a whole. Even with Annaly's recent dividend cut from $0.65/share in Q2 2011 to $0.57/share in Q4 2011, the company still has a lot of deleveraging to do, and the prospects for future growth look meager.
Disclosure: I have no positions in any stocks mentioned, and no plans to initiate any positions within the next 72 hours.