By Abhi Rao
Despite being bastions of the transportation industry, airliners have had a rough time in 2011. Companies like Delta (NYSE:DAL) and AMR Corp (AMR) have had to suffer increasing fuel costs along with degenerating macroeconomic conditions. One company in particular, however, has had more problems than it has hoped for: US Airways.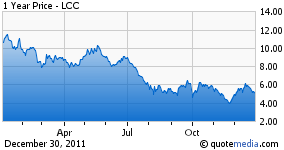 While it is a relatively small airliner, US Airways (LCC) has always been a familiar name to traveling Americans. Over the course of 2011, US Airways has dropped over 48%, despite reporting news that signaled growth and future opportunity for the company. Due to the price action, US Airways has essentially been downgraded by the market from a large-cap company to a small-cap. US Airways' volatile price action didn't just start in 2011, however. In 2008, as equity markets were tumbling due to the U.S. housing collapse, US Airways went from trading near $60 a share to roughly $2. At current levels, the stock is trading at about $5.16.
With record high gas prices and a lack of customer traffic, US Airways and other airliners suffered record losses in recent years. Since then, some companies have gained traction and recovered from the damage done to their books. US Airways still has a long way to go before having a $5 billion market capitalization again, but the company may have already begun its turnaround.
Before considering US Airways' stock, investors need to consider a few things. Few companies fall as hard as US Airways. Typically, it is a sign of long-term damage, and even if the company shows signs of growth after a downturn, it may never recover to its former glory. Only speculative investors may wish to consider US Airways' unique financial situation.
To learn more about US Airways, Benzinga reached out to Steve Wilder at CapStone Investments, who maintains a 'buy' rating on the company with a $24 price target. According to Wilder, US Airways has room to grow because it is "a big player in a niche market." Instead of being another airline focusing on huge cities like New York and Los Angeles, US Airways focuses on cities like Phoenix and Philadelphia.
The Raw Numbers:
US Airways' balance sheet clearly shows signs of the losses suffered after 2007. Cash reserves fell from $2.1 billion to $1 billion, receivables fell by about $100 million, and goodwill became impaired to the point that the entire $622 million book value was wiped out. Since that time, cash reserves have grown back to $1.8 billion and receivables mildly recovered by $20 million. The company has also increased its PP&E to the highest levels ever; about $5 billion dollars. This rapid increase in capital expenditures could mean that demand is increasing for the company's services.
The company's liabilities have been growing along with its assets. Its long-term debt load including capital leases has increased from $4 billion in 2007 to $4.8 billion in 2010. Similar trends are apparent with short-term debt. US Airways' shareholders' equity also decreased significantly after 2007, when it was $1.4 billion. Shareholders' equity dropped to -$500 million and sat at $84 million Thursday.
US Airways' revenues have fluctuated every year after 2007. Interestingly, revenues peaked in 2008, when US Airways made $12 billion. In 2010, the airliner has been able to slightly increase gross margins by trimming cost of goods sold, even compared to 2006 and 2007. US Airways has also been able to suppress operating and non-operating expenses, leaving it with $502 million, its highest net income in the last five years.
CapStone Investments' Wilder stated that the bottom line increased after a decision to stop hedging against oil prices, effectively reducing costs.
"Prices were so volatile that it became increasingly expensive for US Airways to be hedge risks. In 2010, the company decided to stop hedging altogether," Wilder said.
US Airways' physical cash flows also point to recent growth. Apart from net income's effects on cash from operating activities, the company did not experience any cash fluctuations from securities used to hedge oil prices. In 2009, the firm lost $375 million, and in 2008, the firm gained $496 million as a result of its hedging activities. Cash from investing activities increased because the company sold marketable securities and decreased purchases of property and equipment. The company saw a decrease in cash from financing activities as a result of debt repayments and fewer debt issuances. Collectively, the company increased its cash on hand at the highest rate in the last three years.
Using metrics to analyze US Airways can also help investors determine its value. The company trades at a discount to competitors when looking at price/earnings and price/sales multiples.
However, it trades at 15 times sales, while competitors trade 2.2 times sales, on average. Moreover, growth metrics like revenue growth and EPS growth are lower than competitors. The primary reason for this may be the company's performance in 2008. The airline's margins are also worse than those of competitors, which may be another artifact stemming from 2008. Lastly, the company's debt position is significantly worse than competitors, with a debt/equity ratio of 63.8, versus an average of 5.1.
The Bottom Line:
US Airways' numbers provide mixed signals for investors. While the balance sheet carries a lot of burden that was incurred during the stock market collapse in 2008, its income statement and cash flows do show growth in the last two years. The company's perceived value by the equity markets is not the best, but contrarian investors could argue that the market simply has yet to understand US Airways' true value.
US Airways, along with its peers, may or may not present lucrative opportunities for investors. While it has had trouble maintaining profitability in recent past, some investors may believe that it will eventually turn around. Especially since AMR Corp declared bankruptcy, US Airways may have some opportunities to garner extra market share. Investors do need to be careful, though, because global macroeconomic changes are occurring rapidly and may not favor the transportation industry.
Disclosure: I have no positions in any stocks mentioned, and no plans to initiate any positions within the next 72 hours.