Much has been written on copper and companies that deal with copper lately. Some have written about copper falling more while others insist that the recent drop in price is a good point of entry. SCCO looks to be at a point where it could turn bullish and break out very soon. So for those who are interested in copper, here is one to look at. But we would suggest caution regardless.
Southern Copper Corp (SCCO)
Southern Copper Corporation engages in mining, exploring, smelting, and refining copper ores in Peru, Mexico, and Chile. It involves the production of copper and molybdenum concentrates; smelting of copper concentrates to produce anode copper; and refining of anode copper to produce copper cathodes, as well as refined silver and copper. The company operates the Toquepala and Cuajone mines in the Andes Mountains located southeast of the city of Lima, Peru, as well as a smelter and refinery in the coastal city of Ilo, Peru.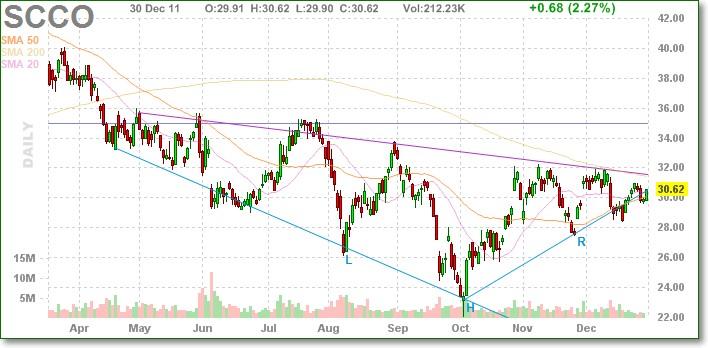 SCCO is presently trading at 30.53. While analysts give it a median target of 35.50 its low target was pinned at 31.00 and it is already below that point.
The plight we have here as investors is looking for opportunity to make money with different stocks. If we look at SCCO from a technical stand point we can identify a bottom that also is showing us an ascending triangle formation. At times, a formation like this can signal a reversal pattern with a nice extended bullish move at break out on increasing volume.
But copper in general has been in the dog house of investors as of late. This can be attributed to the slowing global economy. But an investor is interested in catching copper on the upswing as long as we are not in for the second half of a double dip recession in 2012. An article from Seeking Alpha by K202 mentioned that the recent dip in copper may be a good entry point for long term growth. But, on the bearish side of the investment coin, HJ Huneycutt believes investors should be cautious. In a very good article on 'copper' he recently wrote:
Copper's historically high prices are not merely the result of "emerging market growth" but rather, are the result of market interventions by Chinese governments, which are ultimately unsustainable. Prices will likely have to retreat anywhere from 30% to 60% before we see stabilization, if historical data is a useful guide. If the experiences from the Japanese Asset Bubble are any indication, it's likely that we will see a continued decline over the next several years before finally bottoming out.
Investing in SCCO in 2012
If you are looking for a long term investment and interested in a ground floor opportunity in copper, we would suggest buying the stock but also using options to hedge against a continued downward movement in 2012. Possibly look at a June 2012 put option to hedge for long term protection - currently on June 28 (presently priced at $2.90). If the stock is rising, break even is about 33.00. But this is an investment for the long term investor waiting for copper to move up past 35.00.