Most people prefer to put their money into stocks that stand a good chance of increasing greatly in terms of stock appreciation. Watching an investment continue to climb higher and higher is an exciting experience. It is a rewarding feeling that can keep an investor bragging for years to come. Unfortunately, that is not likely to be the case with AT&T (NYSE:T) stock. AT&T is a slow moving giant that just lumbers along paying out a high yielding dividend to its loyal shareholders. In these uncertain times there is nothing wrong with that.
Why The Dividend Is Potentially Better Than The Market
As the new year arrived, investors considered how they had just limped through a fourth year of lackluster economic growth. The S&P 500 essentially finished flat for the year of 2011. Only those who made the right moves in stocks at the right time were able to profit. Buy and hold players who bought S&P 500 index funds or similar mutual funds only watched their money remain stable.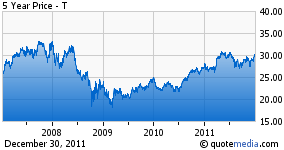 Contrasting this economic picture against the 5.8% dividend that is paid by AT&T starts to demonstrate why this stock may be worth a purchase. This is not even to mention the fact that AT&T went up nearly 8% on an adjusted basis. Just do the math there and AT&T holders were up 13.8% on the year with dividends reinvested. That is an impressive return particularly in an otherwise flat year.
| | | | | | | | | | |
| --- | --- | --- | --- | --- | --- | --- | --- | --- | --- |
| Year | 2001 | 2002 | 2003 | 2004 | 2005 | 2006 | 2007 | 2008 | 2009 |
| Dividend | 1.02 | 1.06 | 1.36 | 1.25 | 1.29 | 1.33 | 1.42 | 1.60 | 1.64 |
Instability Seems To Work For AT&T
AT&T has been known as somewhat of a safe harbor stock. It is one that investors can run to when times get tough. Even though AT&T fell with the broader market during the 2008 and 2009 years, this only helped to increase the yield on its dividend. The dividend itself has been increased by 7.5% since 2008. This makes it all even more appealing. Consistency in its business model has allowed AT&T to continue to raise the dividend for investors regardless of the broader economic condition. Even when times are tough, investors can count on their dividend checks.
About The T-Mobile Merger Failure
Many doubters in AT&T have been quick to cite the failure of the merger with T-Mobile. They try to make the claim that the failure of this merger means that AT&T will not have as strong of a position going forward into 2012. I say that these investors are looking at the stock from a short sided prospective that is simply not helpful. AT&T is simply not a stock that is worth trying to trade in the short term, it is something that has to be held for a long period of time. The dividend is what really matters with AT&T.
The failure to grab T-Mobile is unfortunate only in that it would have helped to bring in even more profits. The fact that AT&T did not get T-Mobile does not mean that AT&T is not going to make its earnings. It simply means that the company is not going to accelerate its earnings as quickly as it might otherwise. It's not a problem though, since the main play with AT&T should be about the dividend. It is the perfect play for those who need to prepare for retirement. It is certainly a stock that is worth purchasing in 2012 and beyond. I recommend it at $30.24 simply for the 5.8% dividend yield.
Disclosure: I have no positions in any stocks mentioned, and no plans to initiate any positions within the next 72 hours.