Altria (NYSE:MO), Reynolds American (NYSE:RAI), Lorillard (NYSE:LO) and Vector Group (NYSE:VGR) pay higher dividends than Philip Morris International (NYSE:PM). Yet, Philip Morris is arguably a better play for safety, capital appreciation, and future dividend increases.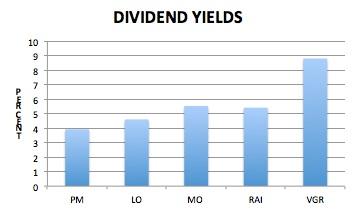 Philip Morris provides something the others don't have: a low payout ratio. To review, the payout ratio is the percentage of a company's earnings that are paid out as dividends. To boil it down, the payout ratio signals how well earnings support the dividend payments. And, that's an advantage which will result in Philip Morris doing better than its domestic peers.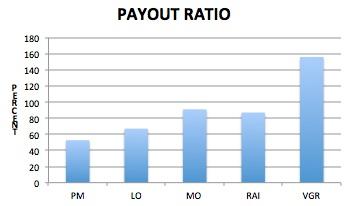 Domestic tobacco has been raising its dividends much faster than they have been able to increase net income or free cash flow. In effect, they've been handing cash out at too fast a rate. Without a compensatory earnings acceleration, dividend boosts will likely become few and far between. In fact, U.S. cigarette makers just might be forced to reduce payout in future years.
Look at Altria's dividends, net income, and free cash flow in 2006 and over the last four quarters. In 2006, Altria had a comfortable cushion: its payout was a reasonable 57%. After spinning off Kraft (KFT) and Philip Morris, that safety net is nearly gone: dividends are reaching perilously close to net income and FCF with a 91% payout.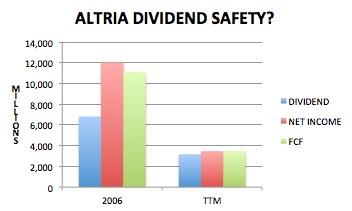 Reynolds American, like Altria, has been increasing its payout. Its increased the dividend but failed to improve earnings or free cash follow. In fact, over the last four quarters, dividends dwarf free cash flow, a worrisome sign.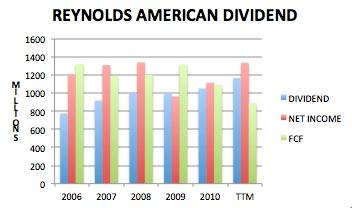 Now compare Altria to Philip Morris. Philip Morris has room to expand dividends: its payout of 53% is more than adequate. The company's net income and free cash flow have been increasing, setting Philip Morris apart from its peers.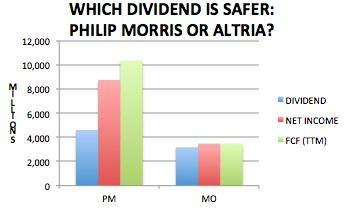 Domestic tobacco entices investors with high dividends. However, once lured in, shareholders may find themselves in a stagnant investment.
Philip Morris's prospects look better.