Apple (NASDAQ:AAPL) was co-founded by the late visionary Steven Paul Jobs and has completely transformed every industry it operates in. The focus on innovation has made Apple one of the largest and best performing companies in the world. I have recommended option strategies on Apple since 2010 with tremendous results. For reference, please view the first and other articles in the series to fully understand the strategy and its strong potential returns. As we enter the post-Jobs era, it is even more important to keep a close eye on your investment and execute care with your trades: Since Jobs has passed the company's performance will be under a magnifying glass.

A brief recap of this week in Apple (Up $1.90 (0.5%)):
Unsurprisingly it was another relatively quiet week for Apple due to the holidays. After spiking up to 409 on Tuesday morning the stock eased back down to the mid-400s and stayed in a narrow range on the last trading day of 2011. I think that the tail-end of last week as well as Tuesday morning were indicative of the "window dressing" I wrote about last week. With such light volume last week I would not put too much faith into the technicals of the stock as they have less weight.
Did Santa put an Apple product under your Christmas tree? Was Santa even nicer and bought you some Apple stock? If yes, you are primed to enjoy what most analysts expect to be another record setting year for the company. All signs still point to an updated iPad in the first quarter of 2012 and a revolutionary iPhone 5 in the summer/fall. These catalysts alone should drive Apple to new heights but the perpetual talk of iTV and a potential redesign of the MacBook Pros will be gravy.
One piece of news that did broke last week and flew under the radar was that Apple obtained the rights to a key iOS patent related to multi-touch. In conjunction with Apple's victory over HTC and Google's Android last week, the legal landscape appears to be shifting into Apple's court. To reiterate a point from my previous article, with Apple "this is not simply litigation for the sake of litigation ... Apple has a strong competitive advantage and is right to protect it, using the courts as necessary." Thus far Apple appears to have taken Steve Jobs' "thermo-nuclear war" approach but imagine how lucrative it could be for Apple if it licenses its technology. Imagining a world in which every company that uses Android has to pay a meaningful fee to Apple is not too farfetched.
Last year I correctly predicted that Apple would return to $400 by the end of 2011 by year's end so it is time for a new price target. As I have been writing for years, I am very bullish on Apple and I am going to fearlessly predict that Apple will hit $450 by the launch of the iPhone 5. In an economic and political climate in which a 5% return on the market is no guarantee, Apple rising 10% to reclaim its position as the largest publicly traded company will be a victory. In Apple's first calendar year without Steve Jobs at the helm, that would be a solid start for Tim Cook's tenure. I will also more confidently predict that Apple will not change its policy regarding cash over that same horizon and investors will not enjoy a dividend or share repurchase.
Three Ways To Play It:
1. Go long Apple and sell weekly/monthly covered calls (for details see the end of this article)
2. Write weekly/monthly cash-secured puts that are approximately 5% out-of-the-money
3. Buy AAPL Mar 2012 430 Calls as a leveraged way to gain exposure to Apple
Below I present three possible scenarios and the potential returns for the Apple options. The first scenario represents a negative outlook for Apple while the final two scenarios are more reasonable. These scenarios are just projections and there is no guarantee that they will come to fruition. Even if you are optimistic it is important to generate both positive and negative circumstances in order to stress your assumptions. As a general rule, selling calls with higher strike prices has greater potential return but additional risk of loss due to the lower (or lack of) downside protection. For more information on the fundamentals of covered calls, consult Investopedia.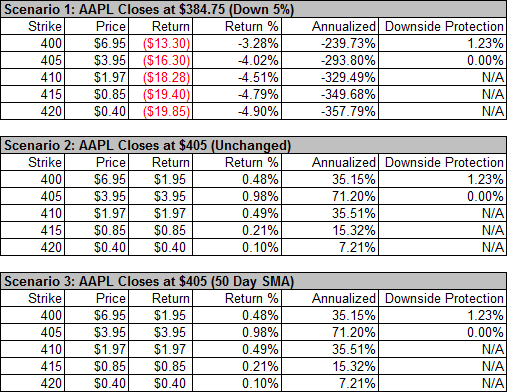 Additionally, if you would like even more information, I have prepared a sensitivity analysis for absolute return and percent returns, respectively. After studying the information above, these two charts make it easy to pick a strike price based on where you believe Apple will close at the end of the week. Estimate where you believe Apple will close and select the strike price with the highest return.

With this information, executing a buy-write on AAPL January 6 (Weekly) 410s is the optimal risk-return strategy. If you are uncomfortable with this strategy I suggest a buy-write 400s, 405s or 410s. Even if you are extremely bullish you can still profitably sell covered calls. Apple is volatile enough that you will have opportunities to repurchase on dips. I suggest the weekly options because we face a short trading week with light volume so volatility should be lower than usual. An alternative approach is to sell out-of-the-money 400 puts and collect the premium without having to purchase the stock outright. Note that if the stock declines to the strike price, you are obligated to buy the stock (or close out the position).
Disclosure: Author is long AAPL and GOOG; plans to short AAPL Jan 6 410 Calls.
Disclosure: I am long AAPL, GOOG.
Additional disclosure: Disclosure: Author is long AAPL and GOOG; plans to short AAPL Jan 6 410 Calls.