This is the second in a two part series reviewing the high-yielding equity-based Closed-End fund (CEF) market. In Part I, I reviewed 2011 and went over my Buy and Sell recommendations from earlier in the year to give readers some background of where we've been and how my picks performed.
In Part II, I will be giving my 2012 picks broken down by how the market performs this year. I generally don't try to make predictions as to market direction but I can recommend funds based on how effective their income strategy will be in varying market environments. Most yield oriented investors purchase CEFs because of their high yields so it's important to know which funds are able to support their high distributions in different market conditions without compromising their Net Asset Values (NAVs). Before I give my picks, I want to first list out the universe of high-yielding (7% or higher) equity based (i.e. at least 2/3 stock portfolio) CEFs that I follow.
The following two tables list the majority of equity CEFs available to income investors sorted by their income strategy. Table 1 includes funds which use an option-income (also called buy/write or covered-call option) strategy and Table 2 includes funds which use a leveraged and dividend harvest strategy. The funds are further sorted by 2011 NAV performance in which the best to worst performers are listed from top to bottom. Funds which outperformed the S&P 500, as represented by the SPDR S&P 500 ETF (NYSEARCA:SPY), are shown in green and funds which underperformed are shown in red. Though the S&P 500 would not necessarily be the benchmark for all funds, particularly the global funds, I wanted to provide a widely recognized and diversified index for comparison. Note: NAV and Market Price performances includes all distributions added back but not re-invested, including the S&P 500. Though most quoted news sources have the S&P 500 down for 2011, in my tables the S&P 500 was actually up 2.1% when dividends are added back. In addition, "Red flags" for funds with high premium valuations, high expense ratios or high NAV yields are also highlighted in red.
Click tables to enlarge
Table 1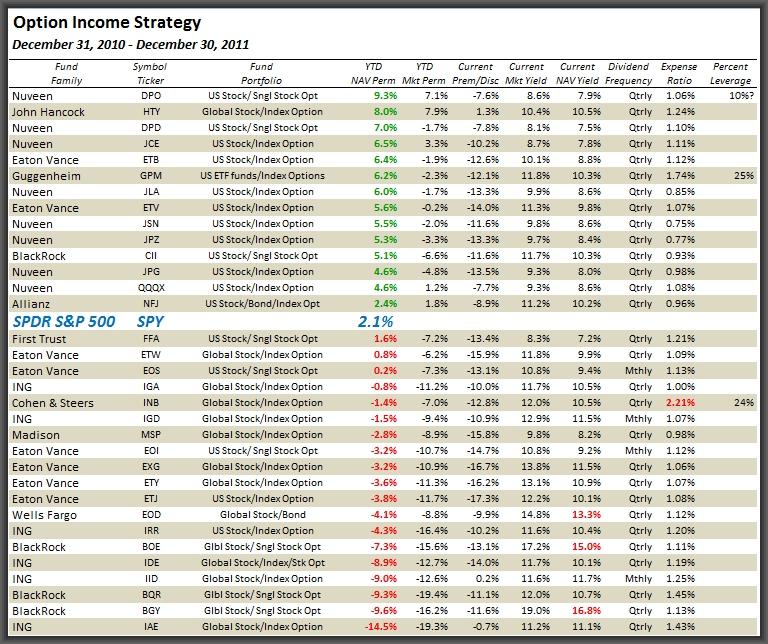 Table 2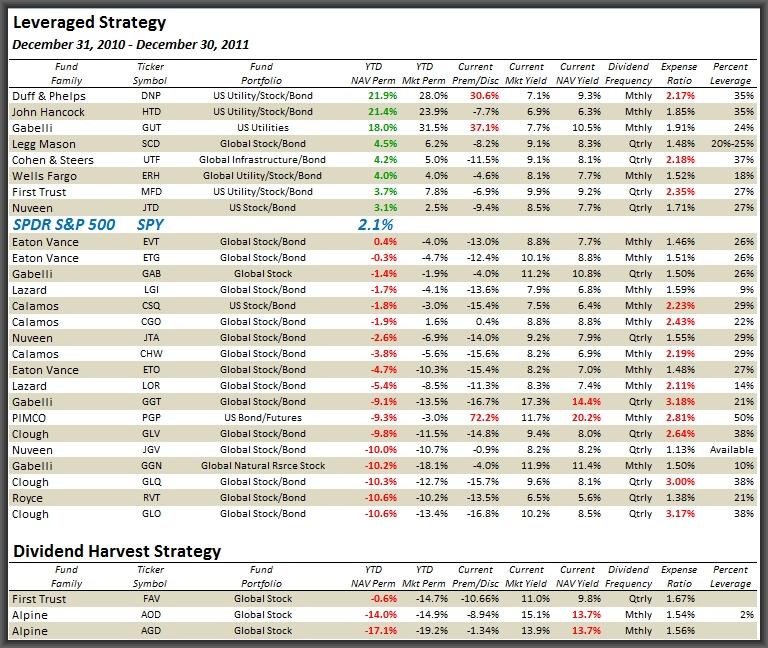 The tables above are provided to review how the funds performed in 2011 and also to reference more detailed information about each fund as I go over my buy recommendations based on an up market, a flat market and a down market. An up market I'm defining as the S&P 500 gaining 7% or more in 2012 while a down market is defined as the S&P 500 declining -7% or more.
Buys: Up market
Cohen & Steers Infrastructure fund (NYSE:UTF) - UTF (Table 2) is a large fund at $1.5 billion in net assets and uses a leveraged strategy to invest in global infrastructure stocks and fixed-income securities. Fixed-income securities (mostly preferreds) represent about 25% of the fund's portfolio. Its relatively high use of leverage at 37% means the fund controls about $2.3 billion in total securities. That's a lot of firepower in an up market and its global exposure to such stock sectors as electric & water utilities, pipelines, telecom & communications, toll roads and rails worked well in 2011 even with a difficult overseas market. As a result, UTF was one of the better performers in 2011 and at a -11.5% discount to its NAV and a 9.1% yield paid quarterly, UTF represents an excellent value in an up market.
Eaton Vance Tax-Advantaged Dividend Income fund (NYSE:EVT) - EVT is a 27% leveraged global stock fund which includes about 32% of its portfolio invested in preferred and corporate bond securities for added income and to help lower volatility. EVT's NAV performed surprisingly well in 2011 considering the heavy concentration the fund had in Europe, around 21% of its stock portfolio, and in the financial sector, around 17%. EVT's NAV ended 2011 up on the year on a total return basis though its market price was down -4%. This resulted in EVT's discount ending the year at -13%, the widest since mid 2009. With an 8.8% market yield paid monthly, EVT offers excellent value in a global market recovery for 2012. I would also include Eaton Vance's other leveraged global funds, ETG and ETO in this category, two funds I selected last year and are similar to EVT in many ways. All of these funds have relatively low expense ratios for leveraged funds and pay monthly distributions of 100% ordinary income.
Royce Value Trust (NYSE:RVT) - Another leveraged fund, RVT's portfolio includes global small cap stocks (76% US based) with the Russell 2000 as its benchmark index. With little fixed-income exposure, RVT can be an extremely volatile fund but if we get a strong global market in 2012, small caps could be a big winner and RVT could significantly outperform. Investing in RVT is more for the appreciation potential than for its current 6.5% yield. Royce did finally increase RVT's distribution to a more normalized level in 2011 after suspending the quarterly distribution in early 2009 but the fund's discount has remained in the -13% to -16% range. RVT had a difficult 2011 with a -10.6% NAV total return but the fund is doing all the right things to prepare for a better market environment. With RVT's superior management and proven track record since the 1980s, RVT should easily outperform in a strong small cap market in 2012.
ING Infrastructure, Industrials & Materials fund (NYSE:IDE) - IDE is the only option-income fund that I'm including in the solidly up market group. The reason is that IDE sells a low 35% option coverage on its global portfolio of industrial, construction and commodity stocks; sectors which did not have a great 2011. I'm betting that IDE's portfolio will have a better 2012 and at a -14% discount and an 11.7% current market yield, there's plenty of room for upside. IDE is a relatively new fund having gone public in January, 2010. After picking IDE in last year's buy list, I'm sticking with IDE for a global up market in 2012.
Buys: Flat to Up market
John Hancock Tax-Advantaged Dividend Income fund (NYSE:HTD) - HTD had a great 2011 and even though I don't think the utility sector will have a year in 2012 like it had in 2011, HTD has strong fundamentals which should allow it to do well again in 2012, particularly in a flat market in which utilities may still be regarded as a safe haven for yield oriented investors. HTD is 32% leveraged and includes a portfolio of mostly domestic utility stocks and about 37% preferred securities. HTD can also write up to 12% of index options on its portfolio for added income. A distribution increase in June of 2011 may lead to another in 2012 if the utility sector has an even average year, though an economic rebound in 2012 and any hint of rising interest rates will probably see the utility sector underperform. Currently HTD is at a -7.7% discount and offers a 6.8% yield paid monthly.
ING Global Equity Dividend and Premium Opportunity fund (NYSE:IGD) - The largest and the most liquid of the ING option-income CEFs, IGD's market price got crushed at the end of the year as it dropped to an -11% discount from a slight premium just in September. In fact, IGD's market price is at a 2 1/2 year low, putting it not that far from its lows in early 2009 during the worst of the bear market. This for a global fund that really had excellent NAV performance for 2011, down only -1.5% on a total return basis. Compare that to some of ING's other option-income funds that saw close to double digit NAV drops and yet were somehow able to stay at market price premiums for most of the year, and IGD is relatively undervalued. IGD is more defensive than ING's other option-income funds and thus will outperform in a more flat market, but IGD will still be able to participate in a global up market too. IGD, along with most of the ING option-income funds, had a distribution cut in December to better balance its distribution with its income but with a still very generous 12.9% market yield, this was probably the proper step and good to get out of the way heading into 2012.
Blackrock Enhanced Capital and Income fund (NYSE:CII) - CII is one of several Blackrock option-income funds that also had a distribution cut in 2011 and the resulting sell-off was overdone. I've argued that distribution cuts are not always a bad thing if it helps grow the NAV and such was the case for CII as the NAV ended 2011 up 5.1% while still offering an 11.6% current yield. I even wrote an article on CII after the distribution cut last June stressing this point. CII is the best Blackrock fund to own in a flat to up market and at a historically wide -11.6 discount which just got wider as the year went on, I believe CII offers excellent value. In a stronger global market, Blackrock's global option-income funds may offer more upside than CII, which has a mostly US based stock portfolio, but I like the fact that CII's NAV will hold up better in case we're in for another difficult year for global markets.
Buys: Flat to Down market
Nuveen Equity Premium Advantage fund (JLA) - Some of the most defensive funds you can own are Nuveen's JLA, JSN and JPZ. Selling in-the-money index options on a full 100% notional value of their large cap domestic stock portfolios, these funds anticipate a down market. All 3 of these funds were top NAV performers in 2011 in a mostly flat market environment but with JLA at a -13.5% discount, a 9.9% yield and a portfolio leaning towards NASDAQ tech stocks, I like JLA over the others. These funds did have two slight distribution cuts in 2011, which was surprising considering their NAVs were up 5% to 6% on the year. It appears to be more a case of fine tuning by Nuveen than any other reason.
Eaton Vance Tax-Managed Buy/Write Income fund (NYSE:ETB), Eaton Vance Tax-Managed Buy/Write Opportunities fund (NYSE:ETV), Eaton Vance Tax-Managed Global Buy/Write Opportunities fund (NYSE:ETW) - All three of these funds I recommended in 2011 and I continue to recommend in 2012. These funds are very defensive selling around 95% index options on their large cap stock portfolios. ETB and ETV's portfolios include US based stocks while ETW's portfolio is global. At -13% to -16% discounts, these funds have a lot of bad news priced into them even though they had excellent NAV performances in 2011. In fact, the worst market for these defensive funds going into 2012 would be a ramp-up bull market in which they won't capture as much market upside as less defensive option-income funds.
Considering the difficult market most CEFs had in 2011, I will refrain from offering Sell recommendations for 2012. I will note that the above tables include "red flags" for funds which I believe have overly high premium valuations, expense ratios and NAV yields.
Disclosure: I am long ETV, ETW, ETB, IGD, HTD, EVT, ETO, ETG, CII, RVT.