My favorite time of the year is January when earnings season kicks in. It is January when I make huge profits trading earnings with my strategies that are neutral-based. I would say this month alone accounts for 33% of my profits for the entire year, aside from my daily options trading strategy, which you can read here.
Last month, I wrote two separate articles on Oracle (NASDAQ:ORCL) and Research In Motion (RIMM) 'reverse iron condor' earnings trades that worked to perfection. You can view those trades here and here.
In my last earnings article on Seeking Alpha, I highlighted Mosaic (NYSE:MOS) and Monsanto's (NYSE:MON) earnings, which come out this week (January 3- 6).
As I mentioned in the previous article, I will be working with a $20,000.00 portfolio that is used strictly for earnings trades. The account value (regardless of how the Mosaic and Monsanto trades perform) is currently at $13,757.05. In the last article, I stated that I am expecting at least a double on my ROI by January 31, 2012, which would bring the account to at least $40,000.00. Nothing has changed to revise that.
When I see an opportunity I will not hesitate to be extremely aggressive with my trades. It is ultimately up to the reader to make his or her own decision.
JP Morgan Chase' (NYSE:JPM) is scheduled to release earnings on January 13, 2012, before the market opens.
JP Morgan Chase is currently trading at $33.25/share. The 52-week range is $27.85 - $48.36.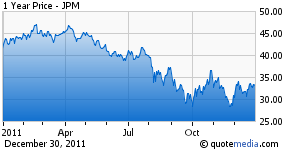 | | |
| --- | --- |
| 52-wk high: | 48.36 |
| 52-wk low: | 27.85 |
| EPS: | 4.69 |
| PE: | 7.10 |
| Div Rate: | 1.00 |
| Yield: | 3.0075 |
| Market Cap: | 126.34 B |
| Volume: | 18.2 M |
I am extremely confident in the trade I will be entering this week with JP Morgan. I will be using a 'reverse iron condor' spread.
The 'reverse iron condor' spread is a neutral options strategy that is placed with a net debit instead of a net credit to the buyer, and can be placed with a lower level trading account. Most brokers will let you place this trade if you are approved with a Level 2 or Level 3. Please check with your broker, and if not approved, you can also request to be upgraded.
This trade is a limited risk, limited profit strategy. Yet, there is a very healthy return awaiting if the stock should make even a modest move after reporting earnings.
Here is how the 'reverse iron condor' trade is placed accurately using only one contract each for explanation purposes:
Reverse Iron Condor Construction
Buy 1 OTM Put
Sell 1 OTM Put (Lower Strike)
Buy 1 OTM Call
Sell 1 OTM Call (Higher Strike)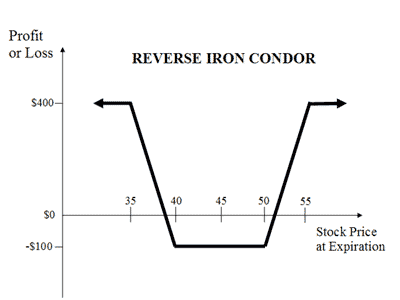 Here is how I will be placing this JP Morgan Chase trade. The 'reverse iron condor' has four legs. (Note: you can increase or decrease the number of contracts to suit your preferred investment in the trade):
Buy (25) ORCL January 2012 $32.00 strike put options
Sell (25) ORCL January 2012 $31.00 strike put options
Buy (25) ORCL January 2012 $34.00 strike call options
Sell (25) ORCL January 2012 $35.00 strike call options
Requirements
| | |
| --- | --- |
| Cost/Proceeds | $1,525.00 |
| Option Requirement | $0.00 |
| Total Requirements | $1,525.00 |
| Estimated Commission | $125.00 |
Current Price: $33.25
| Price | Profit / Loss |
| --- | --- |
| 23.25 | $975.00 |
| 27.18 | $975.00 |
| 31.00 | $975.00 |
| 31.33 | $160.00 |
| 31.39 | $0.00 |
| 32.00 | ($1,525.00) |
| 34.00 | ($1,525.00) |
| 34.61 | $0.00 |
| 35.00 | $975.00 |
| 35.47 | $975.00 |
| 43.75 | $975.00 |
Since this trade is placed with a net debit instead of a net credit, the maximum risk is $1,525.00. This is the most you can lose on the trade. The highest amount of profit you can make is $975.00 when using 25 contracts on each "leg" of the trade.
The break-even points on this trade is $31.39 and $34.61, respectively. I will be placing this trade on Tuesday. Of course, you can adjust the strike prices to suit your expectations. You can also wait to place the trade if you would like to have a better estimate on where JP Morgan is trading as it nears their earnings date, but I am comfortable entering this trade right now. There is a high probability that the trade will profit ahead of the release, but that is never guaranteed.
To summarize, I will be investing $1.650.00, which includes commission costs. The total balance of the portfolio after placing this trade will be at $12.107.05.
I will also be writing articles in a flurry for earnings trades this month. January is my bread and butter. There will be opportunities all over. Most of these I will be using for this specific portfolio. Good luck on this trade. It should be a success.
Disclosure: I am long JPM.