Australian economist Steve Keen has previously argued that it is far more beneficial to bail out consumers than the banks, and now has made it part of a manifesto for avoiding a worse-than-the-1930s economic depression.
As part of his analysis, he looks at the Dow [click to enlarge charts]: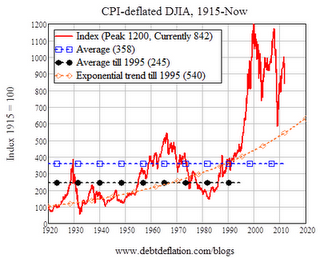 ... and the US housing market: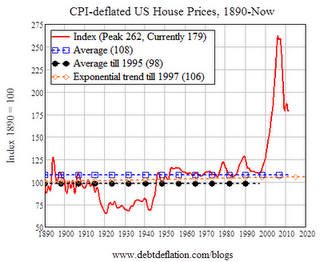 If his exponential trend lines are correct, stocks will have to fall by a further 35% and houses 40%, ignoring overshoot.
If that seems overly pessimistic, consider James Howard Kunstler, who revisits his "Dow 4,000" mantra and modifies it to 1,000 by 2014. Unbelievable? Only if you think tomorrow will be no worse than yesterday, and ignore how freakish the whole period from the mid-1980s has been. I had a go at reading the patterns back in February 2011 and the next Dow low looked around 4,500 - adjusted for CPI, in view of our inflation-happy leaders.
What would I know about it, you may say. Well, what does anybody know, and more pertinently, what do they know?
I have to say that I may soon need to modify my investment disclosure, as it may be prudent to begin buying physical gold in regular small quantities, against the possibility of a serious market breakdown and savaging of the value of cash. The gold price is still rather rich for my taste, but what's the alternative?
Do you really think our politicians, bankers and economists have a credible plan to sort out the problems? I like Keen's, but I'll give you long odds against it ever happening. Still, better noble failure than dishonourable compromise, I think the Japanese would agree: 判官贔屓.
DISCLOSURE: None. Still in cash (and index-linked National Savings Certificates), and missing all those day-trading opportunities.