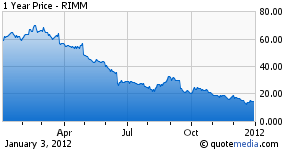 You won't get much argument from investors of Research In Motion (RIMM) that there was a lot of hate going around in 2011. At some point you have to put down the arms and embrace the future and with RIM, the future is here. I have made a 180-degree shift in opinion with RIM in the last few weeks and it's not because the company is all of a sudden a great company. In fact, I would argue the company hasn't changed at all in the past six months, and changes that did happen (by accident on the part of management) have been negative.
RIM ended 2010 bouncing off lows in the $40s to climb up to about $58 a share. As I review a very angry chart before the first day of trading in 2012, it's painfully clear we start out this year with an entirely different investor mindset. A mindset geared for profits to those who don't let emotion get in the path to profits. We ended 2011 with $14.50 as the line in the sand.
Click here to read my other RIM articles.
It's no surprise and almost poetic justice that Google (NASDAQ:GOOG) ended 2011 making new 52-week highs in the last trading day of the year. With Android moving from zero to 100 in under 1.9 seconds, it doesn't matter if the actual Android operating system makes money for Google or not. Android is eating RIM's lunch. Even "America's Company," as fellow contributor and wine expert Rocco Pendola likes to call Apple (NASDAQ:AAPL), is fighting with both fists for second place with smart phones users. Microsoft (NASDAQ:MSFT) has fallen so far behind in this app race, I am starting to wonder if we will be talking about the Seattle company at the end of this year like we are talking about RIM now. Android and iOS each have about 500K apps available for download, Blackberry users can download about 45K apps and Windows mobile is so far behind they probably feel like they are winning with about 30K (are they playing solitaire all day instead of developing?).
With Android about to rule the world and Apple making money by the wheel barrow, It must be clear RIM share price is going to go lower and soon, right? After all, look at the stock chart of 2011 and what happened to investors. It clearly was not a happy time for many investors, especially those who did not use options as hedging devices. You can watch my youtube videos about RIM here.
2011 is so yesterday. As we start 2012 and look back at what makes RIM worth $14.50 we first must ask if the current business has fallen as much as the stock. If we believe the company has not fallen in value as much as the stock, we must follow up with the question if the stock was over priced to begin with. I don't believe the company value has fallen as much as the stock. I also do not believe the stock was overvalued to begin with, and if it was, it was not nearly as much as the share price has imploded.
The RIM share price will likely not double next week. Even so, it doesn't need to for us to make money. In fact Apple, Google and Microsoft can all continue to hold the current market share with RIM gaining no ground on the estimated current 10% market share and double digit gains over and above the general market. By using options as a hedging tool I am able to buy RIM with lower risk, lower volatility and greater chance of making a profit (although potential gains are given up in return).
An inconvenient truth (for shorts). Yes we can all see the chart moving from the top left to the bottom right. It does not mean it will go on until the price finally gets to zero, and the twin CEOs simply lock the doors behind them and fly off into the sunset (on corporate jets). As long as we can agree no one is going to miss work tomorrow due to the office closing down, we can also likely agree there is a price at which the company and the stock are worth. My contention is we have reached the point. Take a look at the revenue chart below and let me know if you do not see a disconnect with the stock price and the trend of the revenue.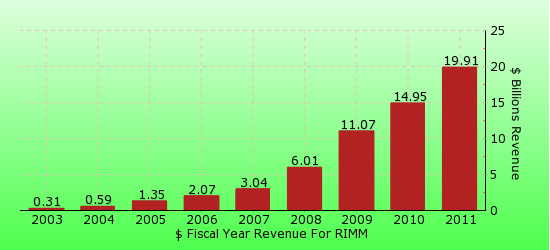 I understand the argument concerning market share and profits and their free fall. Likely RIM will lick its wounds from Playbook and move on.
Home runs are great for cocktail parties, but not so great for portfolios. I often receive comments in articles, in the chat room, and from friends that by writing covered calls I will miss out on the big moves with stocks. My response is always the same with a "so what" as I am not interested in the performance of one single investment, but rather the performance of my entire portfolio over years. I am OK caulking up lots of singles, doubles and the occasional triple as they tend to add up very quickly over time.
With value investing I really do not think highly enough of myself to pick the absolute bottom, but I don't need to. When I write a covered call and the stock price continues to fall, it must fall faster than the time decay of the written option for me to lose money. At $20 a share many started buying RIM because it was such a "value buy," only to watch their investment shrink by about 40% in under two months. In the same situation, someone selling a $20 put option would have lost about half as much, at a lower cost basis, and could now have a covered call against the shares put to them, bringing the cost basis under $17 a share.
I didn't believe $20 was a good entry point, but the point is the same. As RIM traded a couple of weeks ago on Tuesday around $12.50 I started selling January $12 put options. Even with luck on my side and the news of takeover talks hitting the wire within a couple of hours after I entered into RIM, I didn't make a home run but I did make some fast money and closed out the next day. More importantly, I put myself in a position to profit with lower risk.
As RIM trades in and around $14 a share this week, I will like to put myself in a position to gain again. I still have my eye on the January expiration series, but will also keep a close eye on February.
Do you have a company you want me to review? Do you share or not share my thoughts? Let me know in the comments below.
I use a proprietary blend of technical analysis, financial crowd behavior and fundamentals in my short-term trades, and while not totally the same in longer swing trades to investments, the concepts used are similar. You may want to use this article as a starting point of your own research with your financial planner.
Disclosure: I have no positions in any stocks mentioned, but may initiate a long position in RIMM over the next 72 hours.
Additional disclosure: I have active bids and offers on RIMM, APPL options at time of submission of article.