Bearish positions declined on average in the two week period ending mid-December. On average, short positions declined 2.53% between November 30 and December 15 2011 on the New York Stock Exchange.
Are there gains to be made for companies seeing a rise in short volume?
| | | | |
| --- | --- | --- | --- |
| # | Company | Short Volume Dec. 15 2011 | Short Change |
| 1 | Nokia Corporation | 140,563,227 | 11.2% |
| 2 | EMC Corporation | 88,886,746 | 4.5% |
| 3 | Advanced Micro Devices, Inc. | 86,285,225 | 1.3% |
| 4 | Corning Incorporated | 35,585,829 | 0.8% |
| 5 | Ford Motor Company | 33,087,378 | -0.4% |
| 6 | Citigroup, Inc. | 44,442,586 | -4.2% |
Nokia (NOK) Corporation
Speculative Buy.
After Bank of America (NYSE:BAC), Nokia had the second largest short position by share count. With shares down 56.41% from its 52-week high, Nokia now pays a dividend of $0.57, with a yield of 11.86%. 2012 will be a monumental year for Nokia, as the company releases a Windows Phone 7 in North America. In January, the Nokia Lumia 710 will be released, followed by the ACE model in March 2012.
The short position in Nokia rose 11.2% to 140.56M shares. Shares will probably see more movement when Microsoft (NASDAQ:MSFT) delivers its keynote at the International Consumer Electronics Show (CES) in January 2012.
Although it has little bearing on Nokia share price, the company saw its SymbianOS gain market share in the last quarter of 2011.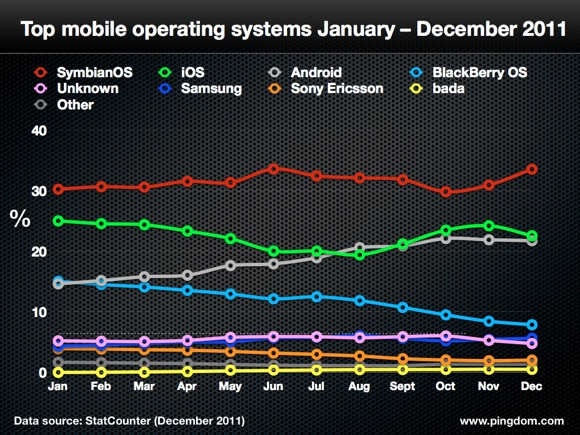 The Year-end tax loss selling wind down, excitement over new Windows Phone 7 launches in 2012, and an upcoming earnings report that might give positive surprises are reasons to buy Nokia for the short term. Nokia's partner, Microsoft is also a buy. The software giant reaps all of the benefits of having a reputable hardware maker and takes on little risk in the venture.
EMC Corporation (EMC)
Buy.
Short activity increased 4.5% to 88.89M shares for EMC. Shares dropped to $21.54 from a December peak of nearly $24. EMC was upgraded recently by an S&P analyst on December 20 and given a $28 price target. The average price target on EMC is $29.86, representing upside of around 38%.
Anticipated weakness from European customers is already priced into the share price in August, as EMC dropped from $28 to the $20-22 range. The company derives around 30% of its revenue from Europe.
EMC is also a majority owner of VMWare (NYSE:VMW), giving another reason to own EMC shares. With demand in data storage still growing even with Europe's recession, EMC offers more reward than risk.
Advanced Micro Devices (AMD)
Buy.
AMD saw its short float rise slightly by 1.3% to 86.3M shares. Shares closed at $5.40 on December 30 and trade with a P/E of 3.91. Investors already discounted shares from its competitive disadvantages over Intel (NASDAQ:INTC) since May 2011. A weak outlook for PC sales growth and pressure on margins added to a sell-off in AMD, the company is finding strength with its Llano product line. Its fusion line-up helps keep PC prices low, which is favorable for AMD's sales.
The high price for AMD's 16-core Bulldozer chip was not seen to be a competitive response to Intel's high-end processors, which contributed to the decline in AMD shares in 2011.
On the graphics front, the Accelerating Processing Unit (APU) in its fusion line-up will help grow its mobile sales. With discrete graphics, AMD recently touted its 28nm HD 7970 graphics card as being the fastest single processor in the world.
AMD's P/E is at less than half that of Intel's (INTC) P/E and over one-quarter that of NVidia's (NASDAQ:NVDA) P/E of 13.33, making AMD a compelling buy.
Corning Incorporated (NYSE:GLW)

Buy.
Corning shares traded downward for much of 2011, and closed the year at $12.98, 13.34% from its 52-week low. The short position rose 0.8% to 35.6M shares on December 15 2011. Corning's share price is weak because LCD TV demand is a challenge. The company is also a leading supplier of polysilicon and other key solar materials for the solar power industry. The solar energy market remains weak, but Corning invested $5B recently to build its position in this market.
Corning already announced a cut in Gorilla Glass fourth-quarter sales forecast to a sequential decline of 25% from a 15% sales decline. Shares already reflect the bad news for the company. For 2012, adjusting costs against lower utilization rates and pricing pressure will enable the company to meet EPS growth.
Ford Motor Company (F)
Buy.
Ford traded within a $10 - $11 range as the short share remained steady at 33.09M shares. For the first time since 2007, Ford sold 2 million vehicles in the United States. Closing at $10.76 with a P/E of 6.48, Ford's turnaround is intact. By winding down its Mercury brand, Ford grew unit sales with the F-Series pickup, the Fusion, the Lincoln, and the Escape models.
Sales figures improved for Ford since a "buy" call was last made. An improving outlook for the company means Ford remains a buy.
Citigroup, Inc. (C)
Avoid.
Range-bound between $25 and $30 for the last 5 months, Citigroup closed at $26.31. The short position declined 4.2% between November 30 and December 15, 2011, to 44.44M shares.
Bank stocks like Bank of America and Citigroup might find a "bottom" in 2012, but without growth, any stock appreciation will be difficult. The banks will find that growing profits will end after all possible expenses are cut. Earnings growth will be restrained from new regulations for financial institutions. This includes the requirement for higher capital reserves, and restrictions in imposing fees and surcharges to its customers.
In 2011, Bank of America dropped 58%, an $80B drop in market capitalization. Citigroup dropped less, down almost 45% for the year.
Uncertainty in Citigroup and in the financial sector is expected to be elevated as Europe's sovereign debt issues escalate. Investors should avoid Citigroup as this crisis continues to unfold in 2012.

Disclosure: I have no positions in any stocks mentioned, and no plans to initiate any positions within the next 72 hours.