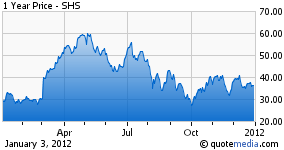 Although it was an ugly summer for off-road vehicle components maker Sauer-Danfoss (NYSE:SHS), the company nevertheless ended 2011 as one of the relatively few industrial stocks to post double-digit gains. While OEM order rates for off-road equipment like wheel loaders, bulldozers, harvesters, and so on have started to taper off a bit, there is a significant difference between "slow" and "stop" and Sauer-Danfoss looks poised for another strong year in 2012. With minimal institutional support, Sauer-Danfoss is off the radar of many investors, but the value here still merits a serious examination.
Off-Road Still On Track
Sauer-Danfoss is basically in the business of making components for off-road vehicles. Sauer-Danfoss builds the transmissions that make machinery like excavators, combines, and trucks go, as well as other components like steering units, valves, pumps, controls, and motors that allow these vehicles to operate the buckets, shovels, headers and so on that represent the "business end" of the vehicle. While there is an after-market component to the business and Sauer-Danfoss can work with custom orders and retrofits, a lot of the company's sales are to the OEM manufacturers like Caterpillar (NYSE:CAT), CNH (NYSE:CNH), Deere (NYSE:DE), Sandvik (SDVK.PK), and so on.
In other words, when business is good for big off-road vehicle companies like Caterpillar or Deere, conditions are ripe for Sauer-Danfoss as well. To that end, the company has certainly benefited from the strong worldwide demand for mining and agriculture equipment, as well as the demand for construction equipment in emerging markets. In the company's last quarter, for example, orders grew 29% in constant currency, while the backlog jumped 40% to over $900 million.
Slow, Not Stop
A big chunk of this stocks underperformance in the second half of 2011 seemed to come from increasing bearishness about the health of the global economy and the ongoing appetite for heavy machinery. It is true, after all, that major OEMs are seeing slower order rates. It is also true that major component manufacturers like Eaton (NYSE:ETN) and Parker-Hannifin (NYSE:PH) saw similar pressures on similar worries, though Sauer-Danfoss has even more exposure to shaky European markets.
Still, a little perspective might be helpful. Analysts still expect Caterpillar to deliver 15% revenue growth in 2012 and expectations call for 13% growth at Deere. Admittedly, growth is not looking so robust for more Euro-centric names like CNH or Volvo (OTC:VOLAF) but there still looks to be plenty of growth potential to make Sauer-Danfoss's stock work out.
At the same time, Sauer-Danfoss is investing capital in its future growth. The company will be spending about $100 million on new facilities in China and growth in markets like Brazil and India is also a priority. It's also worth noting that Sauer-Danfoss is no also-run – the company is #1 in Europe in steering units, #2 worldwide in low-speed/high-torque motors, and a top player in many of its markets. Not bad for a company that is quite a bit smaller than rivals like Eaton or Parker-Hannifin.
Tempered Expectations Still Lead To An Interesting Valuation
There are some non-operating issues that investors need to remember. Roughly 75% of this stock is owned by Danfoss A/S (a Danish industrial conglomerate) and there have been attempted tender offers in the past that undervalued Sauer-Danfoss. Investors should also note that while trading volume has improved, the float here is low and most institutions are going to be put off by the ownership structure and the absence of sell-side coverage (much as the buy-side claims independence from sell-side research, reality is different). That means that realizing full value in this stock may never be possible.
Even allowing that cash flow models on cyclical industrial stocks like Sauer-Danfoss are tricky, the fact remains that expectations seem very modest for this name. Relative to other component/part players like Eaton, Parker-Hannifin, or Cummins (NYSE:CMI), Sauer-Danfoss may be at least 50% too cheap and there's no particular reason to think that the company is any more vulnerable to a slowdown in end market demand. For investors who aren't expecting another recession (or a plateauing) in industrial goods, this is a value-priced name to consider.
Disclosure: I am long SHS.