This is a comparison of several leveraged ETFs which have become popular trading and investing vehicles over the last few years. These ETFs usually hold options, futures and/or some other derivative securities that allow them to multiply the approximate return of an index, sector, industry, commodity or other collection that the ETF attempts to track. Moreover, several of these leveraged ETFs are short or bearish investments, where the leveraged bet is against the performance of which it tracks.
Below, I have listed the most popular leveraged bear and short ETFs based upon average trading volume: Direxion Daily Financial Bear 3x Shares (NYSEARCA:FAZ), Direxion Daily Small Cap Bear 3x Shares (TYP), UltraPro Short S&P 500 ProShares (NYSEARCA:SPXU), UltraShort 20+ Year Treasury ProShares (NYSEARCA:TBT), UltraShort QQQ ProShares (NYSEARCA:QID), UltraShort Russell 2000 ProShares (NYSEARCA:TWM) and UltraShort S&P 500 ProShares (NYSEARCA:SDS). Each of these ETFs has an average daily volume between 5 and 26 million shares. I have also provided their one-month, three-month, six-month and one-year performance rates.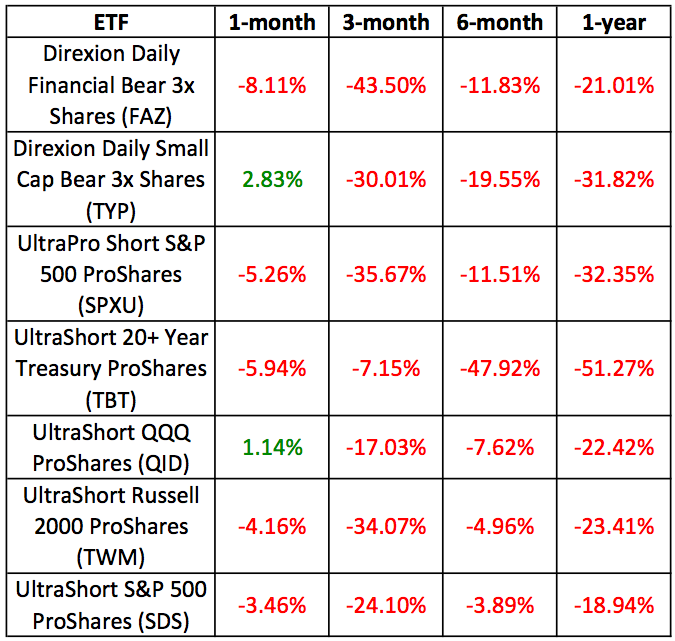 If the 2011 full-year performance of these leveraged ETFs indicates anything, it is likely that these leveraged ETFs are not so much an investment option as a short-term trading vehicle or hedging option. Even in this often highly negative year, none of these leveraged short ETFs are positive and the average performance by the group was a 28.75% loss.
There were brief instances where these short/bear ETFs spiked up, but such spikes were short-lived trading opportunities. The worst bet, by far, would have been the ETF betting against 20+ year Treasuries, which lost over half its value in 2011.
Additionally, as it turns out, all of these listed high-volume, leveraged ETFs have an expense ratio of 0.95%. Investors should also note that these leveraged ETFs generally have higher fees than do their non-leveraged and long brethren. For example, numerous broad market, large-cap and fixed income ETFs have fees below 0.2%, while almost all leveraged ETFs have fees of at least 0.75%, if not higher.
Disclaimer: This article is intended to be informative and should not be construed as personalized advice as it does not take into account your specific situation or objectives.
Disclosure: I have no positions in any stocks mentioned, and no plans to initiate any positions within the next 72 hours.