If you like to speculate, Global X has the ETF for you. In November, the firm launched its Social Media Index ETF (NASDAQ:SOCL). Since its inception, the thinly-traded fund has waxed, but largely waned in a range between $12.70 and $14.98. It ended 2011 at $13.10.
If you buy into SOCL, you own a piece of a whole slew of Chinese Internet companies as well as stakes in Google (NASDAQ:GOOG), LinkedIn (NYSE:LNKD), Zynga (NASDAQ:ZNGA), Groupon (NASDAQ:GRPN), Pandora (NYSE:P), Demand Media (DMD) and Angie's List (NASDAQ:ANGI).
Click to enlarge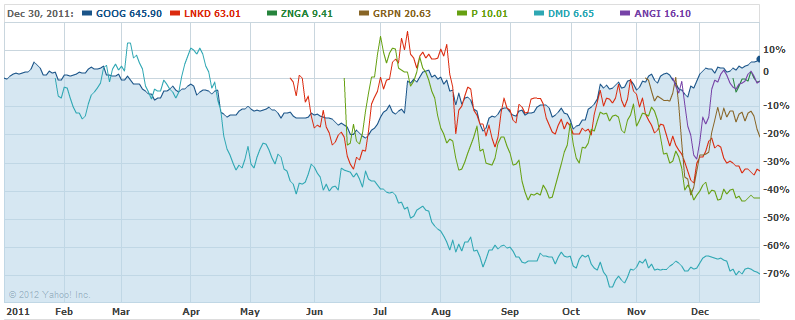 Despite the low volume and lackluster performance of some of its key domestic holdings, expect the SOCL ETF to generate more interest in 2012. That's because more social media IPOs will likely hit in the New Year and retail investors as well as traders will want a piece of the action.
According to a December 30, 2011 article in The Wall Street Journal, a Facebook IPO, for example, borders on being a foregone conclusion: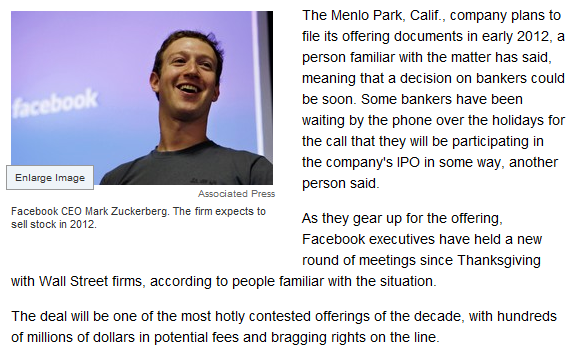 And while Twitter says it's in "no hurry" to IPO, all signs point to a public offering by 2013, if not 2012.
Regardless of who goes public and when, many investors want a part of what the big money wants a part of. I'm convinced investors enter what amounts to million dollar sweepstakes when they fill out the courtesy form requesting access to an IPO from their brokerage. Mere mortals have a snowball's chance in South San Francisco of getting shares at the offer price, but that's not even the number one reason to stay away.
Betting on IPOs today represents a much bigger crap shoot than it did in 1999-2000. Or so it appears. While I do not subscribe to the bubble talk that permeates today's market, I do think we have a different kind of IPO on our hands these days.
The work I did in 1999-2000 put me in the middle of the San Francisco-Silicon Valley IPO craze. My gig had me cold-calling CEOs and VPs of Sales. I targeted Silicon Valley IPOs because their executives, for a time, spent money like drunken sailors.
I once had a VP of Sales pull out his personal credit card, over the phone, and drop twenty grand on a hospitality package to the MLB all-star game in Seattle for him and his son. Those were the good old days. Nokia (NYSE:NOK) was one of my biggest clients, dropping six figures to go to events like the Super Bowl and the Masters. How times have changed.
This might sound strange, but, at least for decent-size duration, a lot less uncertainty existed back then when a company went public. The companies I followed in 99-00 -- firms like Foundry Networks (FDRY), which was acquired by Brocade Communications Systems (NASDAQ:BRCD) and Extreme Networks (NASDAQ:EXTR), simply soared at the outset. Until they went down, those IPOs knew nothing but up.
Retail investors enjoyed a relatively wide window of opportunity with IPOs like FDRY and EXTR. You could jump in on day one with confidence that the stocks would keep going up. And executives did not have to get rich before their companies went public; when they cashed out their IPO shares there was little doubt that they would be worth exponentially more than they "paid" for them. Put another way - the instant IPO millionaires of 99-00 were better, more exciting stories than new kids on the block like Mark Pincus and household names like Mark Zuckerberg.
But forget the corporate fat cats who wear jeans, t-shirts and sweatpants, not suits and ties. Retail investors simply cannot close their eyes, hold their breath and buy LNKD, ZNGA, GRPN, P, DMD and ANGI on day one and hang on to hefty gains months later. The following chart shows how you would have fared, as of intraday Tuesday, had you bought the above-mentioned stocks on IPO day. By using each stock's intraday low from IPO day, I'm even a bit generous; almost across the board that calculation artificially pumps returns.
| | | | |
| --- | --- | --- | --- |
| Ticker | LOD on IPO Day | Intraday Price, 1/03/12 | Percent Change |
| LNKD | $80.00 | $65.12 | - 18.6 |
| ZNGA | $9.00 | $9.54 | + 6.0 |
| GRPN | $25.90 | $19.00 | - 26.6 |
| P | $17.35 | $9.99 | - 42.4 |
| DMD | $21.14 | $7.15 | - 66.2 |
| ANGI | $15.02 | $15.20 | + 1.2 |
That's the first big difference. Today's IPOs do not allow for the wild west type of trading mentality that worked so well with many of the 99-00 new issues. You can no longer buy first and ask questions later. Unless you're an incredibly nimble trader, you run a real risk of becoming an official bagholder. The only way to go long individual IPOs is to wait for the dust to settle and buy companies you think can sustain and grow months after they've gone public. But, you must exercise extreme caution, be in for the long haul and expect bumps, not immediate riches, along the way.
Also, we're dealing with very different companies today. Back in 99-00, you had a very neat and tidy e-commerce space and the hard tech firms like Foundry and Extreme. Maybe it was because everything went up-- and went up hard for a considerable period of time - but it seemed much easier to make sense of the IPO landscape back then.
Today, it seems so much more difficult to tell a fad from a company that will stand alone, strongly, 1, 2, 5 or 10 years from now. Consider Facebook and Twitter.
I would not touch Facebook with your 10-foot pole. Without wholesale changes (and I don't mean a new timeline), I see it going the way of MySpace. I think the world's collective attention span, surprisingly, is too sophisticated to log into Facebook each and every day to see their "friends" projecting the lives they really wish they had via pictures of smiling children and love notes to spouses as status updates. If you're Zynga and you rely on Facebook to survive, you better consider diversifying your business.
Social media that serves more utilitarian purposes will thrive. Twitter, for instance, has become a utility, not a zone for mindless and meaningless chatter. While Twitter churns out quite a bit of fluff, I go there now when news breaks, not to CNN. That's huge.
But, what do I know? At this point, it's all conjecture when you consider which companies will make and which ones will not. One thing is for sure, though. We probably have more passing fads today than we did yesterday. And you certainly cannot be as sure what to expect from both company and stock after the IPO hits.
That creates a conundrum for investors looking to make a play on the space. You either need to make a good call as a stock picker, like I am buy adding to a position in Pandora with a very long-term time horizon in mind. Or you can take your chances on the entire field.
I'm not saying Global X's SOCL is the answer. Today, it's clearly not even close. But, as the fund evolves, and likely picks up shares of Facebook and Twitter, if and when they morph into public companies, it could represent a diverse play on social media in the ultra-speculative portion of your overall portfolio.
Disclosure: I am long P.