Traditionally, you buy tech to get growth. Yet, more and more, the sector is becoming attractive to dividend-seeking investors. Some tech names are committed to returning money to shareholders. They've been quietly doing that for years, and just as important, they've been increasing their dividends.
These 6 companies have demonstrated their commitment to dividends, handing cash to investors for at least 6 years: Applied Materials (AMAT), Intel (INTC), IBM (IBM), Microchip (MCHP), Microsoft (MSFT), and Maxim Integrated Products (MXIM).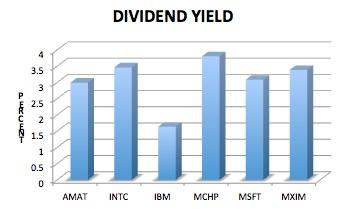 I like to check a company's ability to pay out that cash. You don't want to invest in a business that sends all that it earns out the door. Here's the dividend payout for each. Remember: The lower the payout ratio, the easier it is for the company to keep making the dividend. Further, a low ratio suggests the possibility of dividend increases.
For even more safety, I've included the FCF payout, simply the ratio of dividend/free cash flow. As a group, these 6 technology companies have appealingly low payout ratios. Contrast that to U.S. tobacco, with high payout ratios of 87 to 156%.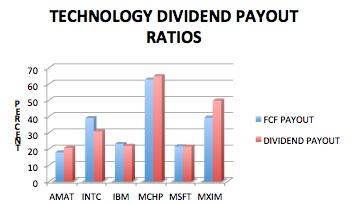 Historically, all 6 have been increasing dividends: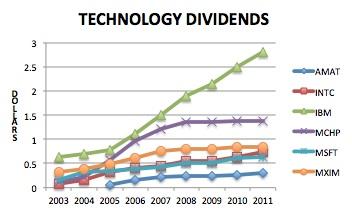 Some technology names are becoming dividend-friendly. Microsoft, Intel, Applied Materials, and IBM look particularly attractive considering their low payout ratios.